If in this report you see any typos, misspellings, factual errors or other types of errors, please let me know. Please include the web address (URL) of the report in which you found the error. Thank you! Send your email to:

Click on each photo below for a larger image.
Norwegian Freestyle Daily Guide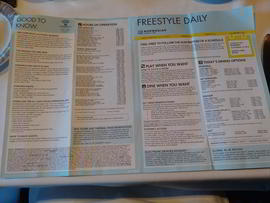 Our First View Of The Ship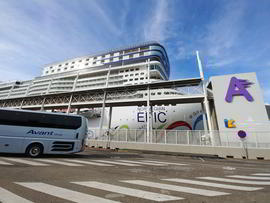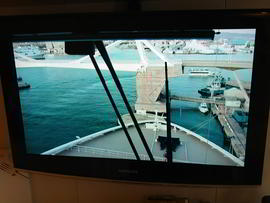 Right: Bridge Camera Channel on TV in every cabin.
Taste Restaurant
A No Extra Charge Main Dining Room
Lunch Menu
We stopped here for lunch as soon as we boarded the ship while our cabin was still being prepared. We still had our backpacks and other carry-on items with us and did not want to deal with the crowds at the buffet. Most of the people head straight for the buffet as soon as they board the ship. The sit-down dining rooms tend to be a lot less busy at that time.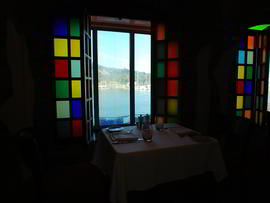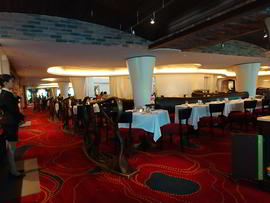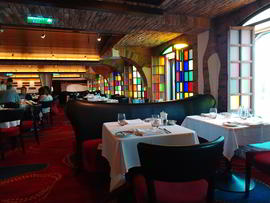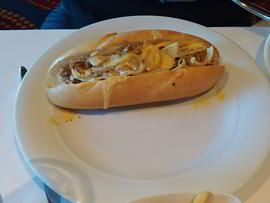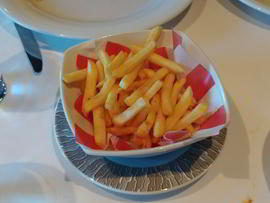 Le Bistro
Extra Charge Restaurant
This is a French style restaurant. We did not eat here at all during our cruise.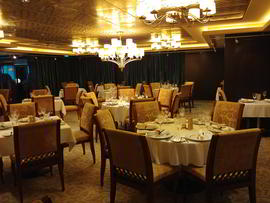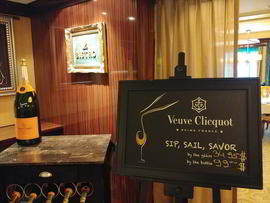 36 Liters Of Water!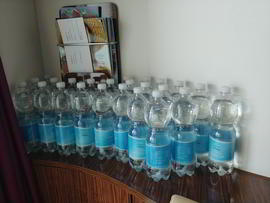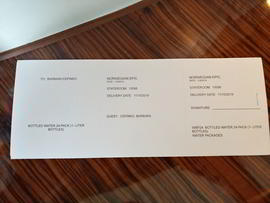 When we say all these bottles in our room we thought that we had ordered way too much water, but we ended up using all of it and running out on the very last day of our cruise. There is actually a total of 36 bottles. We placed one order for 24 bottles and one for 12 bottles. Some of them were in the refrigerator. We asked our cabin steward to clear out the mini-bar of all the alcohol and soft drinks as we never buy anything from the mini-bar in the room. That gave us space to put water and other of our own items into the mini-bar.
Our Mini-Suite Cabin 10098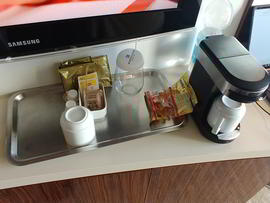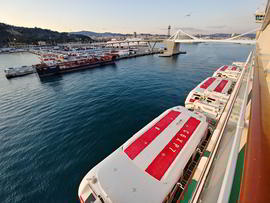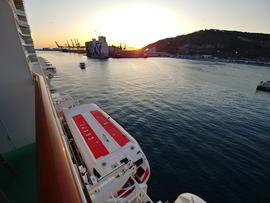 Norwegian Freestyle Card
Room Key, ID, and On-Board Charge Card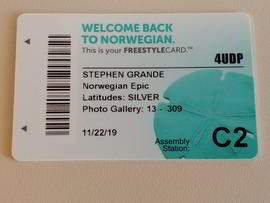 Norwegian Latitudes Benefits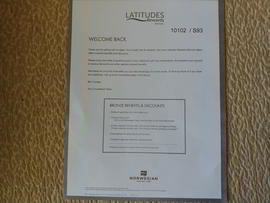 This was Shelli's second time on Norwegian Cruise Lines (NCL) so she is a Bronze Latitudes Member.
For Barbara and myself, this is our third Norwegian Cruise Lines (NCL) cruise and we got some extra benefits on this cruise. We are now Silver Latitudes Members.
Premium and Premium Plus Beverage Packages
The beverage packages are never worth it for us. We've done the calculations for every cruise we have ever been on and have saved hundreds and sometimes thousands of dollars on each cruise by NOT buying the beverage package. My wife and I usually split one bottle of wine per day and might have as many as 2 or 3 additional cocktails per day. I don't think that puts us in the category of "light drinkers". Maybe by cruise standards. At home we generally don't drink more than just splitting a bottle of wine on most days. But in any case, the cost of splitting a bottle of wine plus 2 or 3 cocktails per day is way less than the cost of any beverage package.
On Carnival and on many other cruise lines passengers are allowed to only bring one bottle of wine per person in their carry-on luggage. No alcohol is allowed in checked baggage. On Norwegian Cruise Lines (NCL), you are allowed to bring on board all the bottles of wine that you'd like, but you do have to pay a $15 corkage fee on each bottle, even if you only plan to consume it in the privacy of your cabin. Thus, when we cruise on Norwegian, we usually bring on board at least 4 bottles of wine and sometimes more, paying the corkage fee when we board the ship. Also, we will often find wine that we like at ports along the way and will bring those back to the ship paying the corkage on those too. You can get some excellent wines in Europe and other parts of the world very inexpensively. For us it is worth paying the $15 corkage and having an excellent wine to enjoy rather than paying for over-priced wines in the cruise ship bars and restaurants.
For my wife and I, our cocktail tab for each 7 days of the cruise is usually well under $200. Our cost for wine for 7 days tends to be under $300 and that includes the corkage fee. Thus the cost for alcohol for us will usually be well under $600 per week for the two of us. That compares to $1400 or more that it would have cost for the 2 of us to have a drinks package per week on most cruises.
There was one cruise that we took where we got the beverage package as a "free" perk. It still cost us over $400 for 7 days since we still had to pay the gratuities and tax on the "free package". That was only a bit less than the $500 to $600 that we spend on drinks for a week, plus we felt restricted in what wines we could order since the beverage package only allowed for wines under $15 per glass and only gave a 20% discount on the purchase of bottles of wine. It also only gave a 20% discount on attending any wine or spirit tasting events which we like to do. So even the "free" perk of a beverage package was not worth it for us. We will definitely not select the "free" beverage package as one of the free perk options on any future cruise.
The 4 bottles of wines that we brought on board
Pressing Service
We've never found ourselves in need of the "pressing service" on any cruise that we have been on. However, we have used the laundry service on the days they offer bargain prices when we have been on cruises of more than two weeks in duration.
Shore Excursions
Some of the Shore Excursions that we booked months ago and plan to enjoy in the days ahead.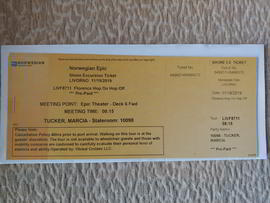 Disembarkation Tour With Airport Transfer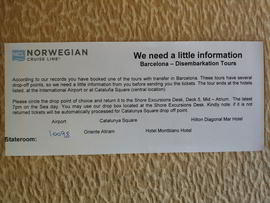 We had to cancel this one. Originally our flight from Barcelona back to the United States was supposed to depart at 4:30 PM. This tour is for those with flights later than 3 PM. I thought this would be a great way to kill several hours rather than just waiting around the airport for so long. But, our airline rescheduled the flight from 4:30 PM to 2:30 PM. Norwegian refunded our shore excursion without any trouble.
Spa Services Price List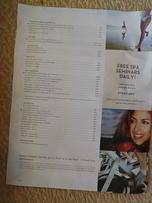 My wife and I did not make use of any spa services on this trip but we have on prior cruises. I like getting a massage on this ship but I can't stand the hard sell of products that they do at the end of every spa service they perform. Because of that I no longer bother getting a massage on cruises any more. The cruise lines have probably lost hundreds, if not thousands, of dollars on spa services they would have sold to my wife and I if they wouldn't annoy us with the hard sell at the end of every service.
Complimentary Breakfast Service
This is a nice feature on Norwegian Cruise Lines (NCL) which is no longer offered as a free service on all cruise lines anymore. Unfortunately, my wife and I are not able to take advantage of it. We never know when we are going to get up in the morning, except on days with shore excursions. On Sea Days we like to just sleep until we feel like getting up. If we set a time for breakfast delivery, we might be still sleeping when they come with it. Or we might get up much earlier and hate having to wait for them to come with it. Fortunately on Norwegian Cruise Lines (NCL) they do provide a coffee maker in the room with all the supplies needed to make your own coffee. On most mornings that is all we need. Sometimes I might run up to the buffet and grab some fresh cut fruit and bring it down to the room. On rare occasions we might go up to the buffet for breakfast.
Room Service Menu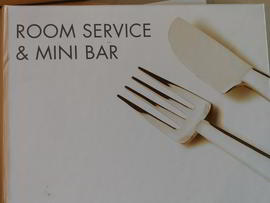 Vina Volo Wine Packages
Norwegian Cruise Lines (NCL) does actually have a number of wines both by the bottle and by the glass that are pretty good and many that are reasonably priced. I made a list from my prior NCL cruises of the wines that I liked and many of them are available on this cruise. Unfortunately, almost none of the wines on the Norwegian wine list that I know that I like are in the Vina Volo Wine Packages offering. But other than that, the prices of these packages look very reasonable.
Partial Bar Menu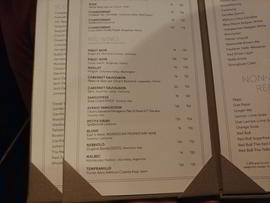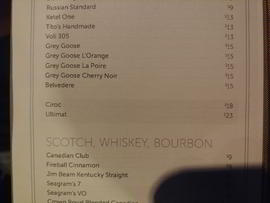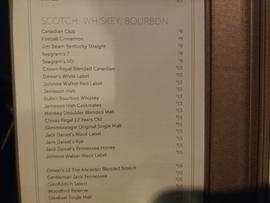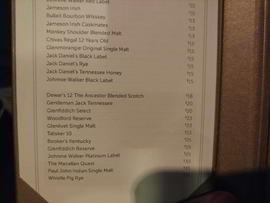 Buffet Dinner The First Night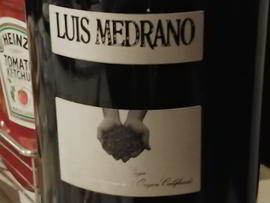 Along With Our Own Wine
Howl At The Moon
Dueling Pianos
In The Headliners Lounge
Click on each photo above for a larger image.
If in this report you see any typos, misspellings, factual errors or other types of errors, please let me know. Please include the web address (URL) of the report in which you found the error. Thank you! Send your email to: