If in this report you see any typos, misspellings, factual errors or other types of errors, please let me know. Please include the web address (URL) of the report in which you found the error. Thank you! Send your email to:

Click on each photo below for a larger image.
Bodega Maestrazgo
Sant Pere Mes Baix, 90, 08003

Opening Hours
Mon - Sat:
11.00 - 14.30 & 17.00 - 21.45
Closed Sundays

Contact + 34 933102673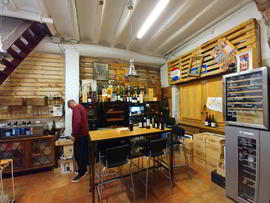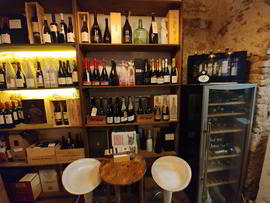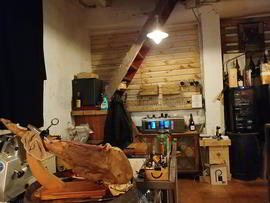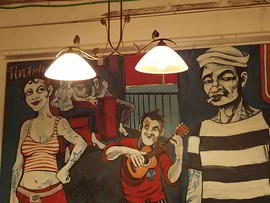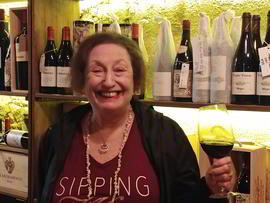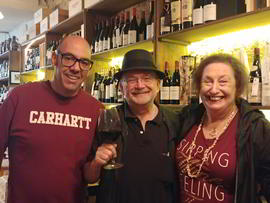 Bodega Maestrazgo has been serving our customers in the heart of El Born in Barcelona since 1952. We strive to offer a comfortable atmosphere open to learning about, tasting and experiencing new and exciting wines from Catalonia, Spain and all over the world in our wine bar and wine shop in Barcelona.
More than a wine store ...
We Know Our Winemakers!
Our winemakers are as interesting as our wines, and we love nothing better than sharing their stories with you. That's why we choose to work with small
Delicious Food & Platters
From delicious platters of Iberian Jamon and local cheeses to larger plates of our special artichoke and bacaloa dishes. You'll be sure not to go hungry!
Wine Flights
Let's be honest, when it comes to choosing which wine you want, it can be tough! (It's like picking your favorite child!) So to save you having to choose, we offer personalised wine tasting flights of 4 glasses that we think you will love. Booking not essential but advised!
Wine Tastings @ Maestrazgo
We love learning about wine and sharing our discoveries! There's no snobbery here, just a passion and enthusiasm for delicious wine. From 2+ People, prices start from 35 Euro.
Barcelona Wine Tastings and Experiences
It's about you, and the people clinking their glasses with you. It's about birthdays, holidays, fancy dinners and nights in with friends or loved ones! Because in the 1000s of years of drinking wine, one thing has never changed; you don't drink a bottle of wine, you share it!
No matter what your wine knowledge, our Barcelona wine tastings are always fun and informal, packed with stories straight from the vineyards.A ll of our tastings are suitable for beginners and wine enthusiasts alike! You will leave educated, entertained and thirsty for more! We'll teach you the basics of Spanish wines, regions, and grapes ensuring you leave with an increased confidence in all things wine, and most importantly a smile on your face!
Tastings usually take around 2-2.5 hours with lots of delicious food and plenty of wine-related chats and laughs along the way.
PLEASE NOTE: All tastings require a booking in advance. If you would like to book any of the wine tastings below, send us a message on our contact page, and you'll be a Spanish wine expert in no time!
All Wine Tastings Include The Following:
Vermouth is served from the barrel at the front section of the bodega to start your Barcelona wine tastings. We will then explain all of the history of this famous local drink, the story behind the bodega & vermouth culture in Catalonia and finally, how vermouth is made and what makes it so special and unique!
A table will be reserved for you in the seating area of the bodega. Alternatively, you can avail of our private tasting rooms for larger groups or for those of you who would like a more intimate experience. There you will enjoy a selection of our favorite wines, which will be chosen for you. An explanation of all wines, their regions and qualities will be included in your tasting experience.
We know that the best wine is enjoyed when paired with delicious food! Which is why all tastings include food boards over-flowing with Spanish meats / cheeses / olives & breads... make sure you don't have a big lunch!
SILVER TASTING EXPERIENCE (45 Euro)
GOLD TASTING EXPERIENCE (65 Euro)
And the one we selected for the 3 of us:
ULTIMATE TASTING EXPERIENCE (90 Euro)
1 x Vermouth
1 x Cava

1 x White Wine
3 x Red Wine
Platter of vintage 2014 Jamon Iberico de Bellota served exclusively in our bodega!
If you want to experience some of the most exceptional wines from Spain and Catalonia - this package is for you. During this tasting, you will get to taste, enjoy and learn about some of the smallest and limited productions wine sold at our bodega. Many of these wines are no longer available and our some of the most fascinating and enjoyable wines we have ever tried! If you are passionate about wine - make sure not to miss this tasting, hosted by our owner Jose Moliner. (aka. The Wine Whisperer!)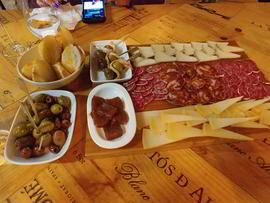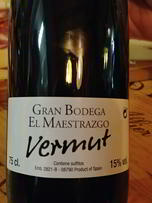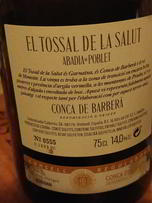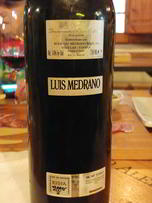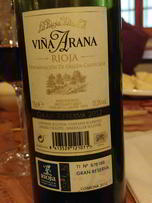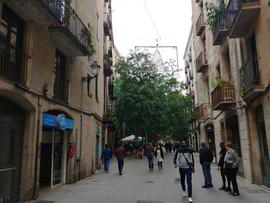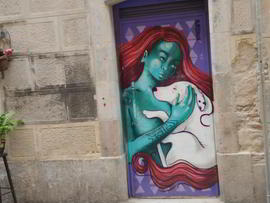 Walking Down The Little Alley Where The Wine Ship Is Located
Arc de Triumf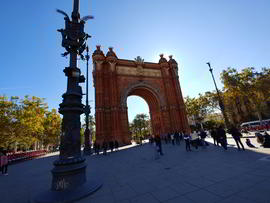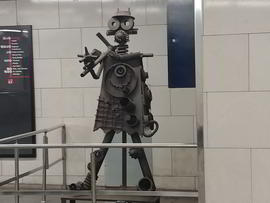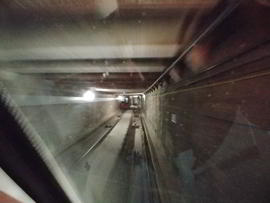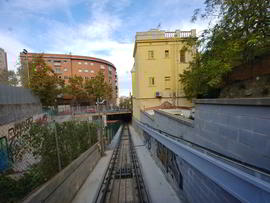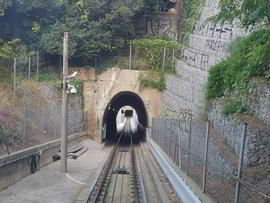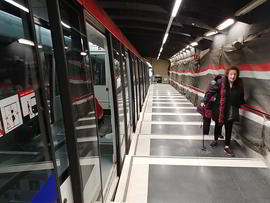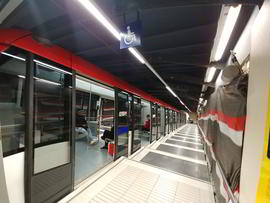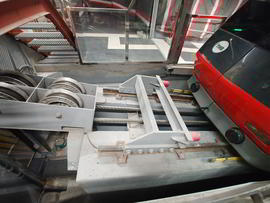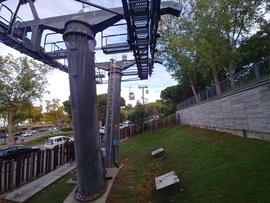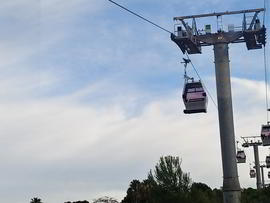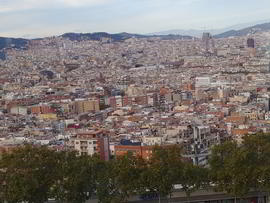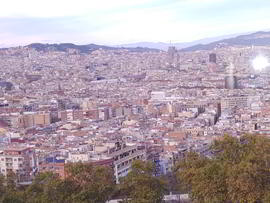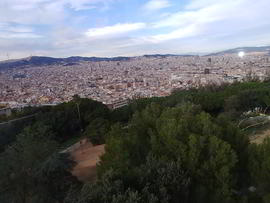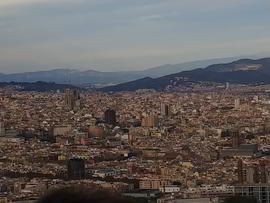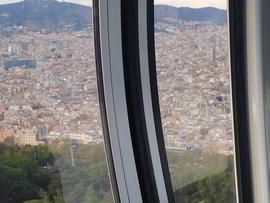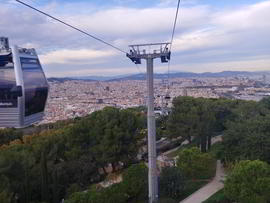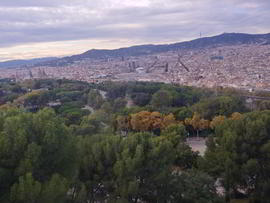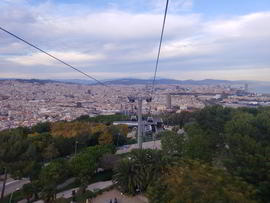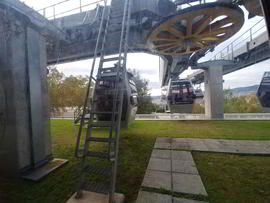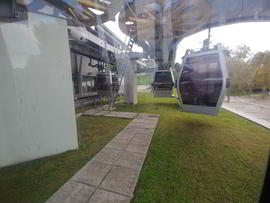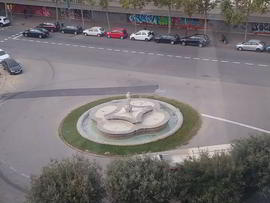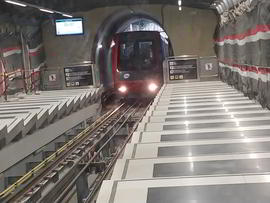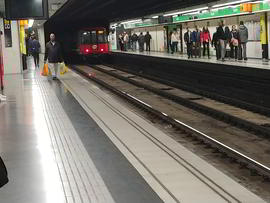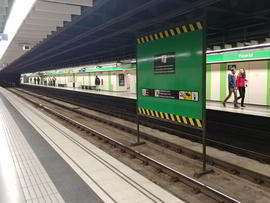 Click on each photo above for a larger image.
If in this report you see any typos, misspellings, factual errors or other types of errors, please let me know. Please include the web address (URL) of the report in which you found the error. Thank you! Send your email to: