If in this report you see any typos, misspellings, factual errors or other types of errors, please let me know. Please include the web address (URL) of the report in which you found the error. Thank you! Send your email to:


Click on each photo below for a larger image.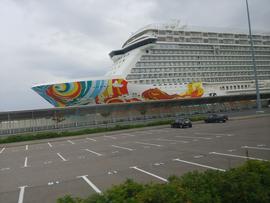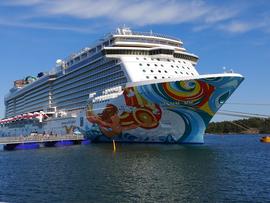 As you can see from the first photo above, our cruise ship is pretty big compared to some others.
Norwegian Getaway Main Theater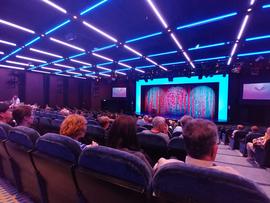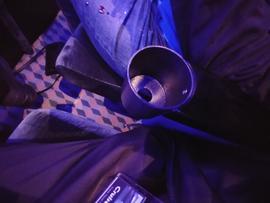 Would be nice if the drink glasses would fit in the drink glass holders.
Headliners
Howl at the Moon - Dueling Pianos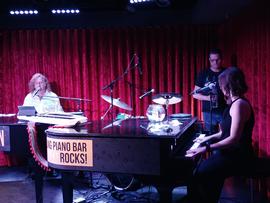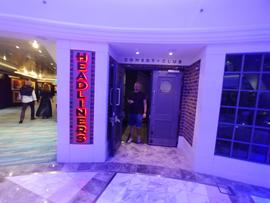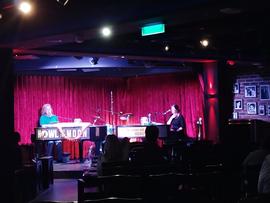 Sugarcane Mojito Bar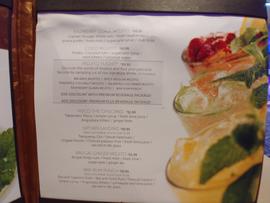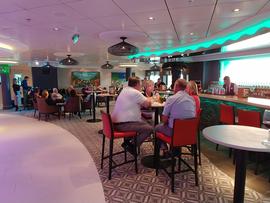 Live Music by the Funky Duo
Sunset Whisky Bar
La Cucina Italian Restaurant
O'Sheehan's Bar & Grill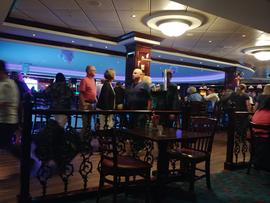 Illusionarium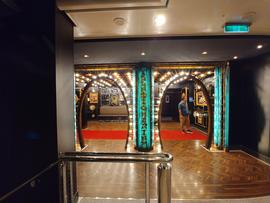 Le Bistro
Mixx Cocktail Bar
Savor & Taste Main Restaurants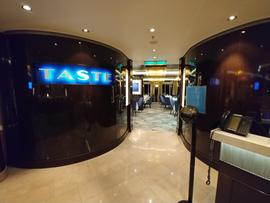 Guest Services
Tropicana Main Restaurant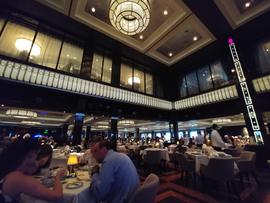 The Tropicana Restaurant is one of the 3 main restaurants on the Norwegian Getaway along with the Taste and the Savor Restaurants. You can have dinner at any of these three restaurants anytime without reservations and without any additional charge. All three restaurantes feature the exact same menu every evening.
Atrium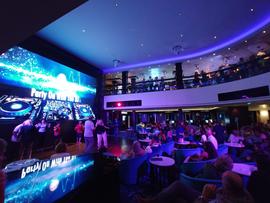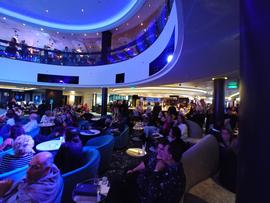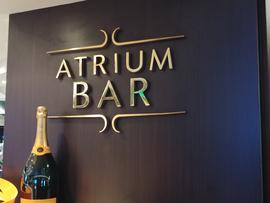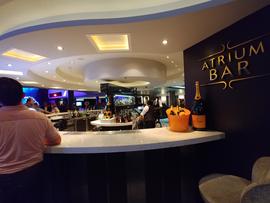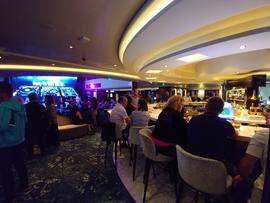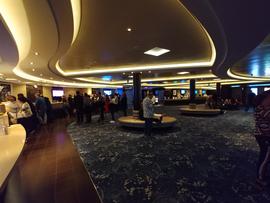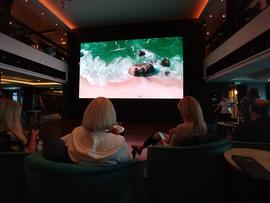 Above The Atrium
Teppanyaki Restaurant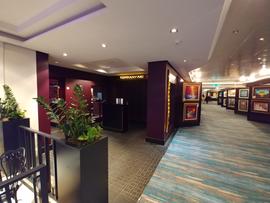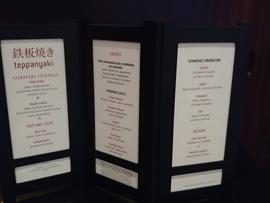 Dazzling Food Preparation. Flying shrimp. Onion volcanoes. Twirling knives. The sizzles and surprises never cease at our authentic Japanese Hibachi restaurant. Sit around a lively shared table as a skillful chef slices, chops and grills steak, seafood and chicken on a large steel grill right before your eyes. Our chilled, sake-infused Wasabi Cocktail will have you flipping too.
Entertainment Galore
At Teppanyaki, there's always great food and even better entertainment in store. Our chefs show off their amazing skills as they slice, dice, juggle and flip their way through every meal. It's a great place for the whole family to get wowed.
Sushi-Style Dessert
After a night of thrills, surprises and plenty of yummy food, Teppanyaki's fresh fruit sashimi, which includes a number of delicately sliced exotic fruits, is a refreshing way to end (or start) the night.
The Fun Starts with the Menu
Not every menu is created equal. Especially the one at Teppanyaki. That's because it comes with special instructions on how to fold it into a beautiful piece of origami! So you'll leave full, happy and with a little gift too.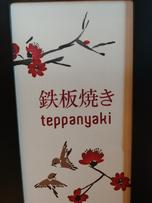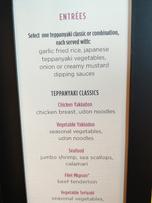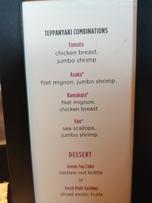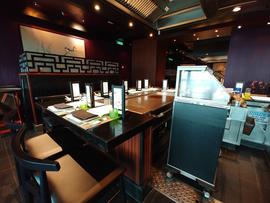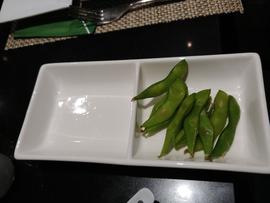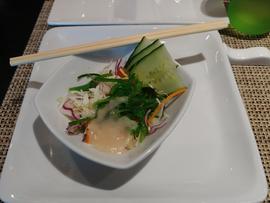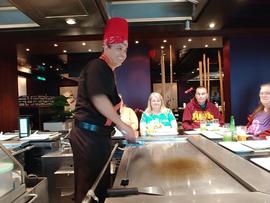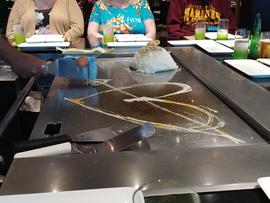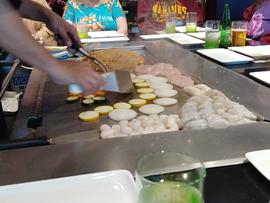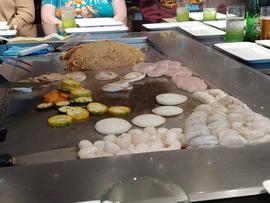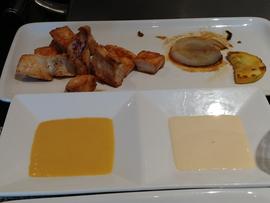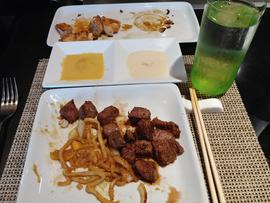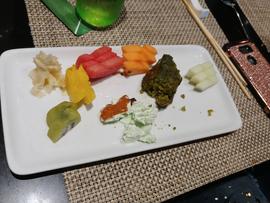 Skyy Vodka Ice Bar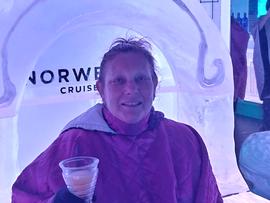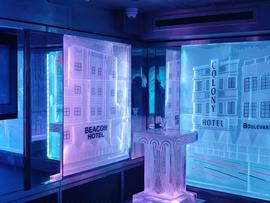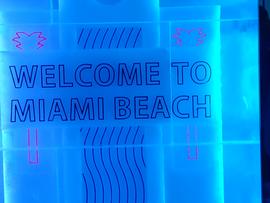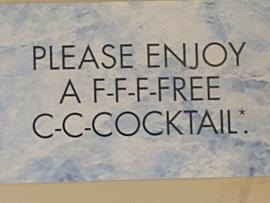 Norwegian Getaway Casino
Syd Norman's Pour House
This used to be Fat Cat's Jazz & Blues Club
Classic Rock. Never enough seats for everyone.
Spice H2O Bar
Laundry Services
The Bake Shop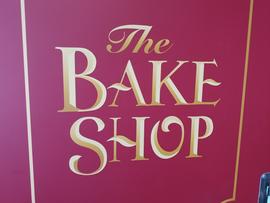 The Water Slides
The Ropes Course
Jimmy Buffett's Margaritaville
7:00 PM Moderno Party Size: 3
Samba Into Deliciousness
If you're looking for a unique experience, our authentic Brazilian steakhouse is a must. Start with an impressive salad bar of imported cheeses, olives, cured meats, ceviche and specialty salads. Be sure to save room for the delicious skewers of slow-roasted meats including beef, pork, lamb and chicken - all carved tableside by our authentic Pasadores.
The History of Brazilian Churrascarias
A South American-style rotisserie, churrascarias owe their origins to the fireside roasts (churrascos) of traditional Southern Brazilian cowboys (gaśchos), who after a long day of herding cattle, shared food and fellowship around a fire pit or grill.
Best Salad Bar On Board
With the best salad bar on board, you can enjoy Moderno's bountiful selection of freshly prepared salads, tuna, French beans, potato, shrimp and roasted garlic, hearts of palm, ceviche, European cured meats and artisan cheeses.
Indulge in a Caipirinha - Brazil's National Cocktail
No meal at Moderno Churrascaria is complete without sipping on a Caipirinha. Brazil's national cocktail, the Caipirinhas at Moderno Churrascaria are made with Leblon Cachaca, lime slices and simple syrup.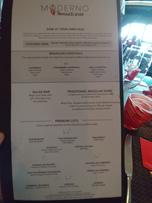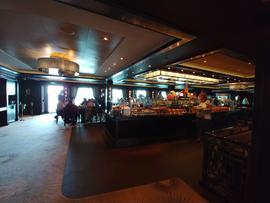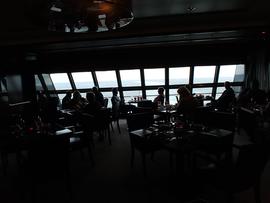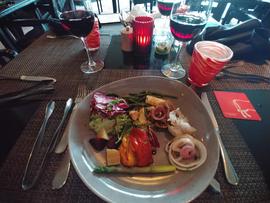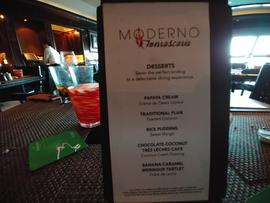 Click on each photo above for a larger image.
If in this report you see any typos, misspellings, factual errors or other types of errors, please let me know. Please include the web address (URL) of the report in which you found the error. Thank you! Send your email to: