If in this report you see any typos, misspellings, factual errors or other types of errors, please let me know. Please include the web address (URL) of the report in which you found the error. Thank you! Send your email to:


Click on each photo below for a larger image.
Our Balcony Stateroom
Beds, Sofa & Desk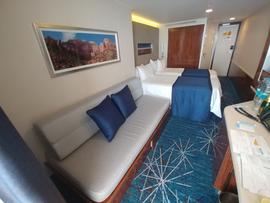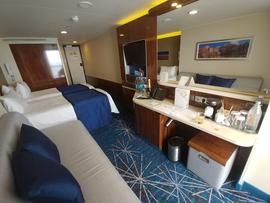 When we first entered our cabin there were 2 beds. We had requested that the cabin be configured with a single kingsize bed and had originally received confirmation that it would be arranged that way. However, I could not find anywhere in our paperwork where it stated how our beds would be configured. When we cruise with Carnival, you can always check your booking to confirm how your bed(s) will be configured and can even change your request at any time. I could find no such option for our NCL booking, not even a place to view the bed configuration. However, we did get the bed configuration fixed by just asking our room steward to change it. You can see the configuration was changed to a single kingsize bed in the lower two photos.
Bathroom & Shower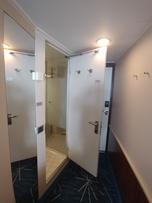 Desk & Mini-Bar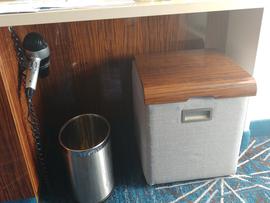 Since we would not be purchasing anything from the Mini-Bar, we asked our cabin steward to remove all the items out of the Mini-Bar so that we could use it for our bottles of water. He removed the items and put them inside the desk chair. The lid comes off the desk chair and it is just an empty storage box inside.
Closets & Cabinets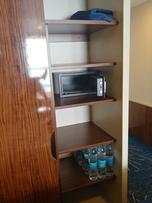 Plenty of storage and hanging space.
In Room Beverages
I must have mistakenly thought the water bottles that I ordered for the room were going to be the small ones that you can carry around as I ordered 3 packs of 12 bottles. We ended up with having 36 liter bottles of water delivered to our room. There is no way we will finish all those over the 9 day cruise. We also received a free bottle of sparkling wine since we are Norwegian Silver Level Members. On Carnival you can purchase all sorts of beverages to be delivered to your stateroom, everything from cases of small bottles of water, six packs of soda, beer, wine and even hard liquor.
Our Balcony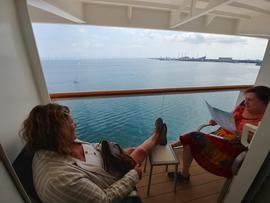 Cheryl and Barbara relaxing on our balcony.
Views of Copenhagen from Our Balcony
Left: Wind Turbines; Right: Indoor Skiing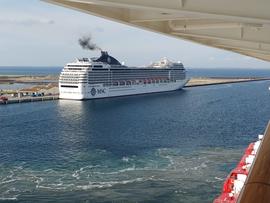 Other cruise ships at the Copenhagen port.
Click on each photo above for a larger image.
If in this report you see any typos, misspellings, factual errors or other types of errors, please let me know. Please include the web address (URL) of the report in which you found the error. Thank you! Send your email to: