If in this report you see any typos, misspellings, factual errors or other types of errors, please let me know. Please include the web address (URL) of the report in which you found the error. Thank you! Send your email to:


Click on each photo below for a larger image.
Our Mini-Suite Stateroom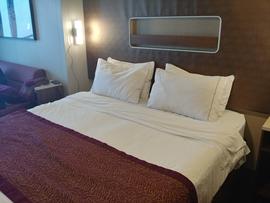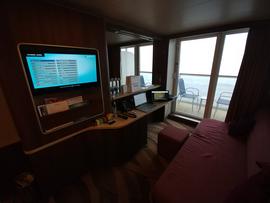 Our Mini-Suite Bathroom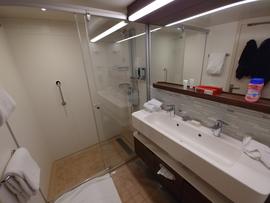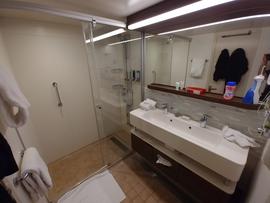 Our Mini-Suite Bathroom.
This is the largest bathroom than we've ever had on any prior cruise. It even had a double sink! Both our Mini-Suite Stateroom and Bathroom were quite large. When we booked this cruise we decided between picking an exact Balcony Stateroom ourselves or letting Norwegian pick a Mini-Suite Stateroom for us. Norwegian gives a huge discount when you allow them to pick the room for you, which is guaranteed to be in the category that you select. Letting Norwegian pick a Mini-Suite for us was only a bit more expensive than picking our own Balcony Stateroom. We could have let Norwegian pick a Balcony Stateroom for us and saved even more, but there were some Balcony Staterooms with obstructed views. We didn't want to take a chance in ending up in one of those. I did not see any Mini-Suite Staterooms that had an obstructed view so I figured there was little chance that Norwegian would put us in a Mini-Suite that we did not like. Thus we took our chances and ended up with a room that we thought was fantastic!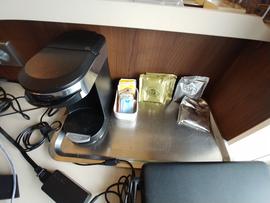 Left: All 3 of our notebook computers and USB plugged into a 3 outlet T-tap.
Right: Fresh coffee, sweetener and creamer
supposed to be provided each day in our room.
I did bring along power strips with short power cords that were not surge protected. Ships only allow power strips that are NOT power protected. Evidently there is a problem using surge protectors on ships. I forgot that the above 3 outlet T-tap is actually surge protected. I replaced it with one of my non-surge protected power strips when I realized this. The reasons why surge protectors on ships are not safe is a bit complicated. But, suffice it to say that it probably will not protect what you have plugged into it and could be a safety hazard on the ship as well as promote faster rusting of the hull of the ship.
As you can see above there were actually three 110 volt outlets so I really didn't have to use a power strip at all. However, Norwegian wanted everything unplugged whenever the stateroom was unoccupied. I found it easier to just unplug one powerstrip rather than having to unplug and re-plug three cords every time we went out and back into the room. Unplugging everything for safety seemed like a bit of overkill as the stateroom used a key card mechanism where all the lights and outlets would turn off when you removed your key card from the slot whenever you left the room. But I can sort of see the problem. Not wanting to forget my key card, I always kept it on a lanyard around my neck. I just put one of my business cards in the key card mechanism to keep the lights and power on in the room when we were in the room. There were a couple of times that I forgot to remove my business card so the power was left on when we left the stateroom.
Each ship has their own way of indicating to the cabin steward when you want the room made up, when you don't want to be disturbed, and sometimes even an indication of whether or not you are in the room. On the Norwegian Escape there are two switches on the wall near the bathroom door. Turning one on indicates you do not want to be disturbed. Turning another one on requests that you want the room to be made up. I wonder what would happen if you turned them both on indicating that you want the room made up but don't want to be disturbed? I never tried that but just thought of it. Turning either switch on turns on a small indicator light outside the room to show your request. If you have a card in the key card mechanism it turns on a small indicator light outside the room to show that you are in the room (or at least that there is a card sitting in the key card device).
Our Mini-Suite Balcony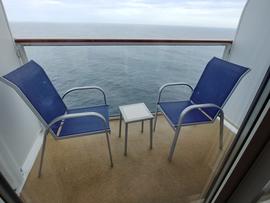 Our balcony and the door locking mechanism for access to the balcony.
Click on each photo above for a larger image.
If in this report you see any typos, misspellings, factual errors or other types of errors, please let me know. Please include the web address (URL) of the report in which you found the error. Thank you! Send your email to: