If in this report you see any typos, misspellings, factual errors or other types of errors, please let me know. Please include the web address (URL) of the report in which you found the error. Thank you! Send your email to:


Click on each photo below for a larger image.
Arriving Back Into New York City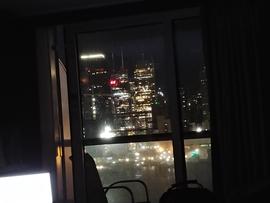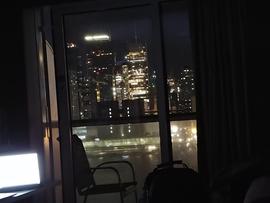 I woke up at around 3:45 AM and noticed there was already a skyline of tall buildings out our cabin window. I could even see traffic along the shoreline. I guess it is a long slow path to get from where the city first appears until we get to the dock. I don't think the ship got to the dock until around 7 AM or so.
New York Debark Tour Shore Excursion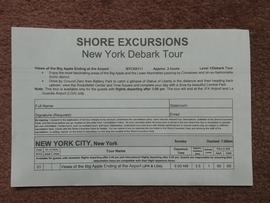 Norwegian offered a New York City Tour Shore Excursion for $99 per person that would get participants off the ship early at 9 AM, tour New York for 3-1/2 hours, and then drop them off at JFK or LaGuardia Airports. Originally they listed this as a tour only for those with flight scheduled after 5 PM. As you can see above, they changed that to 3 PM. That changed made sense to us as a 3-1/2 hour tour starting at 9 AM should end and be at the airports by 12:30 PM, long before 3 PM. Since we had a 3 PM flight, we thought this would be an ideal way to kill some time and also bypass the debarkation delays and chaos. We knew transportation to airport was going to cost around $50 so this tour would just be an additional $150 and give us another tour of New York City.
AFter we purchased this tour on our cabin iTV, a note popped up that said this tour was only for those that had flights after 3:30 PM. This was inconsistent with the 3 PM mentioned before we made the purchase and inconsistent with the above paper reservation form. We decided to go down to the Shore Excursions Desk to find the real story. Was this tour for passengers with flights no later than 3 PM or no later than 3:30 PM? And why should a 3 PM flight be a problem if the tour should be over and the tour buses at the airport around 12:30 PM?
The staff at the Shore Excursion Desk recommended that we not take a chance and not take the tour. He refunded our purchase. I still don't know why. It seems like a 3-1/2 hour tour starting at 9 AM should be to the airports long before even 2 PM. He did mention that if enough people signed up they would usually have one bus that ends at JFK Airport and a different bus that ends at LaGuardia Airport. If not, then the one bus might go to one airport first and then the other airport. That might introduce enough delays that could be a problem for people with flights before 3:30 PM.
You'll Be Leaving Soon
Usually the Cabin Attendant will leave the disembarkation instruction sheets in each cabin the night before the last cruise day, or at least deliver them in the morning of the last day. We never got any disembarkation instructions delivered to our room. We had to go hunt them down. By that time some of the disembarkation time slots were already all taken. We would not even have know that the disembarkation instruction seats existed if we hadn't gone looking around. We actually just ran across them by accident when I was looking to see what Norwegian had in the Atrium regarding future cruises.
Norwegian asks that everyone vacate their cabins by 8:30 AM. We went up to the Garden Cafe at around 8:15 AM as the breakfast buffet is only open on the final day until 8:30 AM. They actually didn't close the last station at the buffet until almost 9 AM, but I guess they list the closing time as 8:30 AM to try to get everyone out of their cabins by that time.
At around 9:30 AM or so they wanted all passengers to be out of the Garden Cafe. We left and headed to another lounge to await our turn to disembark. We had selected one of the latest disembarkation times as our flight wasn't until 3 PM. We were just trying to kill some time so that we didn't arrive at the airport too early.
I checked the Uber App and saw that the price would be around $44 or so from the cruise port to LaGuardia Airport. Web sites showed taxi fares to be about $50. So, they were close enough in price that we decided to take whichever we could get first. After we disembarked we saw a line of taxis across the street at a taxi stop. We crossed and were about to take a taxi when a person approached us with an "Uber" sign. Not thinking clearly in the embarkation chaos, I decided to follow him. I started to realize that was a pretty dumb decision as anyone could hold up an "Uber" sign and this was not a legitimate way to schedule an Uber ride. He took us to a very nice SUV around the corner and loaded our luggage into the car. When we asked the price, he said it would be what Uber normally charges. I looked up the Uber cost and it was listed at $44. He showed us his Uber App and said it would be $75 ! He said he was "Uber Black" and that was the rate for Uber Black. He said the sign he held up said "Uber Black". I didn't see that part of his sign and I never heard him say anything about "Uber Black". We told him we were only willing to pay $44 as that is the UberX rate and we would not have booked anything more expensive than UberX. After a little discussion about the "misunderstanding" back and forth, we asked to be dropped off right where we were.
We were now about 3 blocks from the cruise terminal and could still see our cruise ship from where we were. The nearest taxi stand was one block from where he dropped us off so we walked one block in the direction of the cruise ship to that taxi stand. However, by now, all the taxis were gone and no more taxis in sight. There were also 4 people ahead of us waiting. Someone approached everyone in the line and tried to convince them to take a ride with him for $75. He was claiming the cross town traffic was terrible and the taxi would be no cheaper.
Instead we decided to try to schedule an UberX again. The App said it would be $53, now $9 higher than the first time we checked the Uber App. The App said an UberX would be by to pick us up in about 6 minutes, but we would have to walk 3 blocks back in the direction that we had just come from. I could see why. The UberX would be coming from the opposite direction and that was the only place the UberX could make a left to get close to us. The UberX arrived on time and drove us to LaGuardia Airport without a problem. The price was as quoted. Lesson learned... Just stick with using the App to schedule Uber or take a taxi. Never go with someone else offering a ride even if they are holding up an Uber sign.
American Express Centurion Lounge
View from the American Express Centurion Lounge
There is a massive amount of construction going on at the LaGuardia Airport both inside and outside. Evidently they are going to be adding a lot more terminals and concessions at the airport by the time they are finished.
Both the American Express Centurion Lounge and the United Airlines Lounge were before security screening at Terminal B at LaGuardia Airport. This is the terminal that serves both Southwest Airlines and United Airlines as well as several others. This is the first time that we have ever encountered an airport lounge that was before security. Our 3 PM flight was scheduled to board at 2:30 PM so we made plans to leave the lounge at 1:30 PM to give us time to get through security and to the gate.
Before leaving the ship we read reviews about the airport lounges at LaGuardia Airport Terminal B. Most people said the American Express Centurion Lounge was the best lounge at the airport, even better than the United Lounge. The reviews did have some conflicting information. Some people said it was almost empty and that they weren't surprised as it was before security. Others said it was very crowded. I think it really just depends how many flights are departing at that time and the number of people qualified to enter the lounge are at the airport.
The American Express Centurion Lounge was moderately busy when we arrive but there were a number of empty seats both in the comfy sofa chair area and at the tables. We sat at a table and ordered a couple of complimentary Bloody Marys. Then we went over to the buffet and each made a really nice salad including adding a number of meat items in the buffet.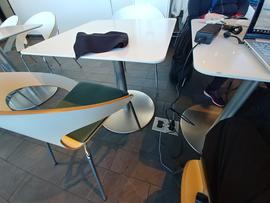 I think every seat in the entire lounge had power outlets. At first I didn't want to sit at a table as I thought the tables had no power outlets. But then, Barbara, my wife, noticed there were outlets on the floor between every table. In the above photos you can see my computer on our table and plugged into the outlets on the floor plus our cell phones plugged into a USB charger.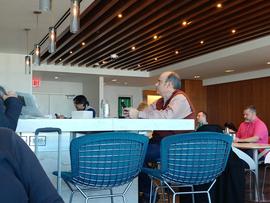 Bar and table areas inside the lounge.
Our Preferred Airlines
We almost always book Southwest Airlines when we fly domestic, even though that means we almost always have to change planes. Southwest Airlines offers very few non-stop coast to coast flights. But, we have a Companion Pass that allows my wife to fly anywhere that I fly at no cost. It is hard to beat "free" when comparing fares from other airlines. Thus we fly Southwest Airlines. When flying international we'll first check if our destination is served by Norwegian Air Shuttle. You can fly to many of those international destinations for less than $200 per person, or with added amenities, less than $300 per person. We also have a lot of points with United Airlines so we use that carrier and their partners when going to an international destination not served by Norwegian Air Shuttle. For this flight to the west coast we had to change planes in Denver since Southwest did not offer a non-stop flight from LaGuardia.
Timberline Steaks & Grill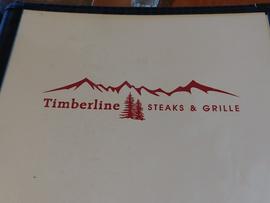 Via our American Express Platinum card we have a Priority Pass card. In a lot of airports where American Express and Priority Pass do not provide lounge access, they instead allow you to eat at certain restaurants and cover up to $28 for the member and up to 2 guests. Thus when Barbara and I travel together, they cover the first $56 of our food bill, including alcohol. If we have another person with us, they cover up to $84 of the bill. The tip is not included even if the bill comes to less than that so we just leave the tip in cash. Thus we were able to have dinner at the Timberline Steaks & Grill restaurant at no cost to us other than the tip.
The American Express Platinum Car plus Priority Pass benefits I think more than cover the annual cost of the card. The card also covers up to $200 per year in all onboard expenses plus additional check luggage costs on one selected airline. They also give you $15 in Uber credits every month and $30 in December each year. They also provide several hundred dollars in cruise credits on certain cruise lines when you book through American Express and charge your cruise to your American Express Platinum Card. There are also many other benefits provided by the card.
I just thought this ketchup brand name was funny being served at a mile high restaurant.
Cruise Drink Packages
I see posts from time to time about people wondering if it is worth buying a drinks package. I just got notified today that Norwegian is changing the name of the Ultimate Beverage Package (UBP) to Premium Beverage Package (PBP?). Some people manage to get the Adult Beverage Package as a free perk on their cruise. Most people seem to agree that the Adult Beverage Package is the same thing as the UBP (or PBP). The normal cost of this package is $99 per person per day and had to be purchased for every adult in your room plus you must also purchase the child's beverage package for every child in your room if you purchase the UBP/PBP. Even with this package you still have to pay the 20% service charge / gratuity and taxes above and beyond the $99 per person per day. There is a less expensive package for $65 per person per day that only includes beer and wine. Both packages include soda and various other non-alcoholic beverages. There are other limits beyond that too. Drinks can't be more than $15 each or you pay the difference. If you buy a bottle of wine you only get 15% off. If you participate in a spirits or wine tasting event you only get a small discount, usually like 15% off for the event. So even with the very expensive drinks package you'll still end up paying gratuity and taxes plus for whatever alcohol tasting events you attend.
My wife and I were on a 7 day Norwegian Escape Bahamas cruise last week. I thought I'd just provide our drinking experience and costs in case it might help others decide whether or not to buy a drinks package. During the 7 day cruise my wife and I split a total of 7 bottles of wine, that averages one bottle of wine per day. We also purchased 3 glasses of wine in addition to the bottles. We had a total of 5 cocktails and 1 glass of beer over the 7 days. But in addition to that we also attended 2 wine tasting events. At each event we had 6 glasses of about 2 oz pours for a total of 12 oz each, or about 2-1/2 glasses each at each of the 2 wine tasting events. We also attended a Whisky and Beer Tasting Event.
At home the most we'll usually drink is just splitting a bottle of wine (about 2-1/2 glasses) each day. So this was quite a bit more drinking each day than we normally do.
The total cost of all this drinking for 7 days came to less than $600 for the 2 of us and that included all tips and taxes! If we had purchased the UBP/PBP it would have cost us $99 X 7 or almost $1400 plus 20% service charge / gratuity plus taxes. That would have been a total of at least $1700 after the additional mandatory fees. The Tasting Events would not even have been included in that except for a small discount.
So for us the drinks package would make no sense. We drank as much as we wanted to drink on the cruise, way more than we normally do when not on a cruise, and the total cost to us came to less than $600. That compares to $1700 or more for the drinks package.
You'll have to judge for yourself based on what you think you will be drinking as to whether the package is worth it for you. But if you are a couple, $1700 covers a lot of drinking one glass or one bottle at a time even with the high price of drinks on the ship. Even if you buy the most expensive $15 drinks allowed in the drinks package, you would have to buy 100 drinks over 7 days (or about 14 drinks per day, 7 drinks each) to break even. Maybe one can squeeze in 7 drinks on a Sea Day (without getting wasted?), but there are a lot of shore days where I certainly could not manage to squeeze in 7 drinks in the few hours on the ship on those days.
If someone sees something I'm missing in my calculations, I'm certainly open to being corrected. Of course, if you are getting the drinks package as a free perk, you can't beat that. We are getting it for the first time as a free perk on our next cruise. But already I'm fretting over not being able to buy wine by the bottle without having to cover most of the cost above and beyond this free perk.
I was on the Horizon TA last year too and had no problem with the internet at all. Did you happen to check how good a WiFi signal you had in your room? The WiFi signal was excellent for me. The new cruise ships (and even the older ones like Splendor) have hotspots throughout the ship and should provide an excellent or at least a good signal from every cabin and every location on the ship. But just because you have an excellent WiFi signal doesn't mean you can reach the internet of the outside world. It only guarantees that the ship's Mobile App and features should work fine anywhere on the ship. I just got off from an NCL Escape Bahamas cruise on Sunday and had excellent internet on that cruise too. All my cruises over the last 2 years have had very good internet except for the Splendor 14 day Hawaii cruise which had pretty close to no internet. We had cabin 6366 on that trip. We liked that room so much that we've rebooked that exact same balcony room for the 24 day Transpacific cruise Los Angels to Singapore in October 2019. We had an excellent WiFi signal in that room but that isn't of much help if the ship does not have a good internet uplink to the satellites. (New equipment needed! Splendor satellite equipment is probably more than ten years old). It really should no longer matter where your cabin is located. You should have a good WiFi signal from everywhere on the ship. The ship provides WiFi hotspots throughout the ship just so their Mobil App will work from everywhere. I remember the bad old days when I'd make sure I booked a room right above or below the Internet Cafe in hopes that I could use my computer from my room and not have to spend so much time right in the Internet Cafe. That no longer matters. There is good WiFi throughout most ships now, at least on Carnival and Norwegian, even the older ships. But again, just because there is good WiFi throughout the ships, that does not mean you can get on the internet. That is more dependent on the age and quality of the internet satellite equipment on the ship. Most of the world now has good internet satellite coverage, especially navigable waters, so it should not matter where in the world the ship is located. It should have good access to an internet satellite. But if it has older internet satellite equipment, it might not have good bandwidth and might not be compatible with all the satellites, especially newer satellites over large bodies of open water. I think that may be the problem with the Carnival Splendor. Most likely they are going to upgrade that equipment in the refurbishing in Singapore, but that doesn't do those of us on the Transpacific trip to Singapore any good. By the way, there is no reason the lower decks like 1 and 2 should have a worse WiFi signal unless Carnival decided to cut costs by not putting as many hotspots on those decks as throughout the rest of the ship. Maybe because you are closer to the engines, fuel, and other mechanical equipment, there is just so much metal that the WiFi signals have difficulty propagating on the lower levels. Actually I think it is a miracle the ships are able now able to provide good WiFi throughout the ship considering all the walls, floors and ceilings are made of metal, even the walls between each cabin. i have no idea how they manage to get the WiFi signal into every cabin with all that metal shielding. I don't think they went as far as hiding a WiFi hotspot in every cabin. But I have an App that can measure all the WiFi signals around me. On my next cruise I'll take a look at the readings and see where the hotspots are located around me. Since it shows the strength of every hotspot it is great at figuring out where each hotspot is located.
Welcome Aboard & Ship Map
The above is info I should have posted to the web the first day of our cruise but forgot to. It is an overall map of the ship and some basic information about the cruise.
Click on each photo above for a larger image.
If in this report you see any typos, misspellings, factual errors or other types of errors, please let me know. Please include the web address (URL) of the report in which you found the error. Thank you! Send your email to: