If in this report you see any typos, misspellings, factual errors or other types of errors, please let me know. Please include the web address (URL) of the report in which you found the error. Thank you! Send your email to:


On this last day I had a minor problem with connecting to the internet. The Norwegian Login screen on my mobile phone said that I had reached the end of my package. My wife did not have the same problem. Her mobile phone showed that she still had one day left on her internet package. Unlike my wife who always kept her phone connected to the ship's internet, I kept switching between my notebook computer when I was in our cabin, and to my mobile phone when I was elsewhere in the ship. So it sort of made sense that if one of us was going to have a problem with the ship internet, it would be me.
I went to the Internet Manager on the ship in the Internet Cafe and explained the problem. She somehow got my mobile phone back to my account login screen and asked me to log back in. I did so and the problem was resolved! My cell phone now said that I still had one day left on my internet package.
I was never able to get back to the login screen myself on either my mobile phone or my notebook computer. Whenever I wanted to disconnect one of my devices so that I could switch to the other, I'd type "logout.com" in the web browser address bar. That would lot out that device. Then I would type "login.com" or just type any web page address in the web browser address bar. That would send me to the main Norwegian Internet page. It would never ask me to log in. Instead it would just say something like: "You are now online. Click here to browse" and then all internet functions on that device would work.
Click on each photo below for a larger image.
Latitudes Bronze Member Rewards
I think you get to be a BRONZE LEVEL MEMBER on your second cruise with Norwegian as this is only our second cruise. This is what is listed as the "Bronze Benefits & Discounts":
Bottle of sparkling wine (per stateroom)
Onboard discounts: 10% on all Norwegian logo merchandise in our duty-free shops (Present your keycard to receive these benefits and discounts).
30 free Internet minutes with 250-minute Internet package purchase. 15 free Internet minutes with 100-minute Internet package purchase. (Internet benefits cannot be combined with other internet promotional offers. Guests onboard Norwegian Breakaway will receive 20 free MB with 1,000 MB internet package, 10 free MBs with 300 MB internet package.
Free artwork for attending the auction.
Onboard Laditudes Rewards representative.
I don't mean to be negative, but membership rewards never seem to work much for us.
We eventually got our bottle of sparking wine after I reminded our cabin attendant that it wasn't in our room. It would have been nice to have it waiting for us in our cabin when we first boarded to toast to the bon voyage from the port. On all prior cruises where we have received a complimentary bottle of champagne it was always waiting for us in our cabin along with two champagne glasses. We have used it to toast our bon voyage from the port. Other than when toasting something my wife and I never drink champagne. We are not fans of white wine or of sparkling wine of any color.
We didn't purchase any Norwegian logo merchandise on this trip. We rarely purchase logo merchandise on any trip. I might have been tempted to purchase a model replica of the Norwegian Escape but didn't see one for sale. Also might have been tempted to purchase a Norwegian logo lanyard but forgot to even check them out since we cam onboard with our own lanyards.
The internet benefits on any cruise line never seem to work for us. We always purchase the top unlimited internet package offered on every cruise. We've asked about getting a refund or credit on the free internet provided as a benefit, but have always been told that the free internet benefit can not be refunded, credited to, or combined with the unlimited internet package. I've heard some people say they have been able to upgrade to the unlimited internet package onboard and get credited for the free internet benefit. But, I don't want to wait until I get onboard to upgrade. If purchased prior to the cruise their is usually a 15% discount on the cost of the unlimited internet package. Losing that discount by waiting to board the ship would negate any savings of crediting the free internet benefit to the unlimited benefit package. So this free internet benefit is of no value to us. Also, what is this about getting an addition 10 free or 20 free MB? I breeze through that in just uploading 3 photos!
We've attended art auctions on cruises before but never purchased anything. We've gotten "free artwork" for attending but it has always been just on an 8"x10" printed piece of paper unsigned and unnumbered. It probably costs no more for Norwegian to produce than the many dozens of other flyers they keep delivering to our cabin every day. If the art was something that looked interesting we might be tempted to save it, but it has never been too our tastes. We usually throw it away as unwanted litter along with all the other dozens of flyers that were delivered to our cabin during the cruise.
We never saw or spoke to the Latitudes Representative onboard. Maybe having a representative onboard is useful to those who have achieved higher Norwegian Rewards Levels and the rewards become better and more important.
As I mentioned above, it is not my intent to be negative. I'm sure their are many who find the Norwegian Rewards valuable, especially if the Free Internet Benefit is the only internet they use during the cruise. But for us, the Norwegian Rewards seem to have been little benefit so far. That doesn't mean we aren't enjoying the cruise. We are enjoying it very much and absolutely will sail with Norwegian again. Actually we already have another cruise booked with Norwegian in November 2019.
Spa Price List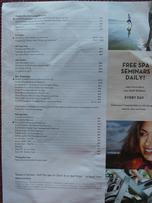 Above is some information about what is offered in the Spa. I have gone for a massage in the spa on prior cruises. Generally I avoid going to the spa anymore. The prices are quite high compared to off ship, but that is not so much the deterring factor. Mostly what I don't like is the sales job they do at the end and their attempt to guilt you into buying products. I really could do without the sales pitch. I know a lot of others just say "No" to everything, but I don't see why I even have to be confronted with the pushy sales pitch. So I just avoid going to the spa at all. It is Norwegian's loss, not mine. I usually have a scheduled massage waiting for me at Massage Envy after the end of the cruise and can just wait till then. The cruise lines would probably get the purchase of at least one massage out of me on every cruise if they would get rid of the pushy sales pitch of product at the end of every massage.
Great Stirrup Cay Map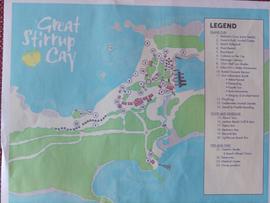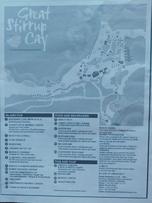 Above are maps of "Great Stirrup Cay", the Norwegian Cruise Lines (NCL) private beach and port that we missed on this cruise due to unfavorable ocean conditions.
Room Service & Mini Bar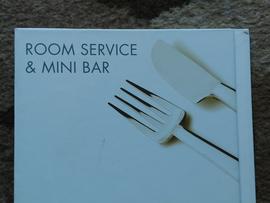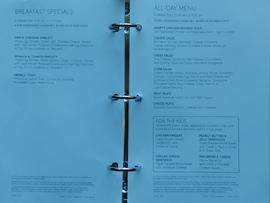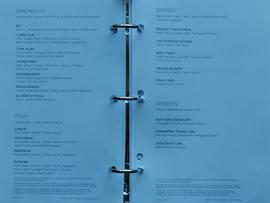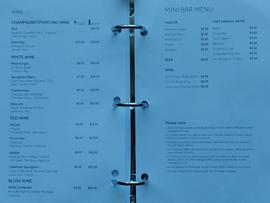 The above is the list of prices of all the items that you might find in the Mini Bar Refrigerator in your room as well as the cost of items you may want to order from Room Service. Oddly it took us a couple of days to find this menu. It was hidden on the top shelf of our clothes closet. I think it was supposed to be with all the other literature and information about the room in plain sight. I would imagine our Cabin Attendant has a checklist to make sure everything is as it should be before we enter the cabin for the first time. Obviously he missed that there was supposed to be a bottle of sparkling wine and wine glasses in our room as well as missed that this Room Service & Mini Bar menu should have been in plain sight. I'm sure he also missed that there were supposed to be at least two water glasses in the four glass holders in the bathroom.
I have heard from other passengers that you can ask your Cabin Attendant to remove all of the items from your Mini Bar if you don't plan to purchase any during the cruise. Do not remove any items yourself that you do not intend to purchase. Your cabin attendant takes inventory every day of the Mini Bar and you will be charged for any items that you remove, even if you only put them on top of the desk to make room for your own items. Have the Cabin Attendant remove the items for you so that you will not be charged. Without removing any items we found there was only room in the refrigerator for one bottle of water and one small single serving carton of milk.
Sugarcane Mojito Bar
Some Of The Specialty Restaurant Venues
On this last day of the cruise I finally got a chance to wander around and take a few photos of the Specialty Restaurants that we didn't use while on this cruise. We usually do go to a few of the Specialty Restaurants during our cruise, especially when included as a free benefit. But none were included as a free benefit on this cruise and the food was so good in both the regular restaurants and buffet, that we didn't feel the urge to spend extra to book any of the Specialty Restaurants.
Food Republic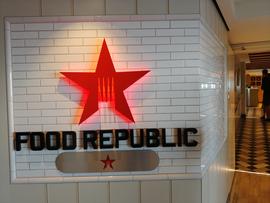 Pincho Tapas Bar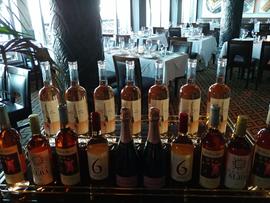 Moderno Churrascaria & Cagney's Steakhouse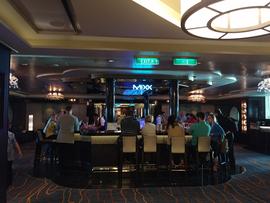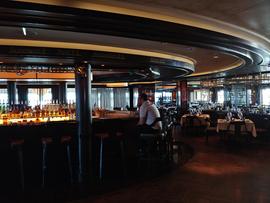 Left: Moderno Churrascaria; Right: Cagney's Steakhouse
The Supper Club
The Rocket Man Elton John Tribute Performance was sold out from Day 1 of the cruise. I think it was sold out before the cruise even started. You can book many of the onboard performances months in advance before the cruise. They have a "Stand By" line that starts forming 30 minutes before doors open which is an hour before the performance. We went to The Supper Club 45 minutes before doors opened in order to be first in line, but there were already 2 parties ahead of us! But getting in wasn't a problem. I think they were able to accommodate everyone in the "Stand By" line even though it had gotten quite long by the time they started to let us in.
Elton John tribute performance.
Appetizer Salad and Main Course.
Again forgot to take a photo of the dessert.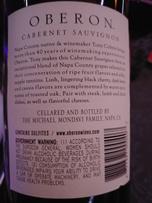 The wine we had with dinner.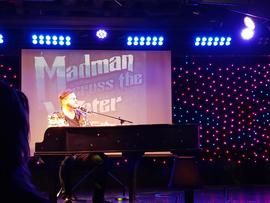 The Manhattan Club
This was the only day that we went for two dinners. We wanted to see the "Rocket Man" performance. It was in The Supper Club and thus had a complimentary 3 Course Meal served with the performance. We ate the salad and took just a taste of the dessert at The Supper Club. We just picked at the main course a bit as it wasn't really what we wanted. Barbara already knew that all the main restaurants were serving some seafood items that she wanted and was looking forward to those for dinner. So, after the Rocket Man performance at The Supper Club we went to The Manhattan Club for another complimentary dinner! This was also the only day on the cruise where we purchased and shared two bottles of wine. Usually on a cruise we'll split one bottle of wine at dinner and then maybe have one or two cocktails at the live music venues (bars, lounges, or main theater). We didn't follow up our two bottles of wine with any cocktails on this day. We also rarely drink any alcohol before dinner unless we've scheduled to attend a wine, beer or spirit tasting event. Fortunately or unfortunately we only did two of those on this 7 day cruise. We did get to listen to live music during our dinner today in The Manhattan Club. The live music is what made The Manhattan Club our favorite main dining room on this cruise.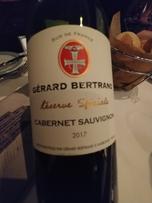 The wine we had at The Manhattan Club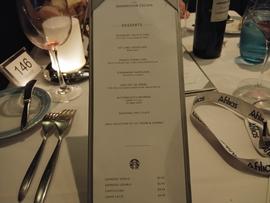 The Manhattan Club Menu including Dessert.
Barbara came for the seafood items today.
Program Guide
Norwegian Escape Program Guide For Day 7
Click on each photo above for a larger image.
If in this report you see any typos, misspellings, factual errors or other types of errors, please let me know. Please include the web address (URL) of the report in which you found the error. Thank you! Send your email to: