If in this report you see any typos, misspellings, factual errors or other types of errors, please let me know. Please include the web address (URL) of the report in which you found the error. Thank you! Send your email to:


Click on each photo below for a larger image.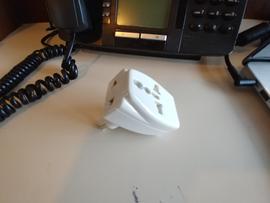 Above is a European 220v T-tap adapter. Every cruise ship that I have ever been on has at least one and sometimes several European 220v outlets as well as one or more American 110v outlets. Most of the equipment on this ship uses these European 220v outlets including the vacuum that the cabin attendant will use to clean the room. If there are lamps with plugs in the room, you will usually find they are plugged into European 220v outlets. On this cruise there was a coffeemaker in our stateroom that had a European 220v plug. I bring two of the above European 220v T-tap adapters on every cruise. Once I plug it into a European 220v outlet I can then plug a 3-prong American device in the front or top and a 2-prong American device in the bottom. But note: ONLY devices that can operate on a voltage range of 110v - 240v should be plugged into this adapter. This is ONLY a plug adapter. It is not a step-down transformer. It does not change the voltage down from 220v to be compatible with 110v devices. Most of my computers, chargers and other devices can operate on any voltage source between 110v - 240v. It should say on your device the voltage input needed. If it only says 110v, 115v or 120v, DO NOT PLUG IT INTO THE ADAPTER. It will burn out the device, the adapter, and probably blow a fuse on the ship!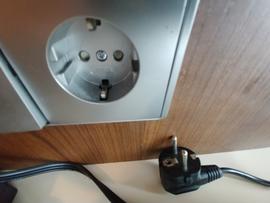 Above on the left you can see the European 220v plug from the coffeemaker in our stateroom and the European 220v outlet for that plug. On the right you can see my European 220v T-tap adapter plugged into that 220v outlet. If I wanted I could plug the coffeemaker into the face of the T-tap and then plug a 3 prong American device into the top of the T-tap and a 2 prong American device into the bottom of the T-tap. I found this useful on the Carnival Splendor cruise where there were two European 220v outlets under the bed for the bedside lamps. Using the T-tap I could keep the lamps plugged in also plug in my notebook computer and a USB mobile phone charger. I have never seen an American 110v type outlet near the beds on a cruise ship but have often seen European 220v outlets near the beds in cruise ship staterooms. These European T-tap Adapters can be purchased on Amazon.com .
We hung up our key card lanyards on hooks next to the door of our stateroom to remind us to take them with us when we left the room. I purchased a large set of magnetic hooks at Amazon.com of which each could hold about 20 pounds. On cruise ships almost every wall is made of steel. The cruise line paints and decorates walls so that they don't look like steel, but they are made of steel nonetheless and are thus magnetic. I put there magnetic hooks all over the room and even in the bathroom. They make great places for hanging things which is very helpful in the limited space in most staterooms. You can hang hats, jackets, bags, just about anything that weights less than 20 pounds.
There was a bedlamp on the wall on each side of the bed. Each had a switch on the side to turn the lamp on and off. On the side of each lamp was also a USB power outlet. This was very convenient for keeping our mobile phones near us at night while charging them during the night. Just make sure to bring along some USB charging cables.
I spotted the above around 3:15 PM on our first day at sea. It looks like an oil drilling / pumping platform. I wasn't aware that they drilled for oil off the Atlantic coast this far north. Or maybe it is some other type of ocean platform.
Wine Lovers, The Musical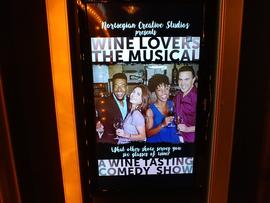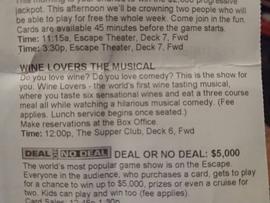 "Wine Lovers, The Musical" is a performance in the Supper Club that we had signed up for a few weeks before we boarded the cruise. Sometimes shows on the cruise will sell out before the cruise begins or early during the cruise so it is important to book shows as early as you can. There is usually a "Stand By" line that forms 30 minutes prior to the regular line in case there are cancellations or "no shows". We went into the "Stand By" line for two shows during our cruise and were able to get into both of them. We attended the Noon performance of this show on the first Sea Day. Doors normally open 30 minutes before each performance so they opened at 11:30 AM for this performance. We were seated at a table for two right in front of the stage. Food service begins as soon you are seated at your table.
There is a set menu in the Supper Club but you can ask for alternatives if you don't eat meat or are a vegetarian. The alternatives will usually be a fish option and a pasta option. The above is the menu of what we were served. The photo is of the Peking Duck Salad. I forgot to take photos of the rest of the menu items. You'll just have to take my word for it that the presentation of each menu item was exquisite and the taste was also excellent! All the food that we had on this cruise was excellent, even from the Garden Cafe buffet.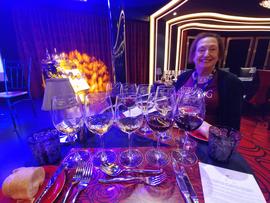 Barbara, my wife, and the wines we will be tasting.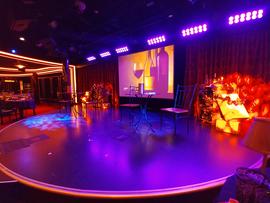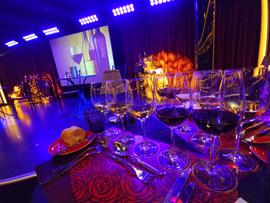 Our table and the performance stage.
As you can see above, they encouraged the audience to refrain from sipping their wine until the instructed to do so during the musical wine class. This is the list of wines we were to taste during the performance.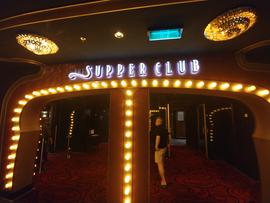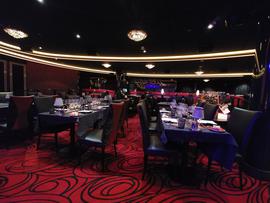 The Supper Club is set up as a dining room. There are tables for 2, 4, 6 or 8 people and booths around the back of the room. Some of the tables are arranged in a way that they can seat 2 or 4 when separated or groups of 6 or 8 when combined. Each time we entered the Supper Club they always asked how many were in our party and sat us at a table for two. They never asked if we wanted to sit by ourselves or with others as they sometimes do when you have Anytime Dining on Carnival cruise ships.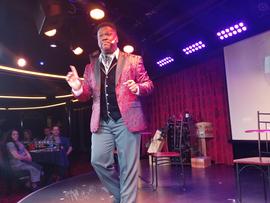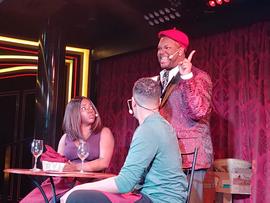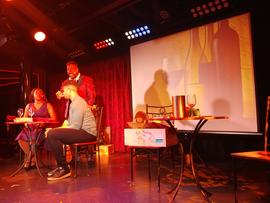 Photos from the performance.
This might be the most fun wine tasting we've ever been to. The performers sang the wine tasting class! They explained about wine in general and the wines we were tasting in particular using a comical skit, most of which was sung. Part of the songs including telling when to tell us to see, smell and sip each wine in front of us.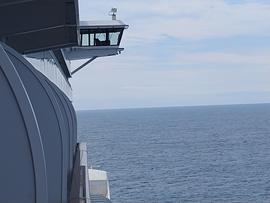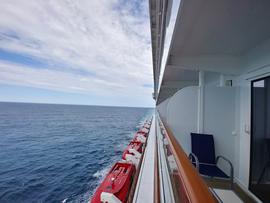 The forward and aft views from our stateroom balcony.
Above is the view from our bed at 2:15 in the afternoon. After having 6 glasses of wine at the Wine Lovers Musical, it was time for a little nap. Each taste was probably only about 3 ounces, but times 6, that was 18 ounces of wine or more than three 6 ounce generous glasses of wine. A standard glass of wine can be either 4, 5 or 6 ounces. Plus, we were still adjusting to the jet lag and loss of sleep from traveling from the Pacific Time Zone to the Eastern Time Zone. That was a change of 4 time zones plus the loss of another hour as we changed the clocks to Spring forward yesterday.
My wife and I tend to be night owls. Both at home and on cruises we tend to sleep late skipping breakfast and all of the morning activities which really don't interest us anyway. We'll often even skip lunch. The only time we get up early on a cruise is if we have a shore excursion that starts early that day. Thus we spend a lot of time in our room during the day. So it is important that we have a great view from our room. That is why we always get a stateroom that has a balcony. Often we turn off the air conditioning and heating and open the balcony door wide so we can breath the fresh sea air and listen to the ship plowing through the ocean. The live music venues usually don't start up until late afternoon on cruise ships. That is when we come out and make our rounds to all of the live music performances, whether in the theater, Supper Club, or in the individual bars and lounges. Often we'll visit whatever live music venue is open until midnight or later.
An Intimate Evening With The Golden Octaves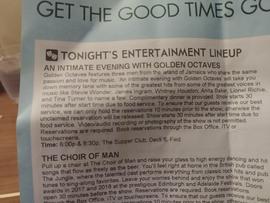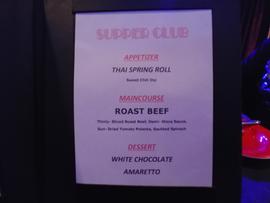 At 6:30 PM we headed back to the Supper Club for another musical performance with dinner, "An Intimate Evening With The Golden Octaves". My wife and I are not big fans of red meat so we asked what the alternatives were to the set menu in the Supper Club. Note: You do have to ask. They are unlikely to inform you that alternatives are available unless you ask. They had a fish and a pasta dish available as alternatives to the Roast Beef. My wife selected the fish and I selected the pasta. I don't like anything that tastes fishy or has bones but I'm OK with tuna salad, salmon, crab cakes and even fried clams.
Left: Appetizer: Thai Spring Roll, Sweet Chili Dip
Right: Dessert: White Chocolate Amaretto
As usual I forgot to take a photo of our main entrees.
Photo of the performance.
The wine we had with dinner. It was good but nothing special.
The Garden Cafe (Buffet)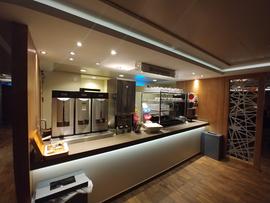 The Pool Area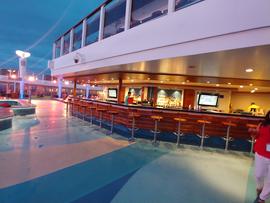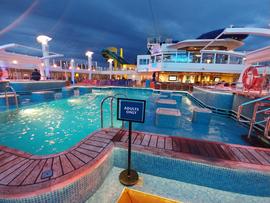 The District Brewhouse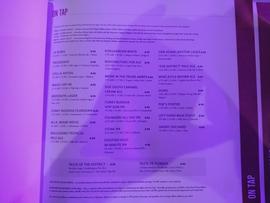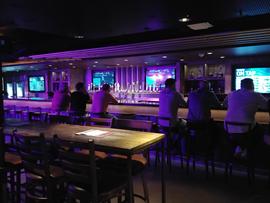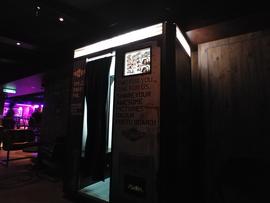 On my first visit to The District Brewhouse I was totally impressed. You can't beat the new Carnival Vista class ship that have their own brewery right on the ship, but this is the second best that a cruise ship can offer: a huge number of brews on tap! Plus they offer a few food items which is always a good option to have when drinking.
Unfortunately, things turned a bit south from there. I'm a big fan of IPA brews, especially ones that are either high in alcohol or high in IBU (bitterness), but not both. When they are high in both alcohol and bitterness, then they tend to taste sour to me. It has to be one or the other but not both. Ideal for me is an IPA at about 7% ABV and about 70 IBU. I decided to order a beer on tap that had a great name that I had never tried before: "Funky Buddha Hop Gun IPA". It was pretty close to my ideal levels of ABV and IBU and I was looking forward to trying it. I placed my order with the server but she soon came back and said they would not have that particular tap beer until tomorrow after they stopped in Port Canaveral and brought on more supplies. Disappointed I moved on to another IPA on tap that I had never tried: "Founders All Day IPA". This was a rather light IPA, probably one I'd not be fond of, but it was something new that I'd be willing to try. But, the server informed me they didn't have that one either and probably would not have it until tomorrow. So I decided to just go with one of my fantastic stand-by IPA's that never fails to please: "Dogfish Head 90 Minute IPA". This one is a bit higher in both ABV and IBU at 90% and 90 IBU, but somehow it still tastes great anyway. But my server informed me they didn't have that one available today either. My impression of The District Brewhouse had now turned quite sour. Where at first I was very impressed with their fantastic selection of brews on tap, I was now quite disappointed. I later discovered that they have a board on a wall behind the bar that lists what they have on tap. That list is quite limited compared to what they have in their printed menu. Sorry, but I'll take the onboard brewed beers on the Carnival Vista class ships any day over the false advertising of the Norwegian Escape.
The server then told me the only IPA they have on tap at the moment is Stone Brewing IPA. Great! That is the IPA that I recommend to those who have never had an IPA before and need to be weaned onto them. The Stone Brewing IPA is OK. It is like in the DMZ between people who like regular beer and people who love IPAs. I know it seems really close to my ideal at 6.9% ABV and 77 IBU, but it somehow tastes like a novice IPA. Even at 77 IBU it does not seem to turn off regular beer drinkers and it is certainly more than high enough to be pleasing to IPA lovers. The 6.9% ABV is not too high to totally turn off most regular beer drinkers where their beers have an IPA of around 5% or lower, and not too low to turn off IPA lovers who like higher ABV brews. So that is what I ordered and it hit the spot, but was a great let down over the other IPA's that I really wanted to have.
Now to rub salt into the wound, the server charged me not only for the Stone IPA, but also for one of the beers that was not available! It took us 3 days of talking to our server, talking to the bar, and talking to customer service to finally get that charge taken off our bill!
They actually had a great piano player in The District Brewhouseb. But we had such a bad experience that first day that we didn't even bother to check it out for the rest of the cruise. We did go to a whiskey and beer pairing event at The District Brewhouse one afternoon, but that was the only other time we went there on this cruise.
Live Music With Let's Groove
The Choir Of Man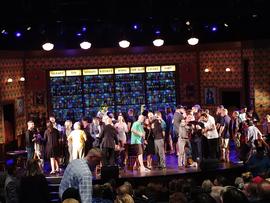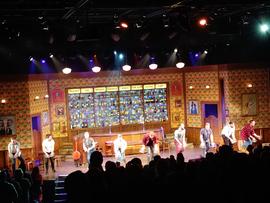 Photos from the performance.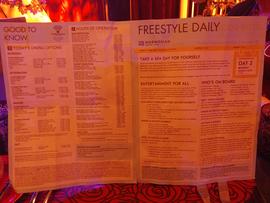 Norwegian Escape Program Guide For Day 2.
Click on each photo above for a larger image.
If in this report you see any typos, misspellings, factual errors or other types of errors, please let me know. Please include the web address (URL) of the report in which you found the error. Thank you! Send your email to: