If in this report you see any typos, misspellings, factual errors or other types of errors, please let me know. Please include the web address (URL) of the report in which you found the error. Thank you! Send your email to:


Click on each photo below for a larger image.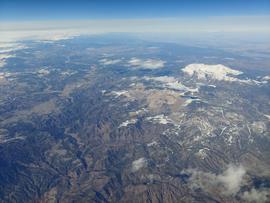 Southwest Airlines flight from west coast to
LaGuardia Airport, New York City, New York
At 7:15 AM it was 15 minutes before our pre-scheduled Uber ride was supposed to arrive while I was doing a last minute check of my email. It was then that I saw the second segment of our flight to New York City had been cancelled by Southwest Airlines. That would have left us stranded in Denver, Colorado, until we could find another flight to New York City.
I quickly cancelled the Uber. They didn't charge us anything for canceling the ride, but I felt a bit bad as I'm sure the Uber driver was already on the way. Uber has a new option where if you sign up for Uber Rewards they will not charge you for canceling a prescheduled Uber ride if you rebook within 15 minutes. I'm an Uber Rewards Member, but I knew it would be a lot longer than 15 minutes before I would know when I would need to re-schedule Uber. I was happy that they did not charge me a cancellation fee even though it would take a lot longer to re-schedule.
I don't know why they cancelled our flight segment from Denver to New York City. There didn't seem to be a weather problem in Denver but maybe there were weather problems at where our flight equipment was originating. To be on the safe side I started looking for a different Southwest Airlines flight that would not involve a flight change in Denver. I did find one leaving a few hours later that would change planes at Midway Airport in Chicago. Unfortunately the new flight would put us into New York City several hours later, closer to midnight. I re-scheduled Uber to pick us up and take us to the airport.
As long as I was making major changes to our travel plans, I also looked at our hotel reservations for the one night in New York City. I had made a hotel reservation in New Jersey as all the Manhattan hotel prices were way too high back when I was looking for reservations a few months ago. But sometimes hotel prices drop drastically at the last minute when the hotels have a much better understanding of how many cabins will be vacant that night. I was able to find a hotel at a reasonable rate that was less than 2 miles from the port. Thus I cancelled our hotel in New Jersey and made a new reservation at a hotel in Manhattan less than 2 miles from the port. The Uber / Taxi cost savings and time savings from the airport at night and to the cruise port in the morning more than made up for the higher rate of the Manhattan hotel vs. the New Jersey hotel.
We originally had purchased Early Check-In for our flights. Since it was Southwest Airlines that cancelled the flight, they refunded the Early Check-In fee. However, because of the change, we now had boarding positions C59 and C60, the very last boarding positions to board the first 4 hour segment of our flight. This guaranteed we'd be separated and have middle seats for the first 4 hours. For the first time in our lives we decided to purchase A1-A15 boarding positions. The cost of this was $50 each. Normally we wouldn't splurge on this but we really wanted to sit together and did not want to sit in the last remaining middle seats. Since Southwest refunded our Early Check-In fees, the upgrade really only cost us about $30 each rather than $50 each. Unfortunately when you purchase boarding positions A1-A15 it is only for one flight segment. But not a big problem. We had boarding positions B15 and B16 on the second segment which pretty much guaranteed we'd be able to get 2 seats together.
Since neither American Express nor United Airlines has any lounges at Chicago Midway Airport, we spent our 90 minute layover having some dinner at a restaurant there. Louis M. Martini Cabernet Sauvignon is an inexpensive wine that we are familiar with so we ordered to have that with our dinner.
We arrived into New York City shortly after midnight. There would be a 30 minute wait for an Uber and the cost would be about $70. A taxi pulled up and offered to take us to our hotel for $50. We jumped at that and were on our way! But with the time it had taken our aircraft to get to the gate, pick up our luggage at baggage claim, and walk to the ground transportation area, we still didn't get to our hotel until almost 2 AM. The bar at the hotel had just closed but they were nice enough to provide us with a couple of free glasses of diet coke and a bowl of nuts. There was a bit of confusion about the bar closing time since it was the end of Daylight Savings Time and clocks were being moved an hour forward. The bar normally didn't close until 2 AM, but at 2AM it would be 3 AM!

View from our New York City Manhattan hotel room in the morning.
Needless to say we didn't get that much sleep. We departed the hotel at 9:45 AM thinking that our assigned ship check-in time was for 10 to 10:30 AM. When I checked our documents I realized our assigned check-in time was actually 9:30 AM to 10:00 AM. But no problem. Even leaving at 9:45 AM it only took about 15 minutes for the taxi to take us the 1.2 miles to the port. We were able to check-in our luggage right at the curb and were able to move through the check-in line very quickly.
We had to fill out a couple of short forms and show our passports. They gave us our ID / Room Charge Cards and sent us to the waiting area. Right away we noticed there wasn't a hole in our ID / Room Charge Cards. I had brought along lanyards for our cards, but the lanyards did not have a clear pocket for the cards. Our lanyards are only compatible with cards that have a hole punched in them. In the waiting area there were kiosks with a lot of lanyards for sale. We figured we'd have to buy new lanyards that had clear pockets for our ID / Room Charge Cards.
We asked the cashier at the kiosk where the lanyards were that had clear pockets for the ID cards. She pointed it out to us but then asked if we already had brought our own lanyards with us. We said that we did but they did not have pockets which are needed for ID cards without holes. She said that wasn't a problem and that she would be happy to punch holes in our ID cards for us at no charge! She actually had a special machine at her desk that could punch a large horizontal hole in the ID cards. She did that for us and thus we did not have to buy new lanyards!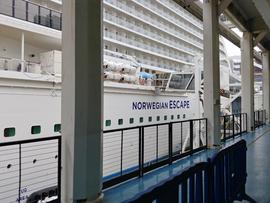 Boarding the Norwegian Escape.
They said they would not start boarding until noon but they actually started boarding before 11:00 AM. Since we were in Boarding Group 9, we didn't have very long to wait. We boarded the ship around 11:15 AM and headed straight to the Garden Buffet on Level 16. Unfortunately boarding time is one of the few times that the buffet and seating at the buffet is packed to the gills. Everyone is boarding the ship and none of them have anywhere to go since you aren't allowed to go to your rooms until 1:30 PM. The only places you are allowed to go until your room are the restaurants and the lounges. So, the thousands of people who are all boarding over a very short interval of time are all in the lounges and the restaurants at the same time. Most seem to head to initially head to the buffet rather than the restaurants. I can imagine this could be a very bad impression for a first time cruiser. If I thought the entire cruise was going to be this crowded and chaotic, I'd have a very dim view of cruising. But naturally this is only true for the first day during embarkation when passengers can't go to their rooms and are instead crowded into just a few open venues.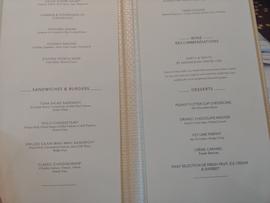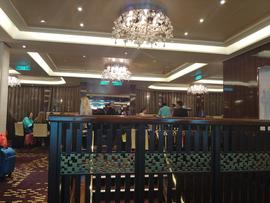 Lunch Menu and Photos Of The Taste Dining Room.
With the Garden Cafe Buffet so crowded, we decided to eat at one of the 3 main restaurants that were open and serving complimentary lunch. I strongly suggest that when you board your cruise, immediately go to one of the main dining rooms rather than the buffet. On boarding the main buffet is always packed to the gills, but you can usually get into one of the main dining rooms and get your complimentary lunch there. When we went to the restaurant we were seated almost immediately. But, when we left the restaurant about an hour later there was a very long line waiting to be seated.
Lunch was excellent but the staff seemed a bit harried. I had a chicken nachos appetizer and a tuna salad sandwich served with crispy fries. My wife had a salad, meatloaf with bacon, and a twice baked potato. We split and shared each others meals so that we could try everything. My wife also got a fruit plate for desert. Unfortunately the only free beverages served with meals is coffee, tea, ice tea, lemonade, and water.

View of the museum across from the cruise port in New York City.
In our cabin beds were arranged as two single beds instead of one queen bed. When we booked this cruise we had requested that the single beds be pushed together into a single queen bed, but I guess the word never got to our cabin steward. On Carnival Cruises you can view your bed configuration on the "Manage Cruise" page and edit it whenever you want. On the Norwegian "Manage Cruise" page the bed configuration does not show and I could not find any way to verify or modify our request. But not a big deal. When you arrive on board you can tell the cabin steward to change the bed configuration and he can take care of that.
We found a "Welcome Back" note for "Latitudes Rewards Bronze" in our cabin. It said "Please enjoy the bottle of sparkling wine in your stateroom with our compliments." But there was no bottle of sparkling wine in our room. There were also no wine glasses. We would have used water glasses but there was only one water glass in the bathroom. There are 4 holders for water glasses, but just one water glass in them. Eventually our Cabin Steward did bring our free bottle of Sparkling Wine. I'm not going to name our cabin steward here. I'm sure he means well but I hope he either gets with the program or is replaced. When we arrived in our stateroom there was random dirt on the carpet. The Room Service and Mini Bar Menu was hidden away in the closet. When we arrived in our stateroom there were no coffee cups or coffee creamer either. Every morning our room steward would make sure we had two new packets of coffee but forgot to make sure we had enough sweetener or anything to stir our coffee with. Fortunately I picked up a lot of creamer and stirrers from the Garden Cafe and brought them to our room. A minor issue, but when we got back to our room at night, there was only sometimes a towel animal on our bed. At first we thought we were short on towels, but then we realized the room steward made our towel animals out of the towels he expected us to use.
On all prior cruises we always found our room to be totally "ship shape" and everything we needed waiting for us. On this cruise our room steward was friendly and helpful always asking us if there is anything else he can get us when he left our room, but he just didn't seem to pay attention to detail and keep the room as stocked as it should be. We really should not have to call him to ask him to get items for us that he forgot to leave. At the end of the cruise he did tell us this was his first cruise, so maybe the problem is just lack of experience.
Though we purchased the Unlimited Premium Internet package, it was not working when we arrived. When we tried to log in it said that no record of our account could be found. I suspected they had not yet set up the internet for the cruise passengers just boarding. I was right. At about 1 PM we were able to log into our accounts and they worked fine. Logging into the NCL App it interestingly showed all our usage from our prior NCL cruise to Iceland back in September 2018.
Unlike Carnival, NCL does not offer the purchase of cases of small bottles of water for your stateroom. They only offer various quantities of 1 liter bottles. Unlike Carnival, NCL also does not offer the purchase of 6-packs of cans of soda for your room. I assume this is to encourage people to purchase the unlimited soda package. My wife and I rarely drink soda so we didn't think the unlimited soda would be a good option for us. On our prior Carnival cruise it took us 14 days to go through a total of 12 cans of soda. That averaged to less than 1/2 can of soda per day for each of us.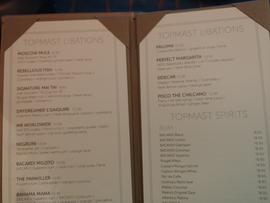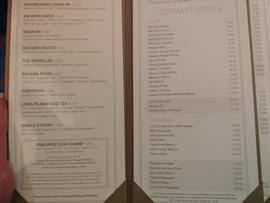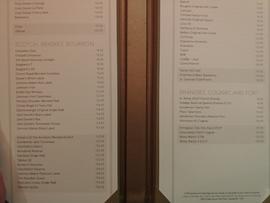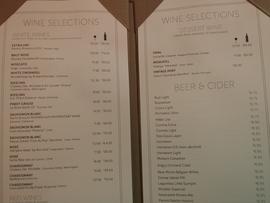 Bar Menu Of Drinks Available In All Bars.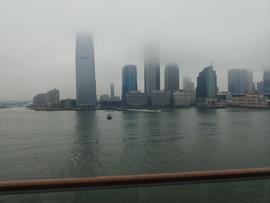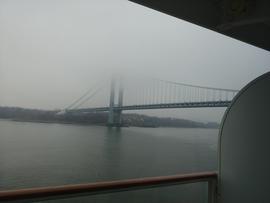 Photos of our departure out of the port of New York City.
Pilot boat comes to pick up the pilot captain that guided our ship out of New York Harbor. Our cruise ship didn't even slow down to make this transfer!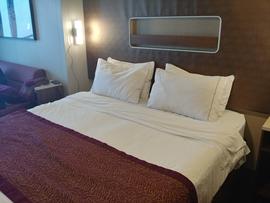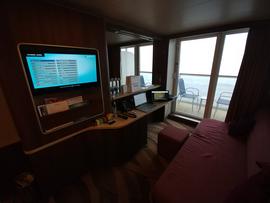 Our Mini-Suite On This Cruise.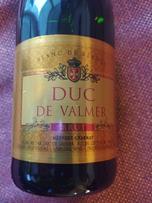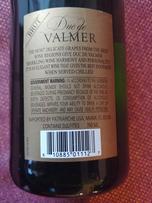 Complimentary Sparkling Wine As A Returning Latitudes Member.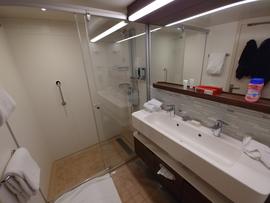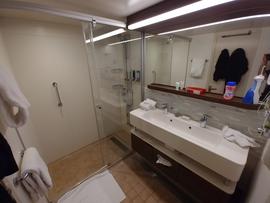 Our Mini-Suite Bathroom.
This is the largest bathroom than we've ever had on any prior cruise. It even had a double sink! Both our Mini-Suite Stateroom and Bathroom were quite large. When we booked this cruise we decided between picking an exact Balcony Stateroom ourselves or letting Norwegian pick a Mini-Suite Stateroom for us. Norwegian gives a huge discount when you allow them to pick the room for you, which is guaranteed to be in the category that you select. Letting Norwegian pick a Mini-Suite for us was only a bit more expensive than picking our own Balcony Stateroom. We could have let Norwegian pick a Balcony Stateroom for us and saved even more, but there were some Balcony Staterooms with obstructed views. We didn't want to take a chance in ending up in one of those. I did not see any Mini-Suite Staterooms that had an obstructed view so I figured there was little chance that Norwegian would put us in a Mini-Suite that we did not like. Thus we took our chances and ended up with a room that we thought was fantastic!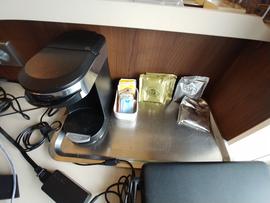 Left: All 3 of our notebook computers and USB plugged into a 3 outlet T-tap.
Right: Fresh coffee, sweetener and creamer
supposed to be provided each day in our room.
I did bring along power strips with short power cords that were not surge protected. Ships only allow power strips that are NOT power protected. Evidently there is a problem using surge protectors on ships. I forgot that the above 3 outlet T-tap is actually surge protected. I replaced it with one of my non-surge protected power strips when I realized this. The reasons why surge protectors on ships are not safe is a bit complicated. But, suffice it to say that it probably will not protect what you have plugged into it and could be a safety hazard on the ship as well as promote faster rusting of the hull of the ship.
As you can see above there were actually three 110 volt outlets so I really didn't have to use a power strip at all. However, Norwegian wanted everything unplugged whenever the stateroom was unoccupied. I found it easier to just unplug one powerstrip rather than having to unplug and re-plug three cords every time we went out and back into the room. Unplugging everything for safety seemed like a bit of overkill as the stateroom used a key card mechanism where all the lights and outlets would turn off when you removed your key card from the slot whenever you left the room. But I can sort of see the problem. Not wanting to forget my key card, I always kept it on a lanyard around my neck. I just put one of my business cards in the key card mechanism to keep the lights and power on in the room when we were in the room. There were a couple of times that I forgot to remove my business card so the power was left on when we left the stateroom.
Each ship has their own way of indicating to the cabin steward when you want the room made up, when you don't want to be disturbed, and sometimes even an indication of whether or not you are in the room. On the Norwegian Escape there are two switches on the wall near the bathroom door. Turning one on indicates you do not want to be disturbed. Turning another one on requests that you want the room to be made up. I wonder what would happen if you turned them both on indicating that you want the room made up but don't want to be disturbed? I never tried that but just thought of it. Turning either switch on turns on a small indicator light outside the room to show your request. If you have a card in the key card mechanism it turns on a small indicator light outside the room to show that you are in the room (or at least that there is a card sitting in the key card device).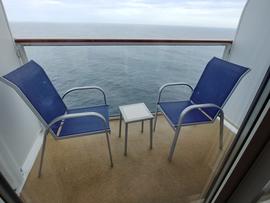 Our balcony and the door locking mechanism for access to the balcony.
We did take a cruise on Norwegian Cruise Lines last year to Norway and Iceland and enjoyed it very much. Norwegian does seem to have much better food than Carnival. Norwegian certainly has many more specialty restaurants than Carnival which require a minor "up charge". The included food is so good on Norwegian that we didn't go to any of the specialty restaurants this cruise. I can understand those that pay extra to have a unique food experience, but we've done that on so many prior cruises that we didn't feel the need to pay extra when the included food on Norwegian was so good.
So far we are not impressed by the level of service or the "party atmosphere" on Norwegian. The level and friendliness of service on Carnival seems much higher than on Norwegian. All the staff seems to be very happy on Carnival and all seem to be trying above and beyond what is required of them to make your cruise a happy cruise. On Norwegian most of the staff just seem to be trying to fulfill what Norwegian requires of them. They really don't seem happy with their jobs and don't seem to be enjoying making the passengers happy with their cruise. Thus, my wife and I are still sold on Carnival being our favorite cruise line. But we definitely have to say that the food quality and selections are much better on Norwegian than on Carnival.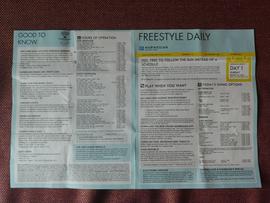 Norwegian Escape Daily Guide For Today
Click on each photo above for a larger image.
If in this report you see any typos, misspellings, factual errors or other types of errors, please let me know. Please include the web address (URL) of the report in which you found the error. Thank you! Send your email to: