If in this report you see any typos, misspellings, factual errors or other types of errors, please let me know. Please include the web address (URL) of the report in which you found the error. Thank you! Send your email to:


Click on each photo below for a larger image.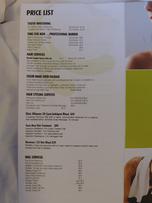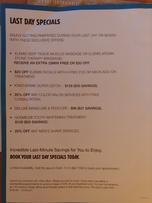 Last Day Spa Specials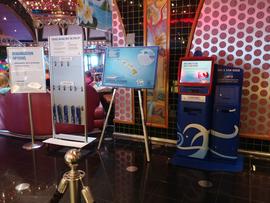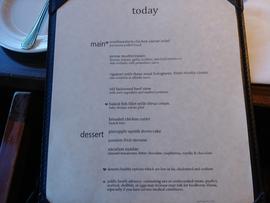 Left: A Sign & Sail® Kiosk Near The Deck 3 Customer Service Desk
Right: Lunch Menu at The Gold Pearl Restaurant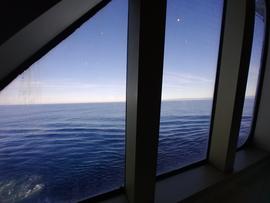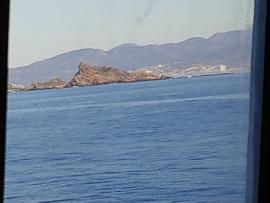 First sight of land as we approach Ensenada, Mexico
BLOW HOLE & WINE TASTING TOUR
Tour Duration: Approximately 4 Hours 3:15 PM - 7:15 PM,
$55.99 Per Person
Board a motor coach at the pier for a drive to the spectacular blowhole, La Bufadora. Witness this natural phenomenon shoot water approximately 60 to 100 feet into the air through crevices formed in the cliffs. Browse the open-air market for local crafts. Drive to Bodegas de Santo Tomas (this is a non-working winery now), Baja California's oldest winery founded in 1888. Selected wines are available for purchase at the winery. Take a walking tour of the facility and taste a variety of wines. Board your motor coach for a drive through residential areas. Stop at the Plaza Civica to view a memorial to Mexico's greatest heroes. Stay downtown for shopping or return directly to the ship. Note: Guests wishing to stay at the main shopping district in Ensenada will be responsible for their return transportation to the ship. Minimum age for wine-tasting is 18 years.
The Drive To The Blow Hole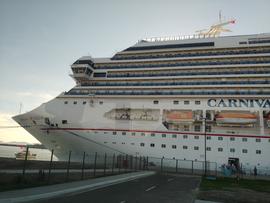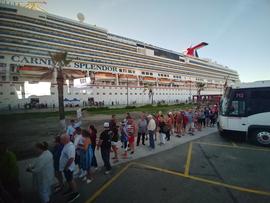 View of the Carnival Splendor from our tour bus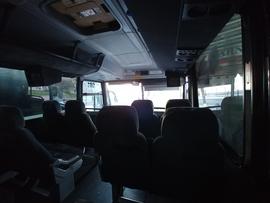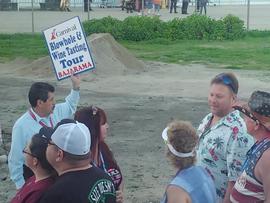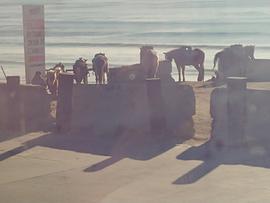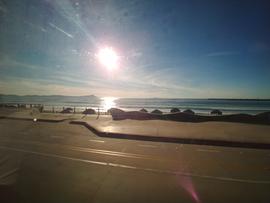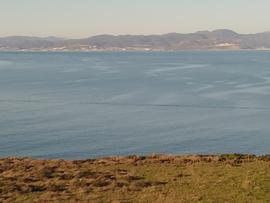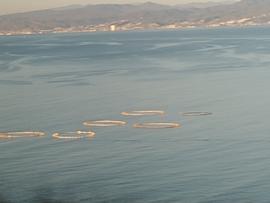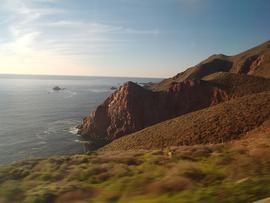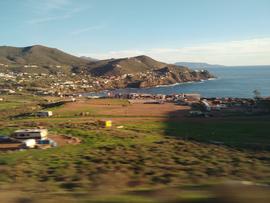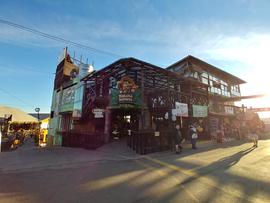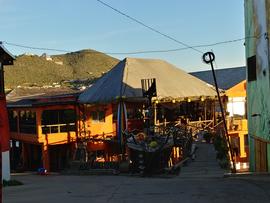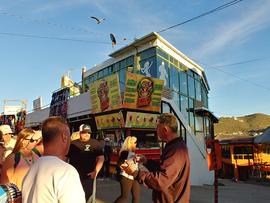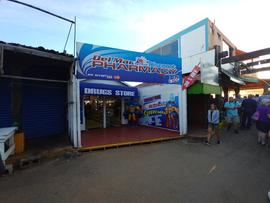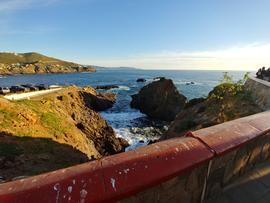 Spray From The Blow Hole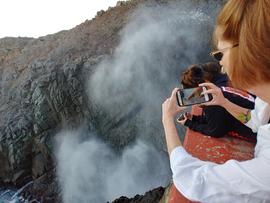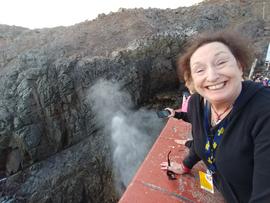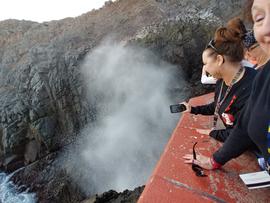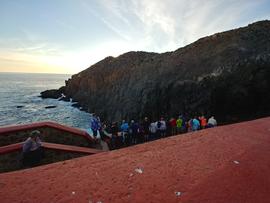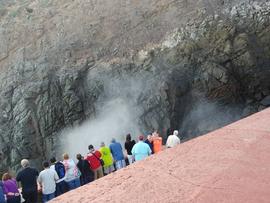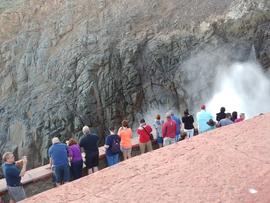 Great Scenery At The Blow Hole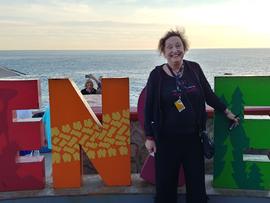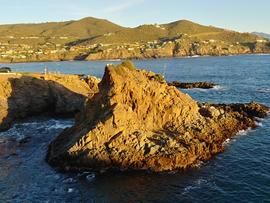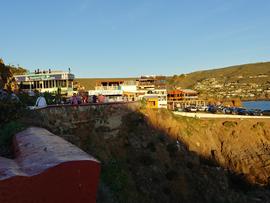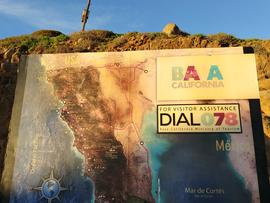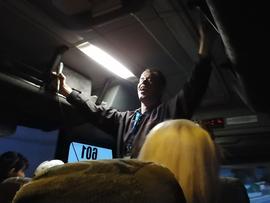 Our Tour Guide Leading Us In Singing
Wine Tasting At Santo Tomas Winery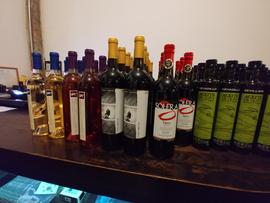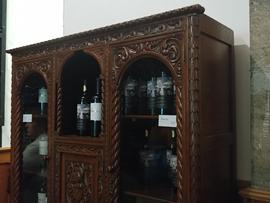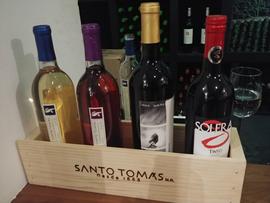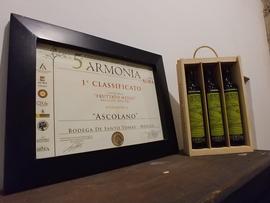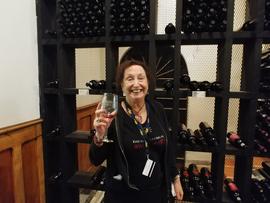 Back On The Ship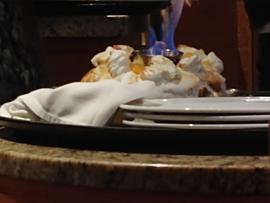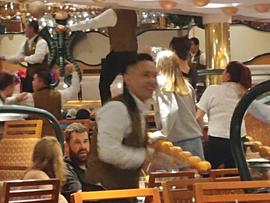 Left: Flaming Baked Alaska Desert In Dining Room
Right: One Final Dance Performance By Dining Room Waiters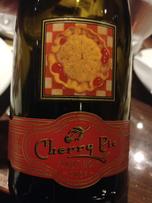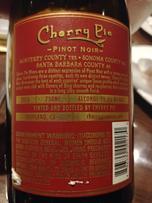 Our table partners had a certificate for this free wine that they shared with us
Balloon Drop In The Splendor Atrium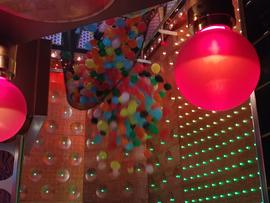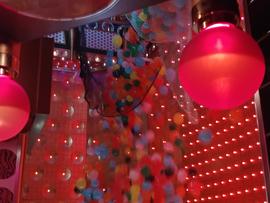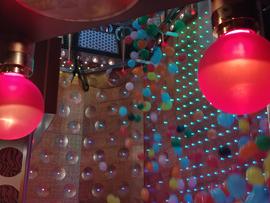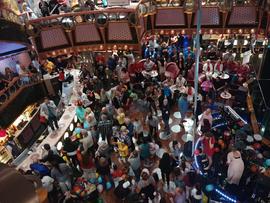 Getting Ready To Collect Our Luggage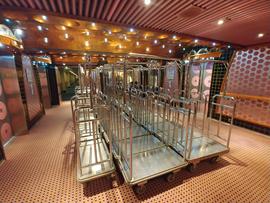 The Last Night In The Grand Piano Bar With Eden Parker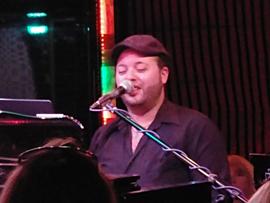 Click on each of the above short video clips to see
why Eden in the Grand Piano Bar was so much fun!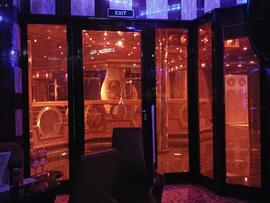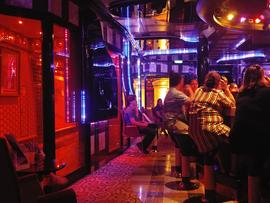 Photos from our seat in the Grand Piano Bar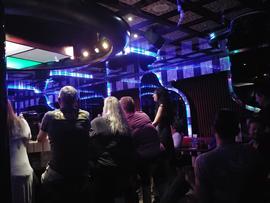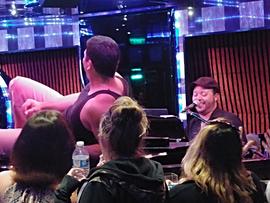 Above: He is an A**hole and She is a B**** Song
Click on each of the above short video clips to see
why Eden in the Grand Piano Bar was so much fun!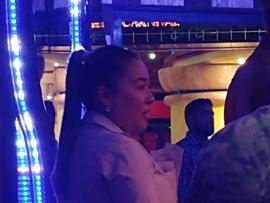 Barbara and Jodi, our Fantastic Grand Piano Bartender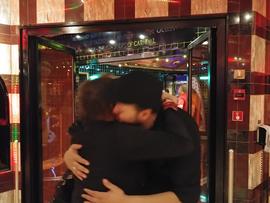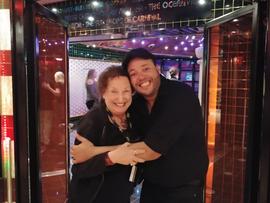 Barbara giving Piano Man Eden Parker a Goodbye Hug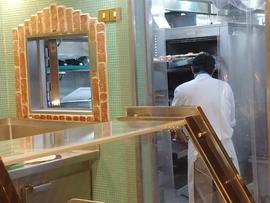 One last pizza from Pizza Pirate at 1 AM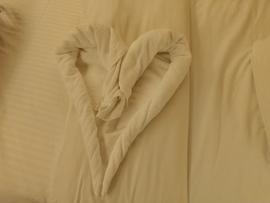 Not Exactly A Towel Animal, But A Goodbye Towel Heart
Click on each photo above for a larger image.
If in this report you see any typos, misspellings, factual errors or other types of errors, please let me know. Please include the web address (URL) of the report in which you found the error. Thank you! Send your email to: