If in this report you see any typos, misspellings, factual errors or other types of errors, please let me know. Please include the web address (URL) of the report in which you found the error. Thank you! Send your email to:


Click on each photo below for a larger image.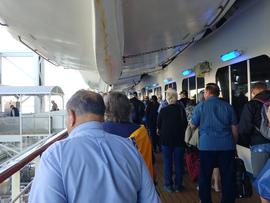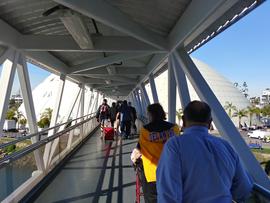 Disembarking the Carnival Splendor in Long Beach, California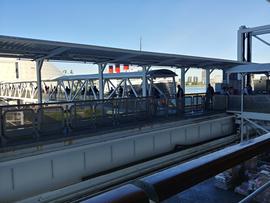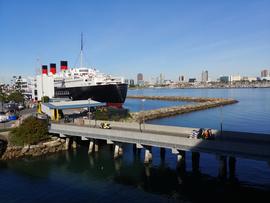 View of the Queen Mary Ship next to the Carnival Cruise Terminal
Click on each photo above for a larger image.
If you need a hotel to stay at before or after your cruise, the Queen Mary Ship is a great place to stay. Part of the ship has been turned into a hotel. There are restaurants and bars on board and it is a very short walk from the cruise terminal. The ship is very historic with much to tour on board.
If you can arrange to fly in and out of Long Beach Airport, that would also be very convenient as it is the closest airport to the cruise terminal. It is also a much much less busy and hectic airport than Los Angeles LAX. Long Beach Airport has many direct flights from many cities around the nation including from New York, Boston, Chicago and more. Jet Blue and Southwest are just some of the major airlines that serve Long Beach Airport.
So that is the end of the report and photos from this cruise! If you are interested in reports from my previous cruises, then please do explore around this CruiseRookies.com website. Also notice from the main page of this website that I have several more cruises planned for the next couple of years. I hope to be able to post more reports and photos from those future cruises. Please do check back from time to time to view new reports and photos as they are posted. Thank you!
If in this report you see any typos, misspellings, factual errors or other types of errors, please let me know. Please include the web address (URL) of the report in which you found the error. Thank you! Send your email to: