If in this report you see any typos, misspellings, factual errors or other types of errors, please let me know. Please include the web address (URL) of the report in which you found the error. Thank you! Send your email to:


Click on each photo below for a larger image.
This is the Shore Excursion from Carnival that we purchased:
VIP IAO VALLEY, OCEAN VODKA & LAVENDER FARM
Tour Duration: Approximately 6 Hours 10:30 AM - 4:30 PM,
$189.99 Per Person
This VIP tour features a combination of three spectacular locations in Maui that you can visit in one day. Start with the famous Iao Valley recognized as a very special place for both spiritual value and spectacular scenery. Take a walk on the Iao Needle Lookout Trail and Ethnobotanical Loop and learn about the plants that Hawaiians brought. The second stop is at the Ocean Vodka Distillery and Farm. Here, you will be taken on a guided tour where you'll learn how vodka is made from sugar cane, mineral water and other fascinating ingredients. Take in a spectacular panoramic view from the foothills of Haleakata, feel a tropical breeze making its way across the island, and experience the birth of world-renowned premium spirits. This tour includes a sampling with a take-home OCEAN Organic Vodka shot glass souvenir for those that are 21 and over. Last but not least, you'll stop at the Lavendar farm, where you get to walk at your own pace through beautiful walking paths with breath-taking views. A picnic style lunch will be provided in this beautiful outdoor setting filled with stunning views and panoramic out-of-this-world landscapes that includes a birds-eye view of Maui central.
Starting the Shore Excursion
Loading up our tour coach.
Carnival Shore Excursion booked 3 more people for this tour than would fit in the tour coach. This usually does not happen. They usually list a tour as "SOLD OUT" as soon as they have reached the limit of what a tour vehicle can hold. The 3 extra people had to temporarily squeeze into our tour coach just until we drove outside the secure pier area and went to a nearby shopping mall where another vehicle was waiting. The other vehcile was a regular car that could handle the 3 extra people. Our tour coach and the other car traveled together to each of the destinations on this tour.
Iao Valley State Monument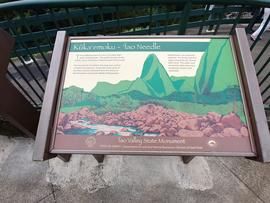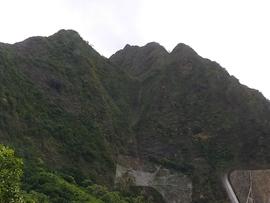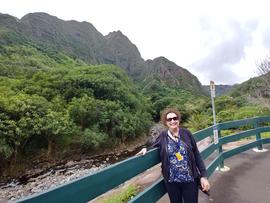 My wife, Barbara Cepinko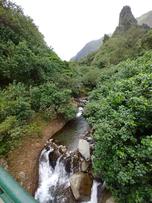 Waterfall with the Iao Needle in the background
We walked across a bridge over the river which provided an excellent view of a waterfall and the Iao Needle.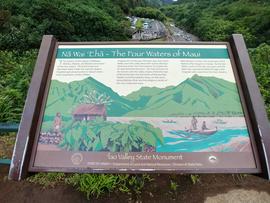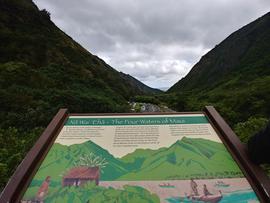 Kuka'emoku - Ioa Needle
Left: Barbara with Ioa Needle in background
Right: Barbara and myself with Ioa Needle in Background
Ethnobotanical Loop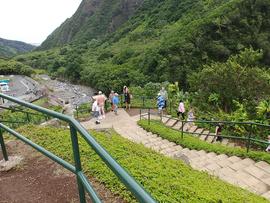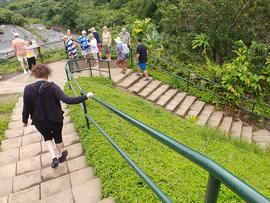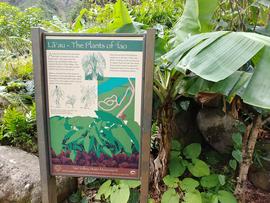 Why Did The Chicken Cross The Road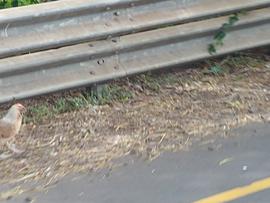 Chicken in lower left of photo
I don't know why the chicken crossed the road, but I hope this one makes it back across the road alive. As our tour bus headed to our next destination I spotted this chicken in the middle divider of a busy 6 lane road while we were stopped at a traffic signal. It must have crossed 3 lanes to get to the center divider and would have to cross another 3 lanes to get back out of the road. I hope it does so quickly while all the cars are stopped at the traffic light.
Hawaii Sea Spirits
Organic Farm & Distillery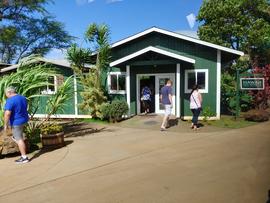 Barbara at the Hawaii Sea Spirits Gift Shop
Left: Banana trees serve as a windbreak, Right: Vodka distillery building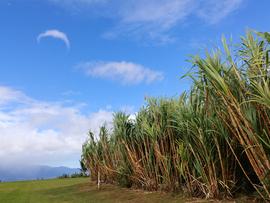 Several types of sugar cane they use to make their vodka
Sticks of sugar cane used to make their vodka
Distillery Tour
This machine fills & seals mini bottles of their vodka


Stills and storage
They use desalinated ocean water from 3000 feet below sea level from just off the island. The salt and mineral level of the water is left at what matches that of human body fluids. Almost all of this water is shipped and sold in Japan as a health product. This distillary is the only place that uses this water for making their vodka.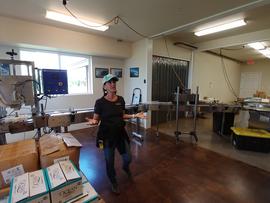 Their bottling operation for 750ml and 1 liter bottles
Vodka and Rum Tasting at The Martini Garden
They give us a one half ounce pour of their Kula Vodka and one half once pour of their Kula Organic Rum to taste. By Hawaii state law, distillaries are only allowed to serve a total of one ounce of alcohol in tastings. Thus, they were not allowed to serve us the Kula Dark Rum or Kula Toasted Coconut Rum to try. They could have given us a quarter ounce of each but felt that such a small sample would not be a fair taste of their products. They were very strick abiding by state law and checked the ID to verify the age of every person before giving them a wrist band that entitled them to participate in the tasting.
On the first tasting we were asked to take just a small sip to wake up our taste buds. Next we were told to take another small sip and swirl it around in our mouth to get the full flavor of the vodka and the rum. Finally some water was added to the alcohol to open up the aroma and flavors before we drank the rest of each tasting sample. The water they poured was the desalinated water described above.
Everything grown at this farm and distillary is organic. The farm used to be an area for grazing cattle so it was not used previously as a farm. Thus they didn't have to worry about residual pestisides or chemical fertilizer in the soil. The farm has been certified as organic. They use solar panels to totally power the distillary. The farm is 1000 feet above sea level and they had to drill 1100 feet down to set up their own well. That well is used for all the water needs on the farm but is not used for blending with the vodka. For that water they use the desalinated sea water mentioned above. They produce OCEAN Vodka which is sold in all 50 states of the United States. They also started producing three types of rum: Kula Organic, Kula Dark and Kula Toasted Coconut. Currently the Kula Run is only distributed to some stores on the island and is not available in the states.
Purchases From The Gift Shop
Since the OCEAN Vodka is available throughout the United States including "BevMo" and "Total Wines & More", we decided to only purchase the Kula Rums that are only available on the island. We purchased one of each. When we got to the ship they stored the the rums for us as is ship policy. They will return them to us the night before we depart the ship.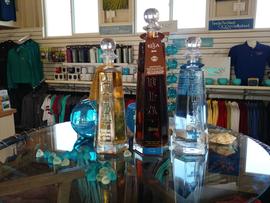 Ali'i Kula Lavender Garden
At this stop the tour guides provided us with ham & turkey sandwiches and chips. They also had been providing us with bottles of cold water throughout the day and had more available with this lunch. Lavender Tea and Lavender Coffee along with other beverages could be purchased at the gift shop. Barbara purchased a cup of Lavendar Coffee. She liked it but I'm not so sure I like Lavender in my coffee. There were picnic tables and other places to sit and eat lunch throughout the grounds of the Lavender Garden. Many had wonderful views of the valley and island shoreline.
Not included in the shore excursion was a guided walking tour of the Lavender Garden. The next and last tour of the day was going to start at 2:30 PM and we would have just enough time to take the tour before we had to be back on the tour bus. The tour was $12 per person. Nobody else on our tour bus purchased the walking tour so it was just my wife and I and we got a very private tour of the Ali'i Kula Lavender Garden. As we walked around the garden the guide would take a small clipping of each type of Lavender and give each of us a clipping. She told us to crush the buds to release the oils and the aroma. I never realized there were so many different types of Lavender! There were also many other types of flowers and fruits grown in the garden and our guide pointed out each one as we walked through the garden.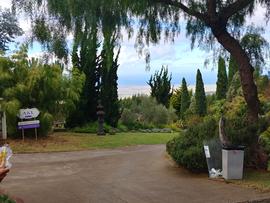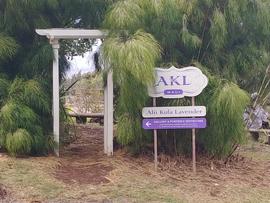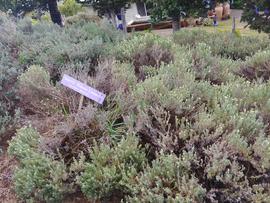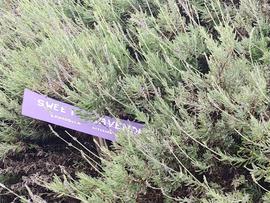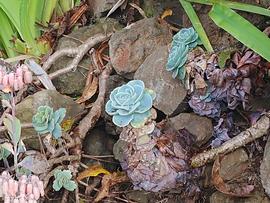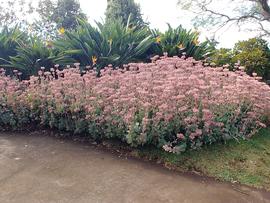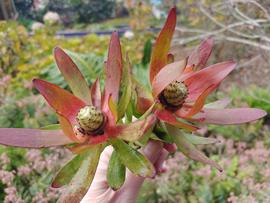 The views from the garden were amazing!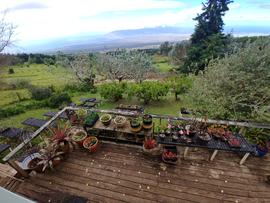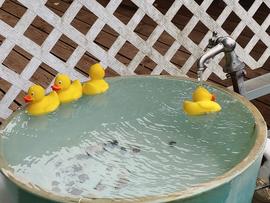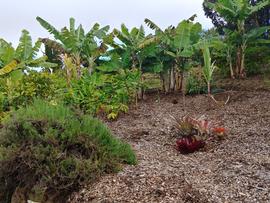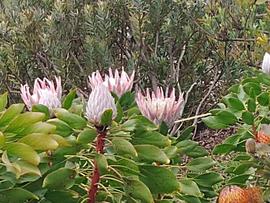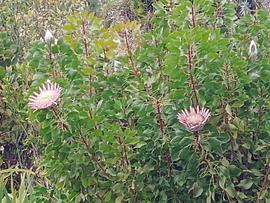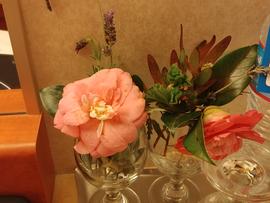 The last photo above shows all the Lavender clippings that we were given during our tour of the Lavender Farm. Not having a vase in our ship cabin I just put them in two of the water glasses in the room.
Old Kahului Railroad Building
I didn't see any tracks but maybe they were hiding behind the building
Wine We Brought Onboard
Above is one of the bottles of wine that we were allowed to bring in our carry-on luggage when we boarded in Long Beach, California. It is a bottle of 2011 Rodney Strong Symmetry Meritage from Alexander Vally, Sonoma County, California that I purchased from Wine.com for $49.99 per bottle back in January 16, 2014. This bottle of wine would cost $100 or more in restaurants and on the ship if they offered it. This Meritage is 73% Cabernet Sauvignon, 13% Malbec, 7% Cabernet Franc, 4% Merlot, 3% Petit Verdot and 14.5% alcohol by volume (ABV). The wine was aged 100% in French oak barrels.
A Towel Frog?
Click on each photo above for a larger image.
That was pretty much the end of our first day of shore excursions.
If in this report you see any typos, misspellings, factual errors or other types of errors, please let me know. Please include the web address (URL) of the report in which you found the error. Thank you! Send your email to: