If in this report you see any typos, misspellings, factual errors or other types of errors, please let me know. Please include the web address (URL) of the report in which you found the error. Thank you! Send your email to:


Click on each photo below for a larger image.
2011 Earthquake Zinfandel
from Old Lodi Vines, California, by Michael David Winery
Another wine that we brought on board that we will start drinking today
The above notice was in our cabin mailbox last night. I guess they really do only wash the decks and not the windows outside each cabin. We kept the curtains closed until we heard them go by on our balcony outside our cabin. After they finished, the windows did not look washed nor did the balcony plexiglass railing. So I guess the deck floor is all they do routine maintenance on while at sea.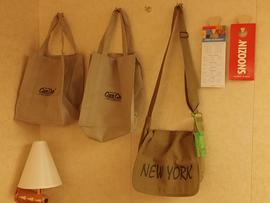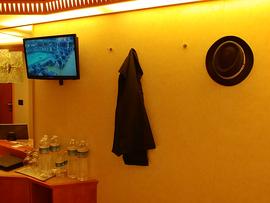 Whenever we cruise I always bring along several magnetic hooks that I purchased at Amazon.com . Almost all of the walls in ship cabins are made of steel. These hooks provide a lot of convenient extra hanging space. They are pretty strong and I think can hold at least 10 pounds each.
Even the bathroom door and the cabin door are made of steel. I use hooks on the back of the bathroom door to provide more hanging in addition to just the two hooks provided. I like to use a couple of hooks on the back of the cabin door to remind us to take our Sail & Sign Card Lanyards with us when we leave the room.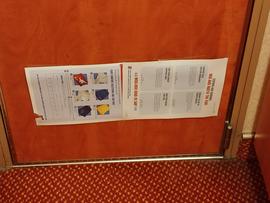 This has to be the first ship we have ever been on that had a vent in the cabin door. I often like to keep our balcony door open so that we can hear the ocean and breath the fresh ocean air in our room. But that can create a huge wind tunnel under the cabin door due to difference in air pressure between the inside and outside of the ship. I solve that problem by placing a bath towel all along the crack at the bottom of the door to stop the breeze. But this door also has a vent. I taped a couple of pieces of paper over the vent to stop that from becoming a wind tunnel. At first the paper stuck to the vent even without any tape but would then sometimes fall off. Tape fixed that problem. On cruises I always bring along tape, a small stapler, scissors, wine opener, box cutter and a few other items that I find very useful on a cruise.
One Of The Many Lido Restaurant Self-Serve Coffee Stations
The above is where I pour coffee for myself and my wife each morning and then bring it down to our cabin
Sweeteners available at the self-serve coffee stations
My pet peeve: off brand sweetners pretending to be the major brands. Most of us know the standard color of sweetner packes: Sweet-N-Low - Pink, Equal - Blue; Splender - Yellow. Many restaurants buy cheaper off brands and purchase them in the three different colors. All the packets have the exact same labels so it kind of irks me that they are trying to fool us into thinking the restaurant is offering the main line brands of sweetners. But it looks like Carnival has taken this buffoonery to a higher level: They have 3 different color packets of sweetners, but each is from a different off-brand vendor! I'm not sure of the point of this. Maybe Carnival purchases from whichever vendors have the lowest price for each of the different color packets. Or maybe it is because each one does have slightly different ingredients. The pink packet sugar substitute is made from dextrose and saccharin. The yellow packet sweetener is made from dextrose with maltodextin and sucralose. The blue packet sweetener is made from dextrose with matltodextin and aspartamine. The blue packet also has a phenylketonurics warning that it contains phenylalanine. Some off-brand sweetners I think taste pretty bad but these don't seem too bad.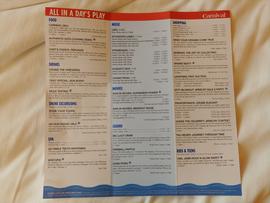 Every evening a brouchure like the above is provided in your room or in your cabin mailbox listing all the events and other useful information about the following day.
My wife and I almost always pick the "Your Time Dining" option that lets us eat in one of the main dining rooms anytime between about 5:15 PM and 9 PM. But we were stuck with the "Late Dining" time slot of 7:45 PM since we registered late for this cruise. Unfortunately that really gets in the way of a lot of the live music that we like to attend. There are a lot of live music events that start at either 7 PM or 8 PM plus the earlier comedy club and the earlier performance in the big theater. Normally we would eat earlier and attend the earlier comedy club or earlier big theater performance. Eating at 7:45 PM restricts us to having to chose between the late comedy club, the late theater performance, or the music venues that we really like. On some cruises the Lido Restaurant has a really good selection of dinner offerings. If that was the case on this ship then we'd go eat in the buffet for dinner more often at our earlier convenience. But we haven't found that to be true on this cruise so far. Thus we've been going to 7:45 PM Late Dining in The Gold Pearl Restaurant most nights.
Variety Music with Liquid Gold
At about 6:30 PM we went down to the Splendor Atrium Lounge to listen to some great music by Liquid Gold. Though the "Solid Brass" saxophone and trumbone players were not scheduled to appear until 8 PM, they came to join in with Liquid Gold at about 6:45 PM for the last 15 minutes of the performance.
Traditional Hawaii Music and Dance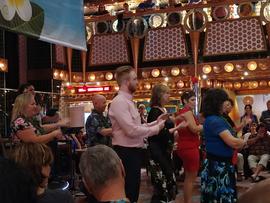 At 7 PM we were treated to some traditional Hawaii Music and Dance. Some of the passengers had been learning Hula dance and got a chance to show off their stuff.
Eden Parker in the Grand Piano bar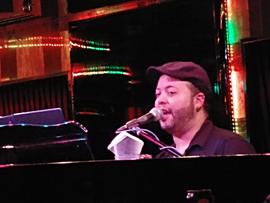 We finished off the day by listening to Eden Parker singing and playing in the Grand Piano bar. It was a full house. My wife and I sat at the last empty table in the room. We left around 11:30 PM instead of hanging around until the bar closed as we had to get up early the next morning for the shore excursion.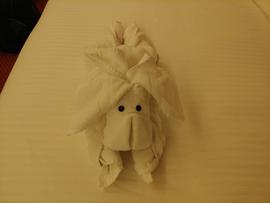 A Towel Puppy?
Click on each photo above for a larger image.
If in this report you see any typos, misspellings, factual errors or other types of errors, please let me know. Please include the web address (URL) of the report in which you found the error. Thank you! Send your email to: