If in this report you see any typos, misspellings, factual errors or other types of errors, please let me know. Please include the web address (URL) of the report in which you found the error. Thank you! Send your email to:

Click on each photo below for a larger image.
Norwegian Freestyle Daily Guide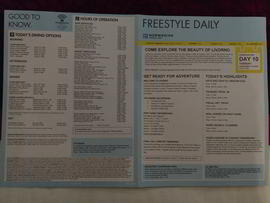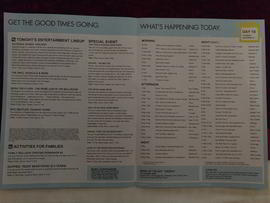 Photos From Our Bus Ride
From The Port To Florence
Florence is about a 90 minute ride from the port. Included in our purchase of the "Hop On Hop Off Florence" Shore Excursion is bus transportation from the port to and from Florence. The transfer bus was a luxury double decker bus where the three of us sat at a table for four passengers on the lower level. Once we were dropped off in Florence we had to walk quite a way down the street to then board the Hop On Hop Off Bus. Since the transfer bus left the port late we just made it in time to board the Hop On Hop Off Bus. If we had missed it we would have had to wait 2 hours for the next Hop On Hop Off Bus.
Shelli, Barbara and me sitting at the table in the bus.
Above Left: Norwegian Epic as seen from the bus.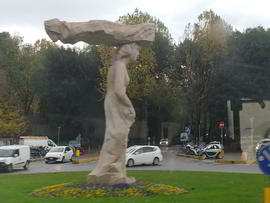 Arriving into Florence, Italy.
Amazing Florence Hop On Hop Off Tour
Adult: $125, Child: $79, 8 Hours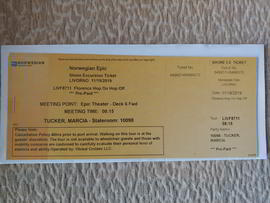 See Florence's highlights at your own pace by riding a double-decker bus around town, hopping on and off whenever you please at the attractions you find most intriguing.
After departing from the pier, you will settle in for a leisurely and immensely scenic drive through the Tuscan countryside and on to Florence. In time, you will stop in historical St. Croce Square, a wonderfully atmospheric gathering place where you can easily walk to landmarks such as Santa Croce Basilica. Built in the late 13th century, the church contains the tombs of Michelangelo and Galileo, so it will be well worth visiting.
You might also want to stroll over to the iconic Ponte Vecchio bridge that spans the Arno River and then linger over a Tuscan lunch before beginning the Hop-On Hop-Off bus tour. Then, using the complimentary bus pass, you can explore the sites in Florence that are most appealing to you. More than 40 destinations are available on the red and blue bus loops.
Simply hop on one of the buses and then hop off when it reaches an attraction that interests you. For instance, you might hop off and admire Michelangelo's exquisite statue of David in the Accademia Gallery, and see masterpieces from artists such as Leonardo da Vinci and Caravaggio in the Uffizi Gallery. Nature lovers will enjoy strolling through serene Boboli Gardens behind the Pitti Palace, while shoppers should be sure to browse the high-end boutiques along Via Tornabuoni.
Note: No restrictions on this tour, however there is a total 3 hrs driving from Livorno to Florence and Florence to Livorno, guests are required to wear comfortable shoes when choosing this tour. Due to the length of the tour, is not recommended for guests on wheelchairs.
Activity Level: Moderate. Tours with this activity level involve a considerable amount of physical activity such as substantial walking over cobblestone streets, uneven or steep terrain, climbing stairs, or extended periods of standing. Not recommended for guests with physical limitations. Comfortable, sturdy shoes are recommended.
Warning regarding Hop On Hop Off Bus & Attractions Wait Time
We sat just behind the stairway on the open upper deck of the doubler decker Hop On Hop Off Tour Bus. Though there was a covering, there are no windows. It was raining on and off and I'd sometimes get a bit wet sitting next to the open window. But, the only place to take decent photos is from the open upper deck at a window seat.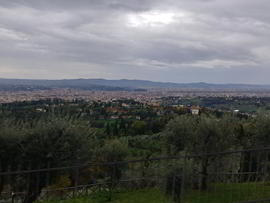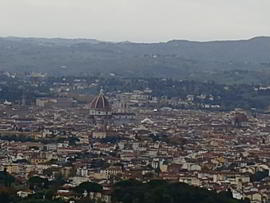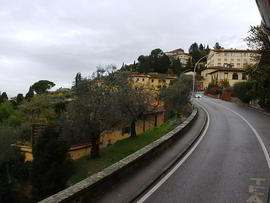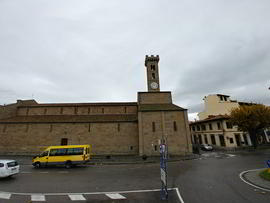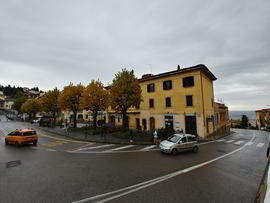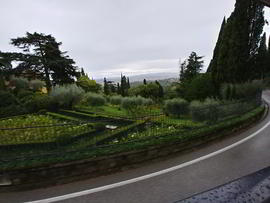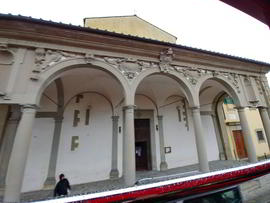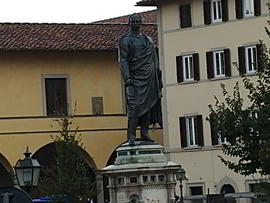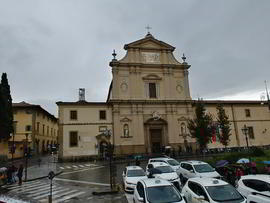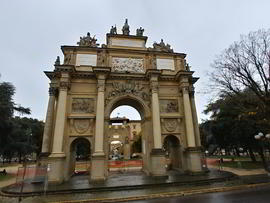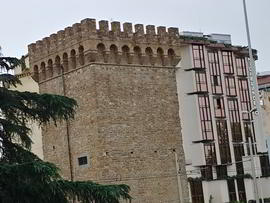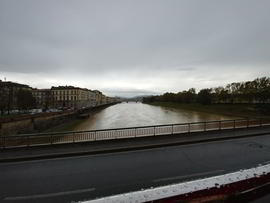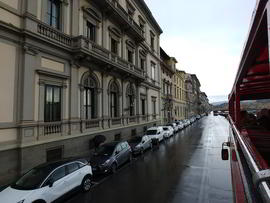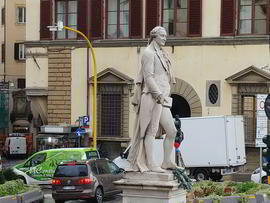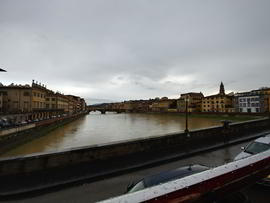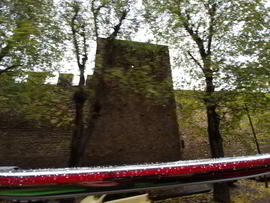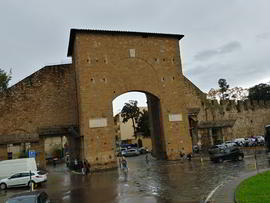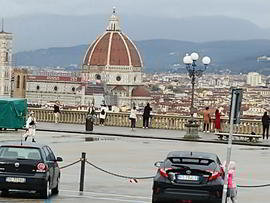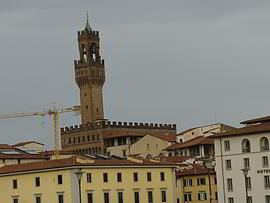 Cafe & Restroom Break In Florence
Exploring A Square In Florence
Cantina Vinicola
Via Torta, 6, 50122 Firenze Fi
12 - 3 PM & 6 - 11 PM
+39 055 200 1222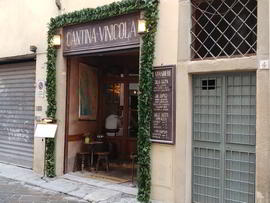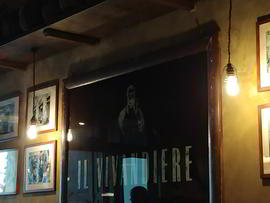 Welcome to Il Vivandiere. The Vivandiere is a wine cellar with wines from the Tuscan territory, flowing from the large wooden casks, or available by the bottle. We propose a kitchen of tapas and mezze portions, with fresh and always seasonal ingredients. The raw materials we choose for our dishes respect our extraordinary territory and its typicality. We suggest to order three or four plates per person ... cold plates are served first, the hot dishes arrive at your table as soon as they are ready! Be curious, take your pick, and remember to share!
At Il Vivandiere you will enter a place from another time where the passion for wine, good food, and good music continues to thrive! Local and typical tastes for a kitchen made with passion and traditional ingredients.
Charcuterie: A selection of cheeses and salamis from the best Tuscan butchers: wild boar salami, Tuscan raw ham, pecorino cheese from the Amiata mountain, all served with fresh bread. Pair them with light or fruity rose or any of our red wines.
Our Tapas: A variety of Tuscan-style tapas: from potato and pecorino croquettes to toast with Tuscan pate or Colonnata lard. Tasty meatballs, fried or with sauce complete the menu. Pair them with a structured or slightly aromatic white wine.
Pasta Dishes: Robust dishes of the Tuscan tradition, our pastas are accompanied by wild boar sauce, or more delicate sauces. In combination: strong reds and tannins that blend perfectly with the richness of flavors.
Our Meats: Our meats are strictly local and of first choice: then tartare to the Tuscan veal cutlet, to the grevigiano pork fillet with honey and walnuts. Flavors that combine with the great wines of the Tuscan tradition, such as Chianti Classico and Brunello.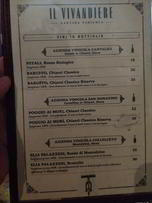 Wine List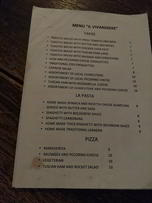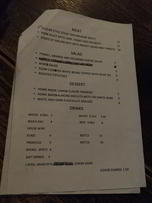 Menus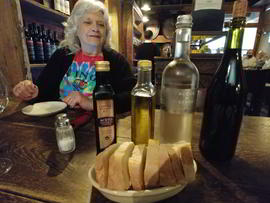 My sister, Shelli, and some views of the restaurant.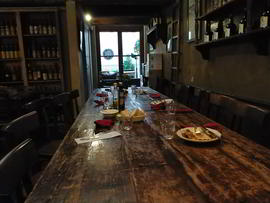 More photos of the restaurant.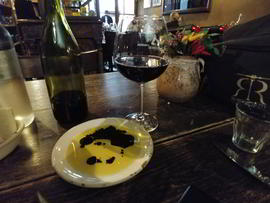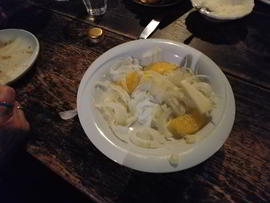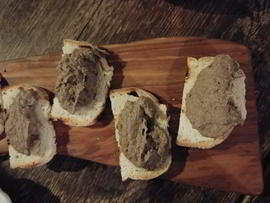 Our Italian Meal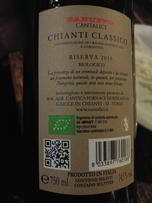 First we had some Italian wines from their casks where were quite good and very inexpensive. Then we ordered and drank the above Cantalici Baruffo Chianti Classico Riserve which was excellent and reasonably priced.
Click on each photo above for a larger image.
If in this report you see any typos, misspellings, factual errors or other types of errors, please let me know. Please include the web address (URL) of the report in which you found the error. Thank you! Send your email to: