If in this report you see any typos, misspellings, factual errors or other types of errors, please let me know. Please include the web address (URL) of the report in which you found the error. Thank you! Send your email to:


Click on each photo below for a larger image.
Norwegian Freestyle Daily Guide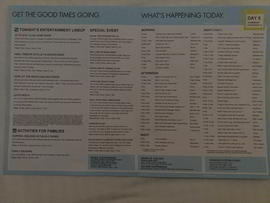 Waiting For Departure
Of Our Shore Excursion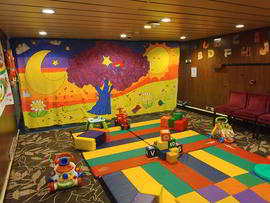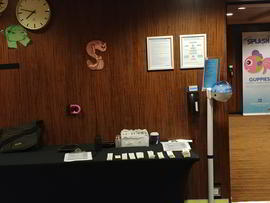 Since my wife, Barbara, was using a transport wheelchair during this cruise we were asked to wait at the exit of Level 5 of the Epic Theater rather than at Level 6 of the Epic Theater where everyone else gathered. This room off this Level 5 Epic Theater exit is obviously also used as a playroom for the younger children.
Riding Transfer Boat From Our Ship To Shore
Views of the Norwegian Epic while riding the transfer boat from the ship to the shore.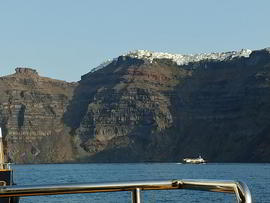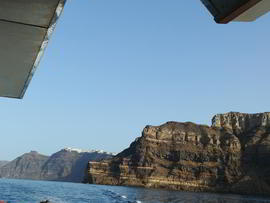 Departing the transfer boat to shore
Charming Oia & Winery
Santorini, Greece
Adult: $95, 4 Hours
Enjoy some of Santorini's highlights when you visit a well-known, quality winery and the beautiful village of Oia. You'll stop at one of the island's finest wineries where you'll taste some of the best wines in Santorini. Continue on to picturesque Oia, situated on top of an impressive cliff and enjoy the unrivaled, spectacular views of the Aegean.
This traditional village offers charming and quaint narrow streets that are ideal for a stroll. Blue domed churches, sunbathed verandas, plenty of shops, tavernas and cafes await your discovery. Many artists have fallen in love with this idyllic setting and their presence is obvious in the many art galleries.
Need To Know: Tour involves walking for approximately 1/2 mile on level, some steps and cobblestone streets. Amount of walking and exertion during free time is up to you. Not recommended for guests in wheelchairs. Temperatures can reach extreme highs during summer months, we recommend that you drink a lot of water and use sun protection. Most tours end in Fira where you'll board a cable car to return to the pier (cable car ticket will be provided). Lines for the cable car are very long, especially during summer or when there are several ships in port; please allow sufficient time to return to the tender landing pier.
Excursion Type: Local Food-Wine Tasting.
Activity Level: Moderate. Tours with this activity level involve a considerable amount of physical activity such as substantial walking over cobblestone streets, uneven or steep terrain, climbing stairs, or extended periods of standing. Not recommended for guests with physical limitations. Comfortable, sturdy shoes are recommended.
On The Tour Bus At The Port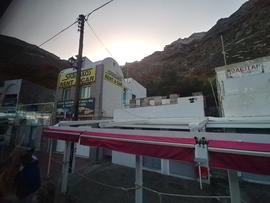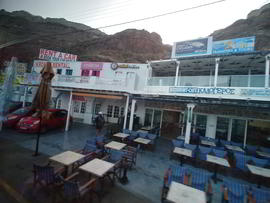 On The Tour Bus Climbing The Cliffs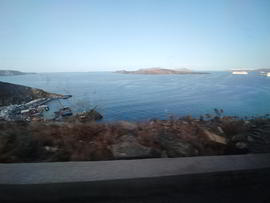 Views From The Top Of The Cliffs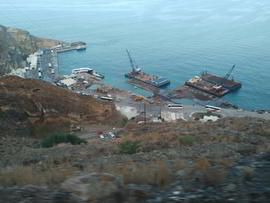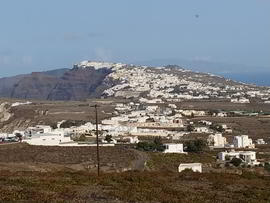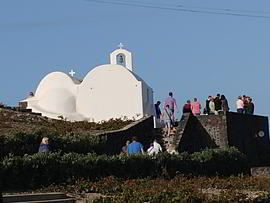 Vineyards On Santorini
Wine Grape Vines kept close to the ground to protect from wind blown volcanic dust soil.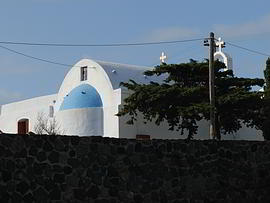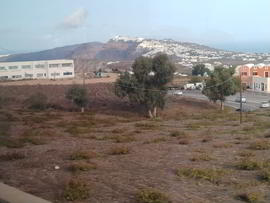 A whole line of identical cars, must be for rental.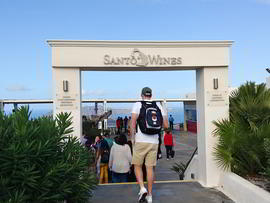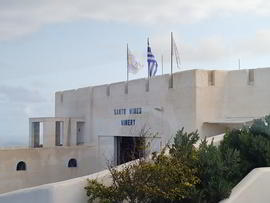 The Union of Santorini Cooperatives, SantoWines was founded in 1947. Today, it consists of the largest organization of the island representing all the cultivators and counting 1.200 active members. SantoWines is committed to safeguarding the local traditional cultivations , producing highest quality Protected Designation of Origin (PDO) Santorini wines and products as well as promoting sustainable agriculture development.
The vineyard of Santorini: The terroir
Manual work: From pruning to harvesting, everything is done by hand. The vintners have invented a distinct way of pruning, called "kouloura". The vines stay close to the ground and form a spiral, a natural basket that hosts the grapes and protects them from the strong wind. In areas of notable slope, the vine growers have built stone terraces, known as "pezoules" in order to facilitate the cultivation and to maximize the absorbance of rainwater.
The vineyard of Santorini, one of the most ancient in the world with a 3,500-year history, consists of a World Heritage site.
Volcanic soil: The volcanic eruption formed a soil of unique texture which includes lava, volcanic ash and light stone. That special composition gives birth to grapes of distinctive flavor-profile, hosts low-yield vines and works as a natural shield from diseases. The vineyard in Santorini is self-rooted as it was never affected by the phylloxera.
Dry farming: The vines are not irrigated artificially and the rainfall is rare. Therefore the plants' watering is dependent on the natural humidity and the sea mist; absorbed by the volcanic soil, they offer the necessary hydration.
Indigenous varieties: Assyrtiko thrives in Santorini, the birthplace of the famous Greek variety. As a single varietal or blended with the aromatic Athiri and the delicate Aidani, it offers the Santorini Protected Designation of Origin (PDO) wines. White, dry wines with high acidity, intense minerality and a remarkable ageing potential.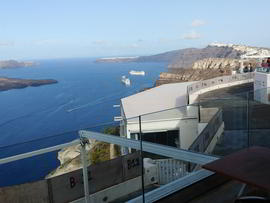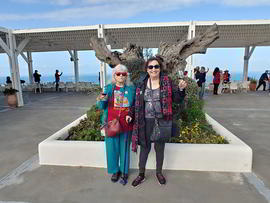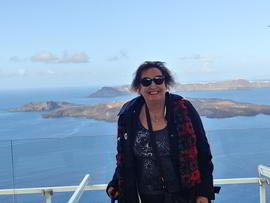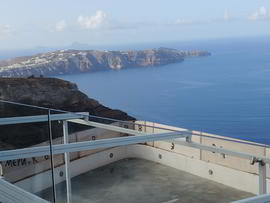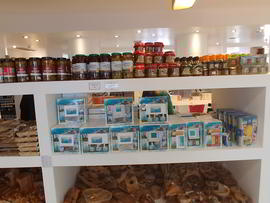 We had a snack at the Hungry Donkey along with a couple of great local beers.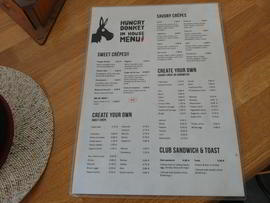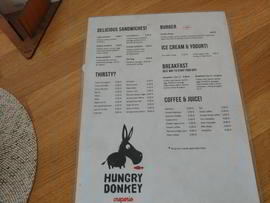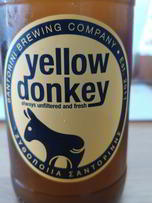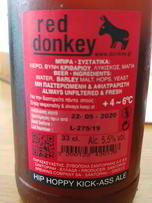 Santorini Brewing Company Yellow & Red Donkey Local Beer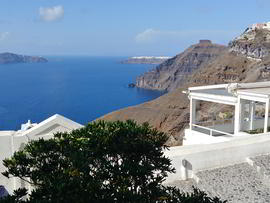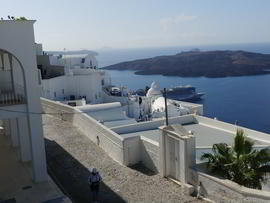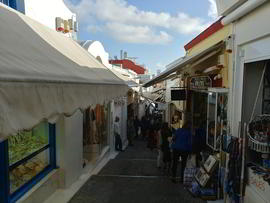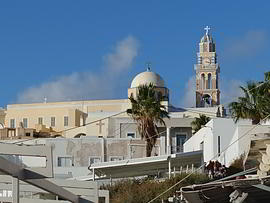 Traditional Greek & Mediterranean Cuisine.
Where We Ate Lunch.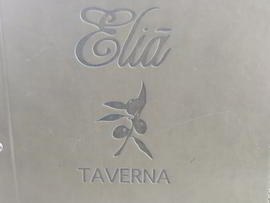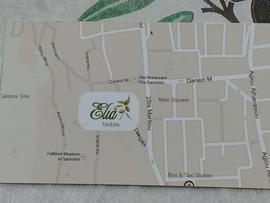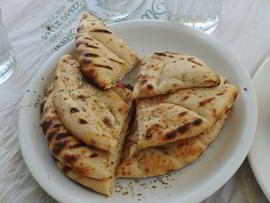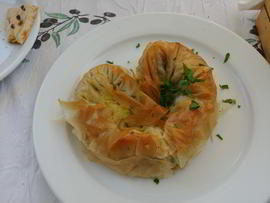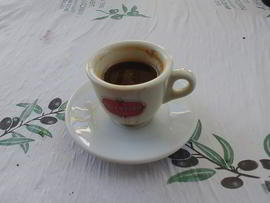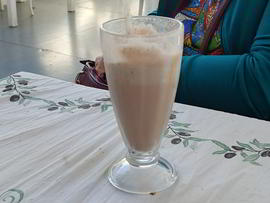 The Greek Wine We Had With Lunch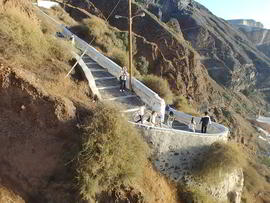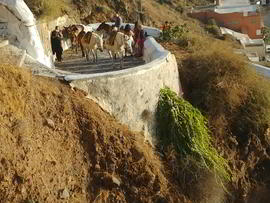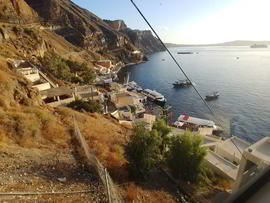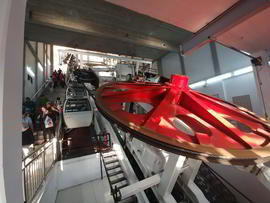 Transfer Boat Back To Ship
Last Views Of Santorini, Greece
O'Sheehan's Menu
A Wine We Purchased And Brought Back On Board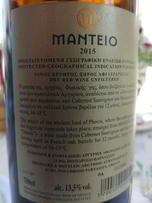 Click on each photo above for a larger image.
If in this report you see any typos, misspellings, factual errors or other types of errors, please let me know. Please include the web address (URL) of the report in which you found the error. Thank you! Send your email to: