If in this report you see any typos, misspellings, factual errors or other types of errors, please let me know. Please include the web address (URL) of the report in which you found the error. Thank you! Send your email to:


Click on each photo below for a larger image.
Boarding
We arrived at the port around 11:30 AM, about a half hour before the listed boarding time of 12:00 PM. They let us check-in right away. Unfortunately I had forgotten that Norwegian allows passengers to bring as many bottles of wine onboard as they wish but a corkage fee of $15 is charged per bottle. Carnival and many other cruise ships allow each adult passenger to bring just one bottle of wine onboard at no cost. Corkage is only charged if the bottle is brought to a restaurant to be opened. But only one bottle is allowed per adult passenger.
So, instead of declaring our 3 bottles of wine, the 3 of us each put one bottle of wine in each of our 3 carry-on bags. But, when we got to where we turn in our checked luggage, we saw that it would be easier to check in one of our heavier carry-on items, forgetting that we had a bottle of wine in that bag. For the 2 bags that we did carry on, the wine was not a problem. The Norwegian security staff just took the 2 bottles out, marked them with our room number, and said that we would be charged the $15 corkage for each and they would be delivered to our room.
Here is the ironic part: For almost all our prior cruises we have taken one bottle of wine in each of our carry on bags and also taken one bottle of wine in each of our checked bags. It has never been a problem on any prior cruise. This time we did not intend to have any wine in any of our checked bags and would have been happy to pay the $15 corkage fee for the 3 wines that we brought. If I had remembered the NCL wine policy, I probably would have brought more bottles of wine and just declared them at the security check-in and paid the $15 fee for each. We don't mind paying the $15 corkage fee on every bottle of wine. Our problem is more with the limit of only one bottle per person on other cruise lines.
So, this is the first cruise where we were not trying to "sneak" any additional bottles of wine on board. But, because we forgot there was a bottle of wine in the carry-on bag that we decided to check at the last moment, that luggage item got delayed and the wine confiscated. Beyond that, a second checked luggage item was also delayed because it contained a bottle of Viking Mead that was purchased as a gift in Copenhagen to be brought back home unopened. We totally forgot that would be classified as an unallowed checked luggage item. So that checked bag got delayed too and that bottle also confiscated.
After much explaining and protesting about the confiscated bottles of wine, we eventually did get the bottle that mistakenly ended up in a checked bag and did get charged the $15 corkage fee which we never had any objection to. The gift bottle of "Viking Mead" we left with the ship to keep for us until the last day since we had no intention of drinking it anyway. Oddly, the other 2 bottles of wine that we did check-in with security took 2 days before they showed up in our cabin after we had to make a few calls to track them down and get them delivered.
Despite the incident described above, the check-in process went quite smoothly and we were on board the ship before noon.
Lunch at the Garden Cafe buffet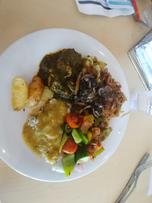 After boarding we headed up to the buffet at the Garden Cafe on Level 15 for a quick bite while waiting for our room to be ready. Since we boarded so early, the Garden Cafe was almost empty and we were able to sit at a table by the window. By the time we finished lunch the Garden Cafe was quite full and busy.
My wife and I both love Indian food. Along with the huge selection of food offered in the Garden Cafe buffet, at least 3 or 4 Indian dishes were featured every day at both lunch and dinner. The spice level and quality of the Indian food was excellent! We tend to like our Indian food with a bit more spice than "moderate" and most dishes were spiced to our liking. They did have an Indian chef on board which probably accounts for the high quality of the Indian food. Many Carnival ships feature one Indian dish as the vegetarian selection in the main restaurants every day for dinner, but it tends to always be the same dish and is of just average quality. It also is not spiced adequately for our tastes. The Carnival Splendor has an Indian food station at lunch time but it is not open at dinner time and the dishes offered we did not find tempting. By contrast, the Indian food offered on the Norwegian Getaway every day at both lunch and dinner was so tempting that I was tempted to eat all my meals at the buffet. It was only my desire to sample more of the restaurant venues that stopped me from doing so.
O'Sheehan's Bar & Grill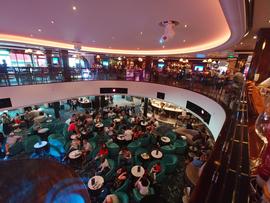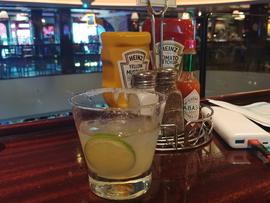 Since the cabins were still not ready for passengers after we finished lunch, we headed over to O'Sheehan's Bar & Grill for our first drink of the trip. We decided to get 3 Margarittas. Only my wife and I have the Ultimate Drinks Package (UDP), but our server brought one for each of us without charging for the drink for the additional passenger in our room that did not have a drinks package. For the entire cruise the servers had no problem bringing us 3 drinks even with only 2 of us having the UDP. The Margaritas were excellent!
Though we've been on many cruises with many different cruise lines, this was the first time my wife and I have ever had any kind of drinks package. The only reason we have it on this cruise is because it was included "free" as some sort of "5 Free At Sea" promotional package. So, we really weren't sure how it works when you have a third person in the same cabin who does not have a drinks package. It turned out that they didn't have any problem bringing 3 free drinks instead of just 2 free drinks each time we placed a drink order. However, if not for bringing "free" drinks also for the additional person in our same cabin, the Ultimate Drinks Package would not have been worth it for us, even with it being "free". Even though NCL says it is free, you still have to pay the 20% service charge on the "free" drinks package. That came to over $200 for each of us, or a total of $400 for the two of us. That is no bargain for us so we will be declining this "free" benefit on future cruises and instead just try to get a lower overall cruise price.
On our prior 14 day cruise we spent less than $600 for all of our drinks for the two of us and that included all service charges and all gratuities. We normally consume one bottle of wine split between us and then may have one or two cocktails each later in the evening. We also attend most of the wine tasting and several of the other spirit tasting events. And that is for a 14 day cruise, not just a 9 day cruise like this. On this cruise we skipped all of the wine tasting and spirit tasting events and did not purchase any bottles of wine as the UDP only gives you a 15% discount on most of those items. Since we got "free" drinks, it didn't seem to make any sense to us to pay almost full price for any other wine or spirits on the ship. Thus we missed out on some of the events that we would usually participate in on cruises. It is definitely cheaper for us to pay for our drinks than to use a drinks package, even if we are given it for free!
Today's Program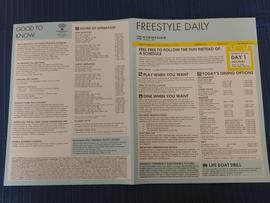 Our Balcony Stateroom
Beds, Sofa & Desk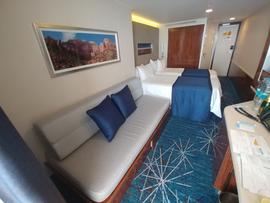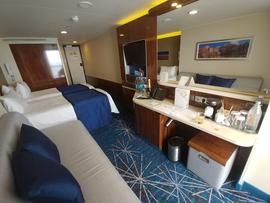 When we first entered our cabin there were 2 beds. We had requested that the cabin be configured with a single kingsize bed and had originally received confirmation that it would be arranged that way. However, I could not find anywhere in our paperwork where it stated how our beds would be configured. When we cruise with Carnival, you can always check your booking to confirm how your bed(s) will be configured and can even change your request at any time. I could find no such option for our NCL booking, not even a place to view the bed configuration. However, we did get the bed configuration fixed by just asking our room steward to change it. You can see the configuration was changed to a single kingsize bed in the lower two photos.
Bathroom & Shower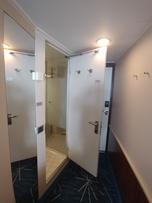 Desk & Mini-Bar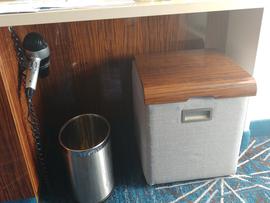 Since we would not be purchasing anything from the Mini-Bar, we asked our cabin steward to remove all the items out of the Mini-Bar so that we could use it for our bottles of water. He removed the items and put them inside the desk chair. The lid comes off the desk chair and it is just an empty storage box inside.
Closets & Cabinets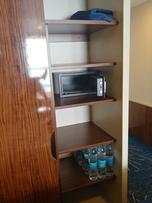 Plenty of storage and hanging space.
In Room Beverages
I must have mistakenly thought the water bottles that I ordered for the room were going to be the small ones that you can carry around as I ordered 3 packs of 12 bottles. We ended up with having 36 liter bottles of water delivered to our room. There is no way we will finish all those over the 9 day cruise. We also received a free bottle of sparkling wine since we are Norwegian Silver Level Members. On Carnival you can purchase all sorts of beverages to be delivered to your stateroom, everything from cases of small bottles of water, six packs of soda, beer, wine and even hard liquor.
Our Balcony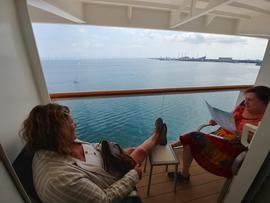 Cheryl and Barbara relaxing on our balcony.
Views of Copenhagen from Our Balcony
Left: Wind Turbines; Right: Indoor Skiing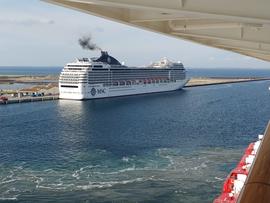 Other cruise ships at the Copenhagen port.
Norwegian Getaway Main Theater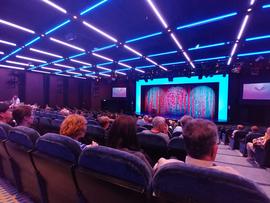 8:45 PM Cirque Dreams and Steam
(Floor Seating)
Guests of Norwegian Cruise Line will now have another dazzling entertainment experience to take in this summer on some of the line's newest ships. Norwegian is expanding the one-of-a-kind theatrical dining experience Cirque Dreams & Dinner to Norwegian Getaway for her summer season in Europe, as well as debuting a new dining format and must-see show elements of the popular Cirque Dreams & Dinner experiences on Norwegian Breakaway beginning March 5 and on Norwegian Epic starting April 14. Featuring all-new menus, the custom reimagined shows will offer guests the opportunity to enjoy their gourmet dinner prior to the start of the entertainment extravaganza. Once coffee and dessert are served, the show will commence and transport guests into a fantastical world of breathtaking acrobatics, marvels, wonders and dreams under a colorful big top.
"As the first cruise line to offer branded Broadway-style entertainment, Norwegian has become known for breaking boundaries to bring the finest entertainment to sea," Andy Stuart, president and chief executive officer for Norwegian Cruise Line said. "Our guests absolutely love our Cirque Dreams & Dinner shows, and we are thrilled to offer three new over-the-top shows, providing a whole new entertainment experience for both our new and returning guests."
The all-new "Cirque Dreams and Steam" will take center stage in the Illusionarium on Norwegian Getaway beginning on May 16, just in time for her summer season in Europe where she will sail the incredible Scandinavia, Russia & Baltic Capitals from Copenhagen. "Cirque Dreams and Steam" will heat up Norwegian Getaway with an entertaining conglomeration of extraordinary intricacies, explosive creativity and steam punk couture indulging guests in a spectacle of artistry, variety acts, grandeur and disbelief.
All three new Cirque Dreams shows have been developed exclusively for Norwegian Cruise Line by world-renowned Broadway director and Cirque Dreams founder Neil Goldberg. All of the shows will feature stunning acts, breathtaking costumes and rotating artistry throughout the year so guests can have a new entertainment experience no matter how many times they sail.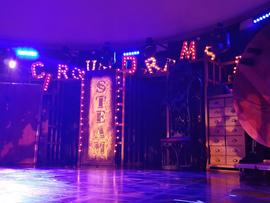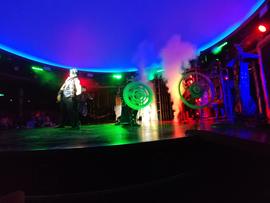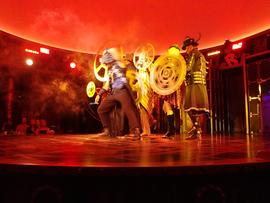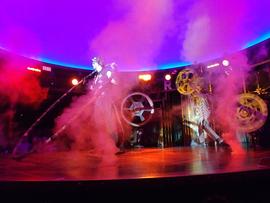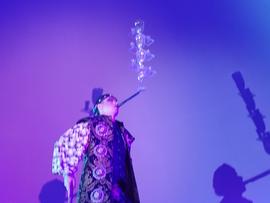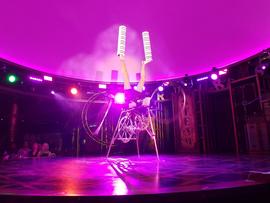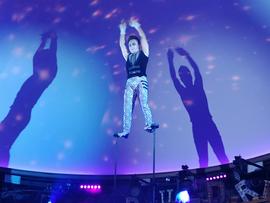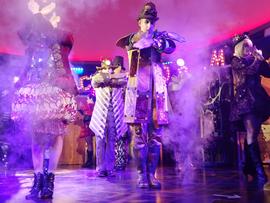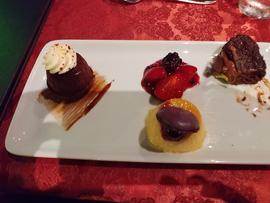 The Cirque Dreams and Steam was the best show of all the shows on this cruise! Ticket price included a meal which was surf & turf: shrimp and filet mignon. Also included was a salad and desert. The food was outstanding and the performance was amazing. It was so good that we almost decided to book to see it a second time. We recommended to many of our fellow ship passengers and I think many of them did purchase tickets for this performance.
Wines & Spirits
Restaurant Wine List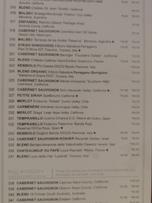 The above wines are available in most of the restaurants on the ship but most of them are not available in the bars. A number of wines are available by the glass and those wines tend to be a lot better than what is offered on Carnival cruises, even the wines that cost under $10 per glass on the Norwegian wine list.
Bar Menu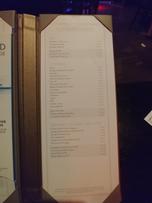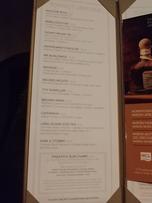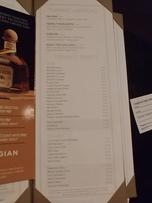 Most of the bars feature this same menu of wine and spirits. My only disapointment was that they do not offer any Islay Scotch. At least Carnival offers Ardbeg on their spirits list.
Howl at the Moon - Dueling Pianos
Click on each photo above for a larger image.
If in this report you see any typos, misspellings, factual errors or other types of errors, please let me know. Please include the web address (URL) of the report in which you found the error. Thank you! Send your email to: