If in this report you see any typos, misspellings, factual errors or other types of errors, please let me know. Please include the web address (URL) of the report in which you found the error. Thank you! Send your email to:


Click on each photo below for a larger image.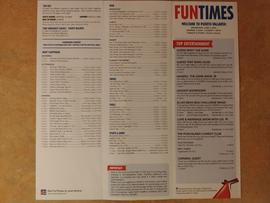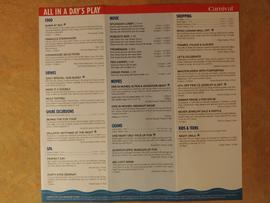 Above: Schedule for Wednesday, June 5, 2019
Arriving Into Puerto Vallarta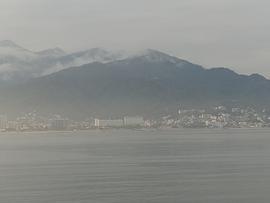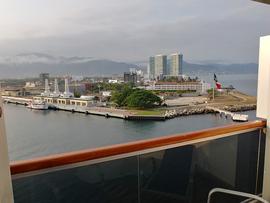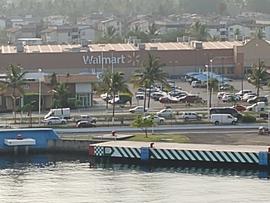 Walmart and Sam's Club is also in Mexico.
TEQUILA SHOW, MARGARITA MADNESS,
TASTING & TACOS
(VIVA TEQUILA EXPERIENCE)
Starting At: $72.99 Per Adult (ages 13 and over). $62.99 Per Child (ages 4 - 12). *Prices may vary by sailing. Experience an interactive tour to discover the history of Tequila and sample the different types. Later, sit back and relax while enjoying a Folkloric Show with Mariachi and Charro performances. Port: Puerto Vallarta, Mexico. Duration: 5 Hours. Activity Level: Easy. No Minimum Age.
Excursion Details
Enjoy a guided tour through the picturesque downtown, walk through the famous ocean front in Malecon, visit the lady of Guadalupe Cathedral and take a picture at the iconic Seahorse. Once you have arrived at the museum you will be welcomed with a traditional margarita. Enjoy a Margarita madness tutorial where you'll be able learn how to prepare famous margaritas and even drink them in your personalized clay shot. You can also walk through the interactive museum to learn about the tequila legends and history. A experienced Tequila Master will host you to taste and compare different kinds of Tequila, contrasting to discern their unique characteristics. You will receive a Certificate of "Experienced Tequila Taster" and serve your own Tequila from a barrel. Indulge your senses with the international award winner "Tequila" show. A fantastic journey through Mexico's history awaits you with a blend of ancient pre-hispanic culture and modern life. A master piece of art, folkloric dances with live Mariachi and Charro performances. Enjoy a beachfront lunch in an exclusive restaurant and have your hands on a complete Taco experience. Hand made tortillas and different salsas are being prepared so you can learn how to do your own favorite tacos: meat, chicken, beans and of course quesadillas. At the end of the tour guests can spend some free time enjoying Puerto Vallarta's Malecon, where you can walk, do some shopping or stay and enjoy the beach.
Notes
Lounge chairs are included. Guests must be over 18 to consume alcohol. Multiple transportation back to the ship is provided. Drinks are not included during lunch.
Across from the port is a large modern shopping mall.
Ocean Front In Malecon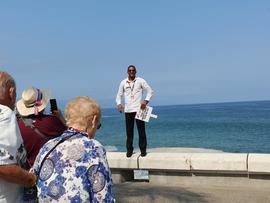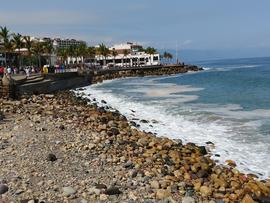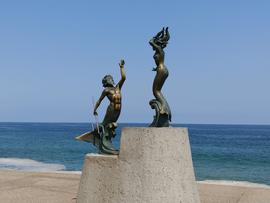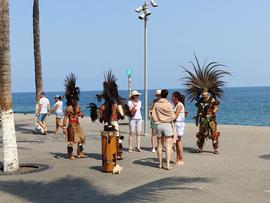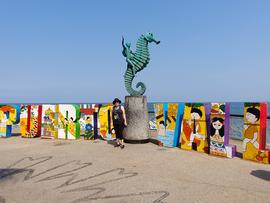 Iconic Seahorse.
Lady of Guadalupe Cathedral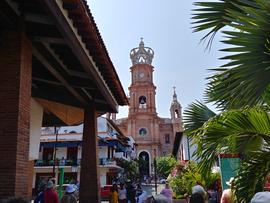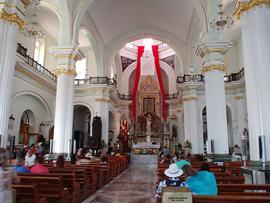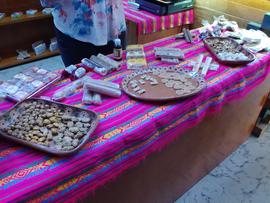 Snacks and Bar.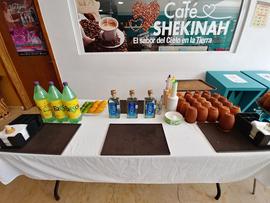 First Tequila Tasting
Viva Tequila Shop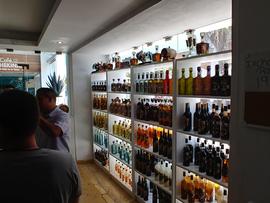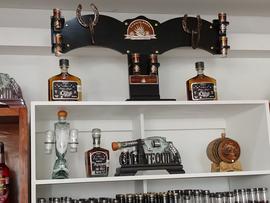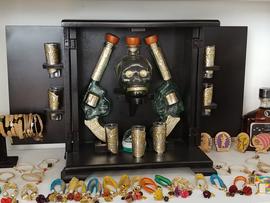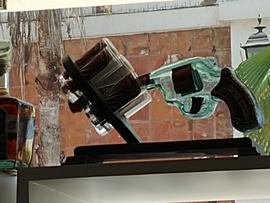 El Fogonero 100% Blue Agave Extra Anejo Tequila
and Flavored Tequila Tasting
We purchased the El Fogenero 100% Blue Agave Extra Anejo Tequila for $165 US and also purchased the Coffee, Chocolate and Peanut Butter Flavored Tequilas for $35 US per bottle. They charge $40 US per bottle if you pay cash but only $35 US per bottle if you use a credit card. They prefer credit card as they get to sell it at the list price. If you pay with US cash, they may end up with less or more pesos depending what the exchange rate is when they take their US dollars to the bank. We thought that was a bit odd as most other vendors prefer US cash rather than having you charge it on your credit card.
Interactive Tequila Museum
Third Tequila Tasting & Education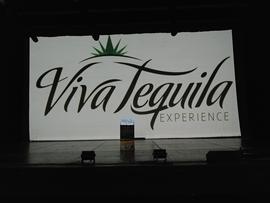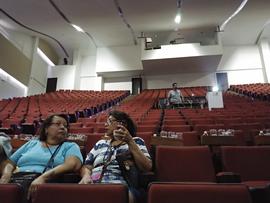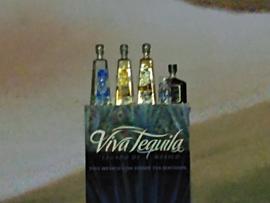 The final Tequila Tasting was done in a huge 900 seat auditorium in the Viva Tequila building. This tasting was more of an educational seminar presented like a wine tasting class. We tasted White, Reposado and Anejo Tequila. A lot of information was presented about each type of Tequila where we would look at it, swirl it, smell it, taste it, and then drink it. The seminar was presented by our tour guide who I believe is a member of the Viva Tequila staff.
Show Viva Tequila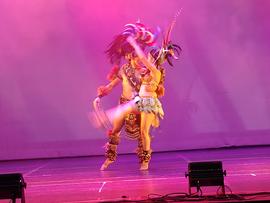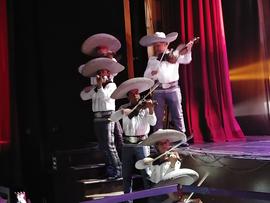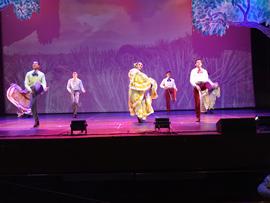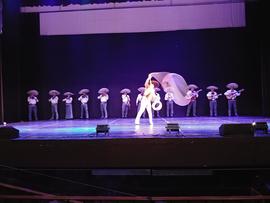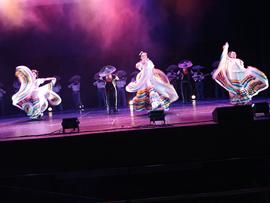 Taco Lunch At Mangos Beach Club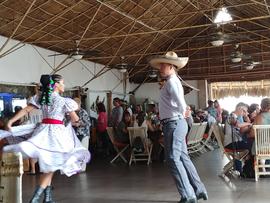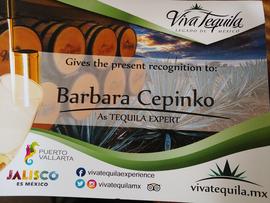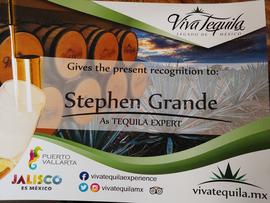 Our Tequila Expert certificates.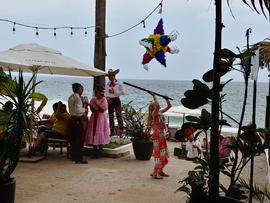 Pinata
In addition to everything enjoyed in the Viva Tequila venue, the party continued in Viva Tequila's exclusive Mangos Beach Club where we enjoyed a traditional Mexican taquiza, fandango, surprises, facing the sea of Puerto Vallarta. There was a make your own taco buffet featuring tacos being made fresh in front of our eyes, plus chicken beef and / or pork, plus many other ingredients that we could put in our tacos. Rice and beans were also served. All was included free with the tour.
Driving Back To The Port
Many high rise hotels and residences near the shore.
Back On The Carnival Splendor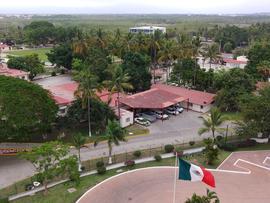 Views From Our Balcony Stateroom.
The Splendor Atrium Lobby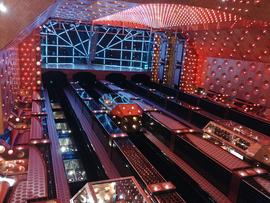 Looking up The Atrium Lobby.
You can see why they call the Carnival Splendor "The Pink Lady".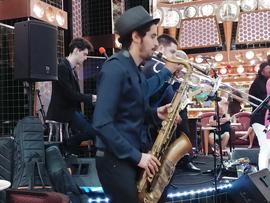 Sax, Trombone and Trumpet performing in The Atrium Lobby.
Punchliner Comedy Club in the El Morocco Lounge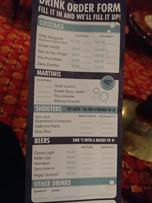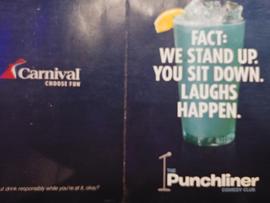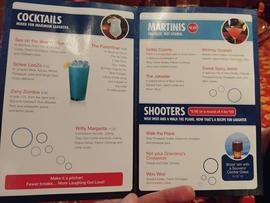 Bar Menu at the Punchliner Comedy Club in the El Morocco Lounge.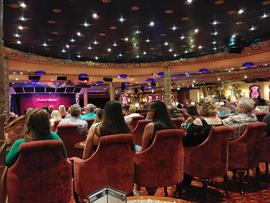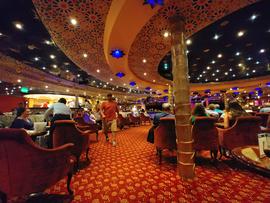 Punchliner Comedy Club in the El Morocco Lounge
The Grand Piano Bar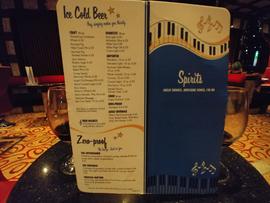 Bar Menu in the Grand Piano Bar.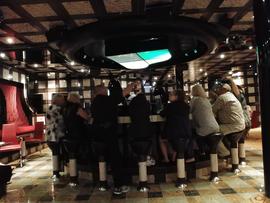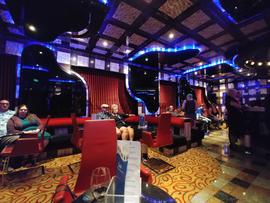 The Grand Piano Bar
The Lido Buffet Restaurant
Ice Carving.
Some Fruit Carvings.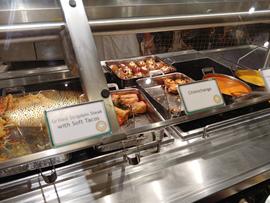 Mexican Cuisine Was Featured This Night.
Carnival Seaside Theater at the Main Pool (Mid Lido Deck 9)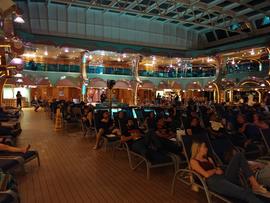 Hallway Between Mid and Forward Lido Deck 9
A Painting My Wife Liked On The Hall Wall.
Back In Our Balcony Cabin
A Towel Snake?
Click on each photo above for a larger image.
If in this report you see any typos, misspellings, factual errors or other types of errors, please let me know. Please include the web address (URL) of the report in which you found the error. Thank you! Send your email to: