7 Day Bahamas Cruise
From New York to Port Canaveral & Bahamas
Norwegian Escape
Great Stirrup Cay, Bahamas
Day 4 - Wednesday, March 13, 2019
<<<PREVIOUS PAGE &nbsp &nbsp NEXT PAGE>>>
If in this report you see any typos, misspellings, factual errors or other types of errors, please let me know. Please include the web address (URL) of the report in which you found the error. Thank you! Send your email to:


Great Stirrup Cay, Bahamas, is a private beach owned by the Norwegian Cruise Line. There is not much to do here beyond water related activities. They have shore excursions that involve snorkeling, interacting with sea life, and other water sports plus just laying in the sun on the beach. Neither my wife nor I are sun or water lovers so there isn't much here for us. I found one short excursion that involved viewing some sea life without getting ourselves wet so I booked that one.
Being owned by Norwegian Cruise Lines, this beach is really just an extension of the ship itself. They have a free buffet plus a number of specialty dining spots available for an extra charge. If you have a drinks package, that is valid here too! If you don't, then just like on the ship, you will have to pay for your drinks.
Since Great Stirrup Cay does not have anywhere for cruise ships to dock, passengers have to be brought back and forth using the ship's tenders. But on this day the ocean was to rough to safely transport passengers using the tenders. Thus the port call at Great Stirrup Cay was cancelled. The Captain announced that we would head straight for our next port stop, Nassau, Bahamas, instead. Norwegian refunded what we had paid for the shore excursion as well as the port taxes and fees for Great Stirrup Cay.
This was fine with us! Not being beach people we knew we could find a lot more to do in Nassau, Bahamas, than on Great Stirrup Cay. Besides, this meant the ship would stay docked in Nassau for two days and we'd have a chance to experience the night life in Nassau. You rarely get to experience the night life and any port as cruise ships rarely stay late or overnight at a port.
Click on each photo below for a larger image.
Arriving Into Nassau, Bahamas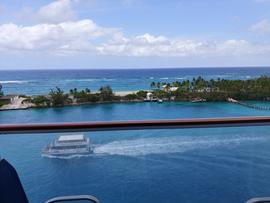 5 or 6 Cruise Ships In Port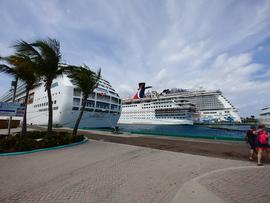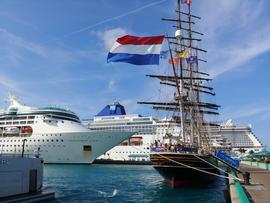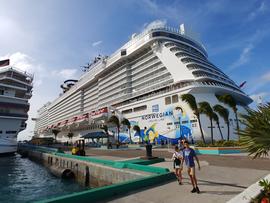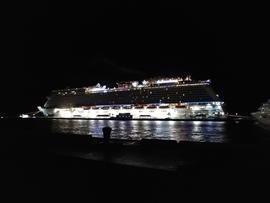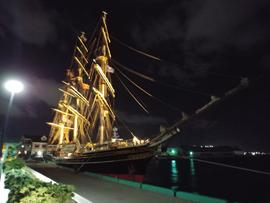 The port at Nassau, Bahamas, is designed to handle the largest cruise ships in the world. The docks can handle at least six large cruise ships as well as numerous large pleasure yachts simultaneously. Our ship was the fifth or sixth cruise ship to dock at the port that day. Tourism is the number one industry of the Bahamas. Many cruise ships visit the Bahamas year round almost every day. As you can see from the above photos, our cruise ship, the Norwegian Escape, was the largest ship in port that day.
Lunch at Dali Modernistic Tapas
We did our research before having arrived in port and decided that this place was both convenient to the port, had some of the best reviews, and had an attractive menu. We also each ordered a "Bahama Mama" run drink.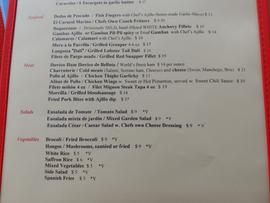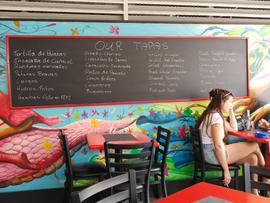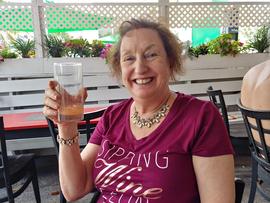 Everything was delicious!
A Stroll Through Nassau, Bahamas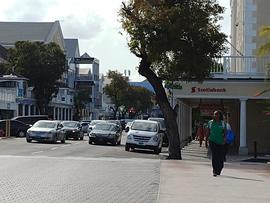 There were certainly a lot of places for tourists to shop both along the waterfront and in downtown just a couple of streets away from the waterfront. Prices were not that cheap but you could usually bargain things down a bit. One of the best known tourist shop areas is the "Straw Market". They have a lot of items made out of straw as well as the usual tourist merchandise. I love and wear straw fedoras so was hoping to find one that fit and that I liked. I prefer black fedoras and they had quite a few black straw fedoras. However, none of them seemed to either fit right or look right so I ended up not buying any of them.
Bahamas House Of Congress
The Atlantis Resort & Casino
I've seen the Atlantis Resort commercials on TV many times but never in person. I didn't even know that it was in the Bahamas!
After Midnight Performance In Main Theater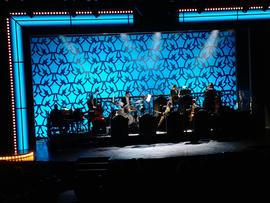 After Midnight takes the sexy, smoky, glamour of the original Jazz Age and catapults it into a whole new era of heart-pounding, mind-blowing entertainment for modern audiences. Refracted through a contemporary lens, After Midnight celebrates Duke Elington's years at the Harlem famed Cotton Club using his original arrangements. The timeless tunes set against a narrative of Langston Hughes poetry provides an authentic backdrop for an array of cutting-edge performances with sensational vocalists and dancers, including special guest stars, whose interpretations will shatter everything you think you know about music, nightlife and Broadway. We kindly ask that no children sit in the first two rows. Reservations are required. Book reservations through the Box Office, iTV or touchscreens. To insure that our guests receive our best service, we can only hold the reservations 10 minutes prior to the show, otherwise the unclaimed reservations will be released.
Time: 7:30p & 10:00p, Escape Theater, Deck 7, Fwd
We had reservations for the 10:00p show but we wanted to go to the earlier show so that we could explore the nightlife in Nassau. We didn't know if we'd get in since reservations were required. But when we checked in, they said they had plenty of extra seats at this earlier performance. It did turn out to be a great show with lots of jazz and brass instruments including a saxophone.
The Jazz Bar in Nassau, Bahamas
We took a taxi from the port to "The Jazz Bar" at the Grand Hyatt in Nassau. It was about 5 miles and cost about $25 each way by taxi but was well worth it. We love jazz and were happy that we got to check out the local jazz scene. It was a very elegant bar in the main lobby of the hotel. They have live jazz here every night of the week until midnight or beyond.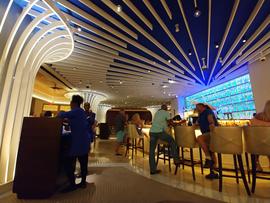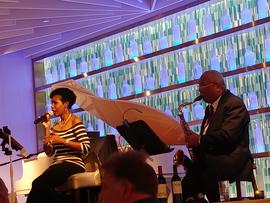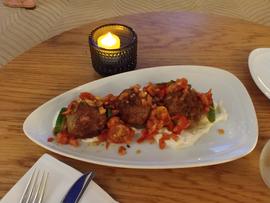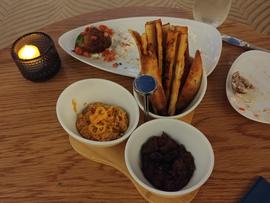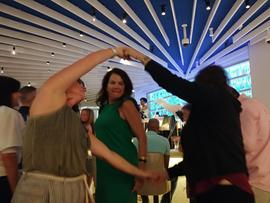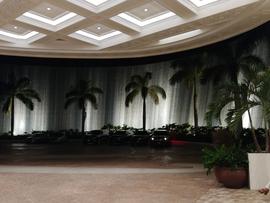 Click on each of the below to play the videos clips:
Barbara dancing at The Jazz Bar
O'Sheehan's
We stopped for a late snack and a glass of wine at O'Sheehan's at about 11:45 PM. This is the only restaurant on Norwegian ships that is open 24 hours a day, 7 days a week. The only other 24 hour option is ordering from room service. Their is a $7.95 service charge when ordering from room service except for breakfast but the food at O'Sheehan's is complimentary.
Towel Animal For Today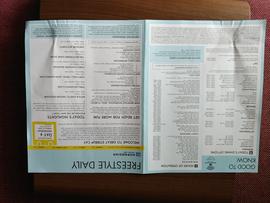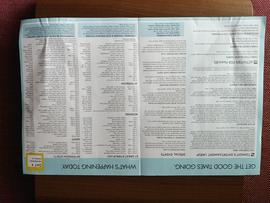 Norwegian Escape Original Program Guide For Today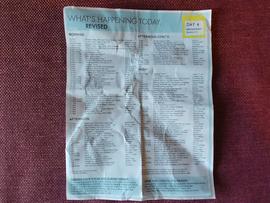 Norwegian Escape Revised Program Guide For Today
Click on each photo above for a larger image.
If in this report you see any typos, misspellings, factual errors or other types of errors, please let me know. Please include the web address (URL) of the report in which you found the error. Thank you! Send your email to:


<<<PREVIOUS PAGE &nbsp &nbsp NEXT PAGE>>>