If in this report you see any typos, misspellings, factual errors or other types of errors, please let me know. Please include the web address (URL) of the report in which you found the error. Thank you! Send your email to:


My wife and I usually wake up about 9 or 10 AM or sometimes later. After listening to music at the Grand Piano Bar the previous night until it closed, we didn't get to bed until 1 AM or so. Even then I did a bit of reading before going to sleep. Thus I was up until 2 AM or so which is not unusual for me. So getting up at 9 or 10 AM is still after 7 or 8 hours of sleep.
One of the first things I do most mornings is to head up to the Lido Restaurant on Deck 9 to get a couple of cups of coffee to bring down to our room. Since we are on Deck 6 I will usually walk up the 3 flights of stairs to get a little morning exercise. The stairways and elevators are just a few doors down from our cabin which is very convenient. Once I reach Deck 9, the coffee station is right at the restaurant entrance. I pour the coffee and some milk into each cup but then just put some sweetner and a stirrer into my pocket to complete the stirring later when I get back to our cabin. To head back down to our cabin I take the elevator rather than risk walking down 3 flights of stairs with two full cups of hot coffee.
I've found that our room is pretty centrally located on the ship and an equally short walk to either end of the ship on any level. That is almost a miracle considering we allowed Carnival to pick any balcony room for us in order to save a few hundred dollars on the cruise price. I was worried they might stick us under the dance floor or some other noisy part of the ship. But so far on the couple of cruises that we've let the ship pick a cabin for us we've ended up with pretty good rooms. It has definitely been worth saving a few hundred dollars off the cost of the cruises. When you allow Carnival to pick the room for you they say that you might not be assigned a room until the last minute. However, from our experience they have always assigned us a room number a few weeks before the cruise. It is nice to know the room number a bit in advance just to look at a map of the ship and see where your cabin is located. They do guarantee a cabin that is in the class that you selected or higher. We always select a balcony and sometimes a mini-suite when we cruise. We tend to spend a lot of time in our cabin, especially during the daytime, so we appreciate the view of the ocean and the access to the fresh air out on the balcony.
Lunch at the Lido Buffet Restaurant
We decided to mostly do the Mongolian Wok for lunch today. As a side note, a "Mongolian Wok" has little to do with cuisine from Mongolia. You'll have to look that one up on Wikipedia for further details about that. But we think it is a great concept! And very popular too! There is usually a line with a 20 to 30 minute wait to get your turn to have the items you selected cooked in the wok. We both selected mostly veggie items rather than noodles. We filled our bowls with green beens, peas, broccoli, peppers, mushrooms and onions plus just a tiny bit of bean sprouts. When it is your turn to have your selections cooked in the wok you can select your meats and sauce. I selected the chicken and my wife selected the calamari. Yesterday I selected the salmon which I prefer over chicken but they were offering calamari today instead of salmon which I don't like. We both selected the Szechuan sauce which was the most spicy of the 3 sauces offered. Yesterday I selected the BBQ sauce which was the medium spicy level. Someone told me that the Szechuan wasn't too spicey so we both decided to try it today. It really wasn't too spicy for us but it might be for others that don't like spicy foods. The black bean sauce was the most mild.
Next we took one of the bigger buffet plates and placed our bowl on it. This gave us some space to add some salad and veggies from some other sections of the buffet. This was the first day with nice weather so we ate outside near Tandor, the India food station. We were near the door to the interior Lido Restaurant. Whenever someone went in or out the door it would create a huge breeze. I think they might have fixed this problem on newer ships like the Carnival Horizon by using double sets of sliding doors at the passage ways to the outside. They definitely took a lot of design steps to cut down on wind on the decks on the newer ships. In many places the new ships have clear alternating plexiglass walls on the outside decks which tremendously cuts down the wind. This makes the outside decks usuable on many days that the wind would be too strong on the outside decks on a ship like this Carnival Splendor.
Click on each photo below for a larger image.
After lunch we headed back to our cabin but along the way noticed that the Splendor pool on Deck 9 was enclosed along with Deck 10 and the Carnival Seaside Theater. We knew there was one pool on the ship that they could close the roof over during inclement weather so passengers could still use it, but we hadn't seen that pool before. I stepped into that area to take this photo and if felt like I was entering a sauna. The room was warm and humid and there were a number of passengers enjoying themselves in the pool. The open air pool at the rear of the ship also had many passengers laying around it suning themselves but I didn't notice if there were any actually swimming in that outdoor pool.
Thomas Kinkade Art Seminar
At 2 PM we attended the Thomas Kinkade art seminar. I've always like paintings by Thomas Kinkade though I don't own any of them. We learned a lot about Thomas Kinkade that we didn't know. I didn't even know that he had died in 2012 at about 54 years old. They raffled off one of his lithographs that was worth about $900 that we did not win.
Shopping and Drawing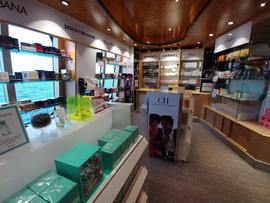 At 4:30 PM we attended the World Of EFFY Jewelry Show & Raffle. Both my wife and I put our names in for the drawing. I couldn't believe it but they picked my entree on the very first drawing! The prize was a bag containing a small item of EFFY Jewelry and a scarf. Below is a photo of Barbara with the items that we won.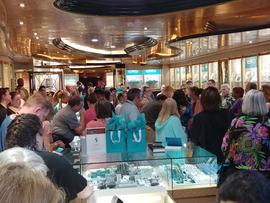 After the drawing my wife purchased one other item of jewelry that had a retail list price of $96 but was on sale at half price for just $48. Actually we ran into a problem at the cashier at that point. Both of our Sail & Sign Cards were declined for the purchase. The cashier said that we'd have to go to Customer Service to fix the problem before we could purchase the item. We went down to the cashier and found they still had our old credit card number on file instead of the new one. A couple of months ago there were 3 fraud transactions on our credit card so we had to have that card cancelled and have new cards with a new number sent to us. The ship still had the original credit card on file that we used to purchase this cruise. It only took them 2 minutes to update our account with the new credit card number and everything then worked fine. We went back up to the shop and finished purchasing the jewelry item my wife had selected.
Mini Martini Tasting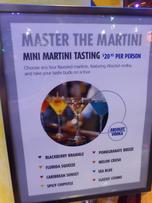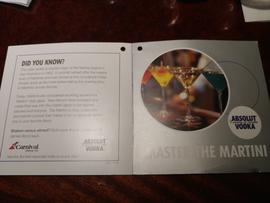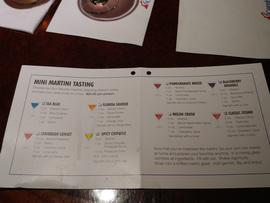 Mini Martini Tasting Menu
We wouldn't be drinking any hard liquor later this evening since this would be one of the few days on this cruise that there would be no piano bar performance. Thus we thought this would be the best day to do the "Mini Martini Tasting". We had spotted the "Master The Martini, Mini Martini Tasting, $20 Per Person" sign in front of the El Mohito Bar earlier in the cruise and decided that we needed to do this sometime during this cruise.
On a prior cruise, I think it was on the Panama Canal Cruise on the Carnival Miracle, I had ordered the Mini Martini Tasting. I did not realize they were going to pour all 4 Martinis at once and wasn't set up to take a photo. On that cruise they only offered the Mini Martini Tasting one time. On this cruise you can go to the El Mohito Bar and order the Mini Martini Tasting any time on any day. I hope they will be doing the same thing on our next cruise on this ship from Long Beach to Singapore in October of this year.
For the Mini Martini Tasting you get to order any 4 of the 8 Martinis listed in the menu. In order for my wife and I to try all 8 of them my wife ordered the first 4 and I ordered the last 4. I thought the bar tender would pour them 4 and 4. But no. She prepared all 8 of them and proceeded to pour all 8 at the same time as you can see in the photos below!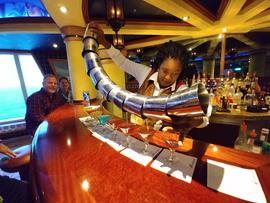 Pouring All 8 Mini Martinis At Once!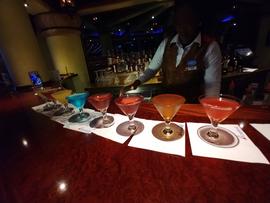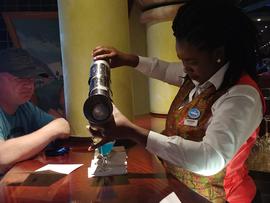 Left: Our 8 Mini Martinis
Right: We inspired others to go for the tasting too
I guess it was rare for the bartender to pour as many as 8 Martinis simultaneously. Thus, she set up her own smart phone to take a video of her pouring them. I took a ton of photos rather than a video. After she finished pouring the Martinis, I deleted all but the best 2 of the series. The bartender liked the photo that I took of her pouring the Martinis so much that she asked for a copy of it. She set our phones up so that she could transfer the photo from my phone to her phone over Bluetooth. I knew this could be done but I had never shared a photo with others over Bluetooth before.
A small crowd had gathered around our seats while she simultaneously poured the 8 Martinis, some taking photos, some taking a video, and others just watching in amazement. A few people wondered how we were going to be sober enough to get back to our cabin after drinking that many Marinis. Someone even jokingly suggested that we call an Uber to take us back to our cabin. Actually each of these "Mini Martinis" only contained about one half ounce of Vodka. An entire tasting set of 4 only contains a total of 2 ounces which is the same amount of alcohol in a single regular Martini.
One type of Martini that the Mini Martini tasting set did not feature was a Chocolate Martini. My wife wanted to try one of those so we ordered a regular one of those separately and shared it. All total we only consumed about 3 ounces of Vodka each at the bar, about 2 shots worth. Other than one glass of wine with dinner, that was pretty much all our drinking for today. As mentioned above, we thought this would be a good day to do the Mini Martini tasting as there would be no piano bar performance offered for us to go to this evening.
Wine Bar
I finally located the "Wine Bar", or at least what used to be the "Wine Bar". You can find photos and mention of the "Wine Bar" on some older literature and web pages related to the Carnival Splendor, but I could not find it on any information we were given about this cruise. I also had not found it on any of my exploring of the ship. I asked a number of staff members but nobody was familiar with where the "Wine Bar" was located or if there even was one on the ship. In exploring the maps on the Carnival Hub App, I finally discovered the location of the "Wine Bar" or at least what used to be the "Wine Bar". It is the "El Mojito" Bar where we had just done the Mini Martini Tasting! Looking at the Map View of "Deck 5: Promenade" in the Carnival Hub App, this bar is labeled as "El Mojito / Wine Bar". But it is definitely no longer a "Wine Bar" in the sense of offering anything more than the same small selection of wines available from any other bar on the ship.
Carnival seems to have recognized that craft beer has become very popular over the past couple of decades. The newest Carnival ships such as the Carnival Vista, Carnival Horizon and Carnival Panorama even feature brewing of craft beers right on the ships! In contrast, Carnival seems to have removed dedicated "Wine Bars" from their ships that already had them and don't feature any wine tasting activities. This is a total mystery to me. At least in the new ships they have added the "Library Bar" which features self-serve tasting of a few select high end wines. Maybe Carnival corporate is still deciding how to address the issue of offering a wider selection of wines and wine tastings, or maybe they feel the "Library Bar" is enough for the wine enthusiasts on the ship.
Stairways in The Splendor Atrium
Dining in The Gold Pearl Restaurant
The waiters danced to the song YMCA.
Deck Stargazing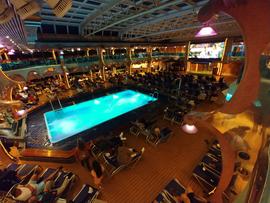 Deck 10 Midship near the Ping Pong Tables
The program for the day said there would be "Deck Stargazing" at 9 PM. They also announced it earlier on the ship PA system. People interested were to meet at the Ping Pong tables located at Deck 10 midship. Unfortunately I lost track of time and didn't start heading there until 9:05 PM. It was about 9:10 PM before I located the Ping Pong tables. I didn't see anyone there related to the Deck Stargazing event. Either they had all met and then went off to another part of the ship to gaze at stars or the event was cancelled. There were a lot of people on Deck 10 and around the pool on Deck 9 below, though nobody was in the pool. The roof over this mid-ship pool was closed and it was very comfortable in this area, almost balmy. Most people were watching a movie playing on the giant Carnival Seaside Theater screen in this pool area.
As long as I was up on Deck 10 I figured that I would look up at the sky and see what stars I could see, but all I could find was just one star. I assumed the sky was heavily overcast and that they had probably cancelled the event.
It was mentioned earlier that there are "dark areas" of the ship that are best for viewing stars. These are at the front end of Decks 6 and 7. Those balconies are open to the public but there is little signage showing they exist. Before this cruise I had printed out a web page describing where to find "secret balconies" on Carnival ships that are open to the public. These mostly tend to be on varius levels at the front of the ship. There are usually unmarked doors leading to these balconies. The important thing is that these doors are NOT marked "Crew Only". But other than that there is no indication as to where these doors lead.
When trying to view stars from the ship it is important to try to find a "dark area". Most of the decks open to the sky are very well lit. This "light polution" makes it difficult to get a good view of stars, which are dim compared to the bright lights of the ship. The front of the ship tends to be the darkest area as clear viewing is needed by the ship captian and the bridge crew also. They don't like light at the front of the ship either as it make it harder for them also to see what is ahead.
As a side note, I personally don't remember seeing a sky full of stars since I was a teenager. The "light pollution" from the heavily populated suburbs where I lived all my life has masked access to clear skies. But even when I have traveled through open country in America or have been way out in the ocean on cruises, overcast skies seem to follow me around. I have as yet to see the grandeur of thousands of stars in a clear sky for pretty much my entire adult life. Going to a planetarium is the only related experience that I have had. So, I'm really hoping for a clear night on one of these days while we are in open ocean far from the light source of any cities.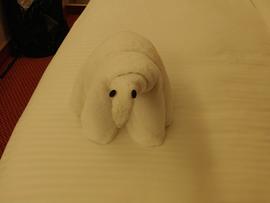 A Towel Elephant?
Carnival Splendor Signage
Click on each photo above for a larger image.
If in this report you see any typos, misspellings, factual errors or other types of errors, please let me know. Please include the web address (URL) of the report in which you found the error. Thank you! Send your email to: