If in this report you see any typos, misspellings, factual errors or other types of errors, please let me know. Please include the web address (URL) of the report in which you found the error. Thank you! Send your email to:


Click on each photo below for a larger image.
Shore Excursion Modification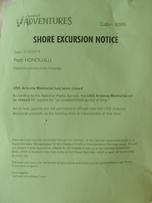 In the morning I found the above notice in our cabin mailbox. I thought the wording was a bit confusing. I'm disappointed that the "USS Arizona Memorial has been closed for repairs", but notice about this was already listed on the Carnival Shore Excursions website when I booked this tour. On the website it said the tour boat will get as close as it can so that photos of the memorial can be taken. No mention of that is made in the above notice. Instead the above notice states that "Alternate tours may be purchased". I didn't know if this meant that our Shore Excursion had been cancelled. I checked with the Shore Excursions Desk and they said the tour was still on, but that the tour boat will just be going as close as it can for photos rather than landing at the dock. They should have just stated that on the notice rather than stating that "Alternate tours may be purchased". It would have saved many people a walk or a call to the Shore Excursions Desk for clarification.
Cruise Critic Meet & Mingle
We received the above notice in our cabin mail box last night. I am a member of the online forum at CruiseCritic.com and had registed on the "Role Call" for this Cruise Critic Meet and Mingle. Somewhere I read that if at least 25 people sign up for a meeting then Carnival will provide a room and host a gathering for the group.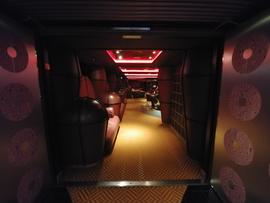 The Cruise Critic Meet and Mingle was held in the Robusto Bar at 12:30 PM. We attended and found it was a pretty large group. There definitely seemed to be well more than 25 people in the room. The Cruise Director, Lee, along with some of the ship staff attended. The room was pretty quiet except for a few individual conversations until the cruise staff arrived. The first thing the Cruise Director did was announce that he was calling for some refreshments to be brought up. I think my wife and I stayed for almost an hour but never saw any refreshments arrive. Maybe they arrived after we left. In any case, Lee got the conversation started by going around the room and asking what everyone liked about cruising and specifically about this cruise. Everyone seemed to have a different favorite aspect of cruising, but if this had been a contest, I think Eden Parker in The Grand Piano Bar would have won. At least 3 people said that was their favorite part of this cruise. It was ours!
A few people started bringing up complaints about the cruise. The biggest complaint was that Carnival does not transfer your status level between each of their many brands. For example, you could achieve Platinum or Diamond level on the Carnival Cruises brand, but if you then take your first cruise on Princess Lines, you are back to the status of a First Time cruiser, even though the Carnival Cruise Corportion owns Princess Lines as well as many other cruise lines. There are some other cruise companies that do allow you to transfer the status you have achieved between each of their brands. Someone even mentioned that another cruise brand, not even owned by Carnival, offered to match their Carnival status level just to attract them to book their next trip on their cruise line instead of Carnival.
All in all, people had more positive things to say about Carnival cruises and this cruise in particular than had complaints to air. At one point the Cruise Director took a show of hands to find out how many cruises people had been on. There were a large number of people in the room that had been on at least 16 cruises. There was even one couple in the room that had been on 48 cruises! My wife and I have a long way to go to get to that many. Until then, I think we'll consider ourselves "Cruise Rookies".
Get More Electric Outlets
If you need more electric outlets in your cabin you can bring along a European Adapter. On every cruise ship that we have ever been on there has always been at least one American 115 Volt outlet and one European 220 Volt outlet. This has been true even on ships built mostly for cruising in the United States. I think this is because most cruise ships are built in Europe. Plus 220 Volts provide for more power to run ship equipment, galley appliances, and more.
In our cabin on this ship there is only one 115V outlet and one 220 Volt outlet and they are both at the desk. We have been on other cruise ships that had more 115 Volt and 220 Volt outlets. On one ship the only outlets at bedside were 220 Volt outlets. Having European adapters on that cruise was very useful as we were able to plug in our cell phones and keep them next to the bed at night.
Very Important: The European Outlets are 220 Volts. Before plugging anything into them make sure whatever you are plugging in can operate at 220 Volts! I was surprised to find that almost everything that I needed to plug in could operate on a range of voltages, anything from 110 Volts to 240 Volts. This included my computers, cell phone chargers, and hair dryer. Thus for these items all I needed was a plug adapter that converted from a European Outlet to an American Outlet style. If you have an item that can not operate on 220 Volts then you must use a step down transformer that converts from 220 Volts to 115 Volts. Or, just plug that item into the 115 Volt outlet and plug all your other items that are 220 Volt compatible into the 220 Volt outlets.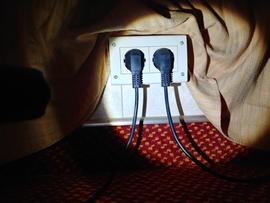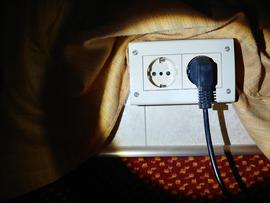 On this Carnival Splender ship I found that the bed lamps were plugged into two 220 Volt outlets underneath the bed. If I really needed power next to the bed I could unplug one or both of these bed side lamps and use an adapter. I did not bring along any European electrical T-taps. I'll have to consider doing that on future cruises. That would have allowed me to tap off the outlet under the bed and keep the lamp plugged in at the same time. If you consider doing this yourself, keep in mind that the outlet will lose power when you use the wall switch to turn off the lights in the room.
Luggage Storage Space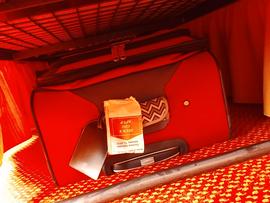 Most of you experienced cruises probably already know there is enough clearance under the bed to fit most sizes of suitcases. We didn't realize this until about our 3rd cruise and had our room cluttered up with our empty suitcases. We have all 3 of our medium sized suitcases under the bed with plenty of room for at least one more medium suitcases with room to spare.
The Splendor Atrium Bar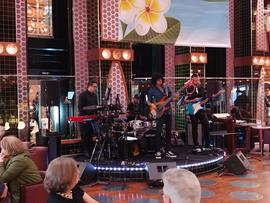 Instrument Grooves with
Liquid Groove
in
The Splendor Atrium Bar
Dress Up Night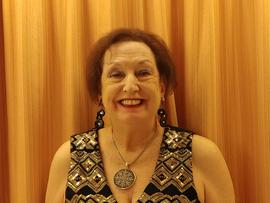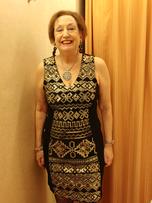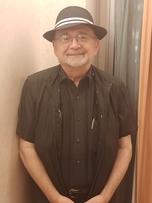 My Wife, Barbara Cepinko, and me, Steve Grande
This was to be one of the two dress up nights at dinner when ship photographers take photos of everyone in their nicer attire. I was going to wear a tie but found that I almost could not breath when I buttoned the top button of my shirt. With the top button closed and wearing a tie I realized for the first time I had developed an extra chin! See the photo of me below. It is definitely time to go on a diet and lose a few pounds.
My Wife, Barbara, in the Splendor Atrium Glass Elevator
Variety Violin Music with
Cats Trio
in
The Splendor Atrium Bar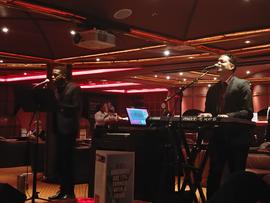 Latin Party with
Latin Boys
in the Robusto Bar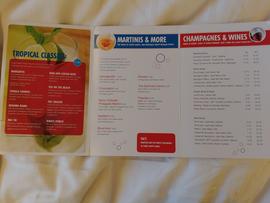 Menu of Drinks available in every ship bar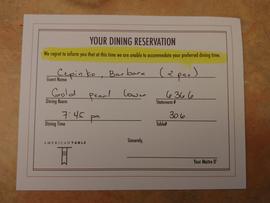 Because we booked this cruise only a few months before the saling date only the "Late Dining" in The Gold Pearl Restaurant at 7:45 PM was available. Most people prefer "Early Dining" at 5:30 PM or "Your Time Dining" but those reservations were already all taken when we booked this cruise. We selected to be put on the wait list for "Your Time Dining". We most prefer "Your Time Dining" as that allows us to dine anytime between 5:15 PM and 9:00 PM. On this ship all "Early Dining" and "Late Dining" is in The Gold Pearl Restaurant. All "Your Time Dining" is in The Black Pearl Restaurant.
Shortly after we boarded the ship we went to a long line of people who were submitting their requests to have their dining time changed. We again submitted our request to change our dining selection to "Your Time Dining". Unfortunately in the morning we received in our cabin mailbox the above notice informing us that they were not able to honor our request and that our dining time would remain "Late Dining" at 7:45 PM in The Gold Pearl Restaurant.
The Gold Pearl Restaurant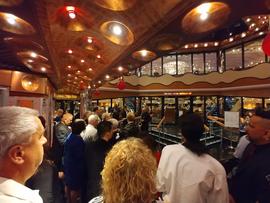 Solid Brass playing for us as we entered the dining room
Menu of suggested drinks in the restaurant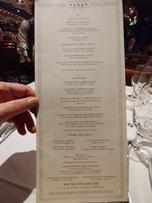 This evenings dinner selections
Our dining table. When dark outside the window becomes a mirror
Our waiter informed us there is just one other couple sharing the table with us for this cruise. They were here at the table yesterday but we had a late dinner at the Lido Buffet and were not here. Tonight we are here but they had reservations at the Pinnacle Steakhouse specialty restaurant and would not be joining us. Looks like we have this table for six all to ourselves this evening!
Me and Barbara at dinner
Evening Entertainment
The towel lobster we found on our bed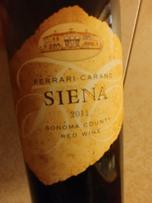 A bottle of wine we brought onto the ship
We rated this 2011 Ferrari-Carano Siena red blend from Sonoma County, California, as "Very Good", much better than any of the wines that Carnival offers in their "Bar Wine List". The Carnival "Restaurant Wine List" definitely has some better wines than this, but those are not available in any of the bars. This wine was made from a blend of grapes from select lots of Sangiovese, Syrah, Malbec and Cabernet Sauvignon. We purchased this wine in 2014 for $22 per bottle retail. In restaurants it would likely be priced for at least $40 and possibly even as high as $60 per bottle.
Puchliner Comedy Club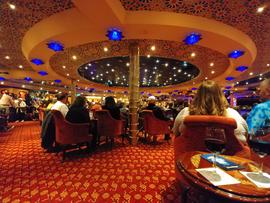 Cee Jay Jones was the comedian at this Explicit 18+ 9:15 PM performance
Carnival Splendor Spectacular Theater
Playlist Productions: Studio VIP Performance
Inspired by the sophistication of Studio 54 and the funky fashion of "Soul Train," our Playlist cast celebrates the stunning revolution of NYC's nightlife in the '70s. We attended the 10 PM performance. There were plenty of empty seats on all 3 levels during this late night performance. The earlier performance of this same show at 8:15 PM was probably a lot more crowded. Passengers on this cruise, if not most cruises, tend to prefer the earlier dinner time and earlier show time.
The Piano Bar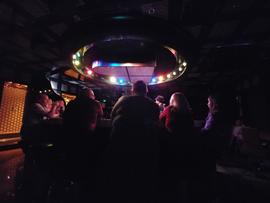 After attending the "Playlist Productions: Studio VIP" performance in the "Splendor Spectacular" theater, we headed to listen to Eden Parker sing and play the piano in The Piano Bar. We arrived around 11 PM or so and stayed until closing which was a bit after midnight. Barbara requested the song "YMCA" which Eden played and the audience sang along to, but he didn't quite make it to the end of the song. Evidently Eden didn't know all the words to the song but he made it pretty far into the song.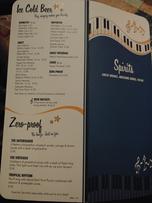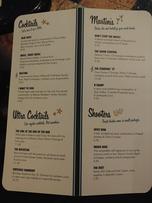 Spirits Menu in The Piano Bar. You could also order wine and other drinks not listed.
That was it for us! It was getting close to 1 AM and it had been a good first full day at sea. The ship provided us with notice to set our clocks back one hour at 2 AM so I guess we'll be getting an extra hour of sleep this evening.
Click on each photo above for a larger image.
If in this report you see any typos, misspellings, factual errors or other types of errors, please let me know. Please include the web address (URL) of the report in which you found the error. Thank you! Send your email to: