If in this report you see any typos, misspellings, factual errors or other types of errors, please let me know. Please include the web address (URL) of the report in which you found the error. Thank you! Send your email to:


Getting To The Ship
Yesterday, Friday, I scheduled an Uber to pick us up at 11 AM to get us to the ship by about Noon, our scheduled boarding time. The Uber arrived right on time. I almost always order an UberX, the least cost and smallest Uber vehicle. I always worry that Uber might send a car that is too small to hold us along with all our luggage. For this 14 day cruise we were bringing 3 medium size suitcases all weighing about 50 pounds each plus 2 pretty full and heavy backpacks. My wife never worries about the UberX being big enough to hold everything. As usual, my fears were unfounded. Uber sent a Honda Civic with plenty of room. The trunk fit everything except for one of the suitcases which the driver loaded into the passenger seat. My wife and I sat in the rear seats. The cost of the Uber ride from Anaheim to the pier at Long Beach came to $63 plus tip. That was a bit less than what we were quoted by shuttle van companies.
The day started out rainy but it cleared up by the time we got to the Long Beach Cruise Terminal. The Uber driver helped us unload. When we looked behind us we saw a porter loading suitcases onto luggage trolleys. We brought our 3 suitcases to him and handed him a tip. He gave us a friendly greeting and loaded our suitcases onto the trolley. Oddly as we headed to the ship we passed a giant long line on the other side of the street that was labeled "Porter". Evidently all these people were waiting in line to give their luggage to the Porters. I have no idea why we managed to find a Porter with no line at all, but we were glad we didn't have to wait in that long line. It looked like that line would be at least a 20 minute wait.
Click on each photo below for a larger image.
Boarding The Ship
This ship had the smoothest boarding process of any cruise we had ever taken. They had one line for "On Time", another for "Priority Boarding", and a third for "Late / Early". We had a boarding time assignment of 12:00 to 12:30 PM and we arrived right on time at 12:00 PM. Thus we headed to the "On Time" line and were able to go right onto the "Check-In" line. Sometimes as "Priority Boading" passengers arrived they would let them go first. The line for "Late / Early" was very very long. I guess if you arrived late for your check-in timeslot or if you arrived too early they would have you wait until all the "on time" and "priority" people had finished checking in. The wait in the "On Time" check-in line was only about 5 minutes.
When we got to the head of the check-in line they looked at our passports, took our photo, and stamped our boarding passes. Next we headed through security screening. There was no line at all for that. We put our backpacks on the conveyor belt and walked through the scanner without any problems. After that we were sent to directly board the ship! On past cruises we had to stop at a counter where we'd have to complete health forms, provide identification, provide a credit card, and sign all sorts of authorizations and waivers. I guess the check-in that I had completed on-line allowed us to bypass all those procedures. I saw check-in counters but they told us we could skip past those. I assumed those check-in counters were just for people who had not completed the online check-in process online.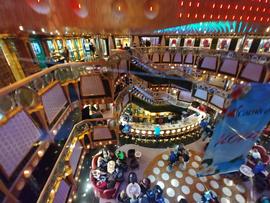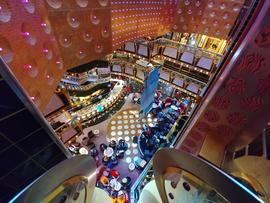 I love the ships that have the tall atrium lobbies with glass elevators like this Carnival Splendor. We last experienced this on the Carnival Miracle on our cruise through the Panama Canal last September. Click here for photos and reports from that cruise.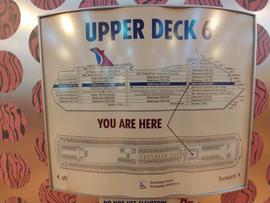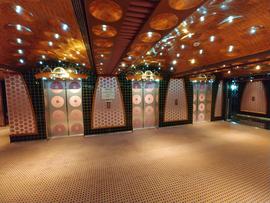 Pretty much all the elevator areas on the ship look like the above.
Above Left: Cabin Hallways Closed Until 1:30 PM;
Above Right: Lido Deck Swimming Pool Area
Once onboard passengers were being directed to go to the Lido Restaurant on Deck 9 where lunch was being served until 3 PM. Some passengers were hanging around the Atrium Lobby Lounge as you can see in some of the photos below. Passengers were not allowed to go to their staterooms until 1:30 PM as the stewards were still getting the staterooms ready. The 1:30 PM time for being allowed into the staterooms might be standard for all Carnival Splendor cruises, maybe even for all Carnival cruises, as the signs on the access doors were preprinted and did not appear adjustable.
Drinks Menu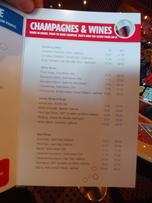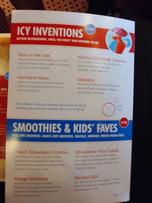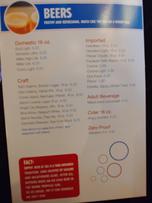 Our Cabin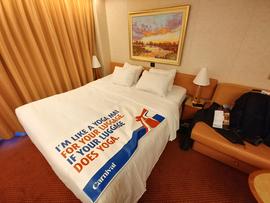 Above Right: Balcony Outside Our Cabin
Bathroom In Our Cabin
Closets In Our Cabin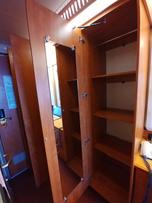 Several Shelves For Storage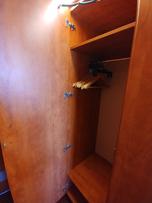 A lot of closet space! Left one for me and the right one for my wife
Desk Area In Our Cabin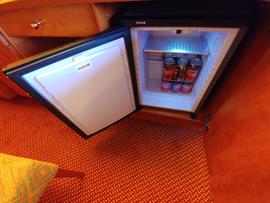 Above Left: Lots of Drawer Space; Above Right: Refrigerator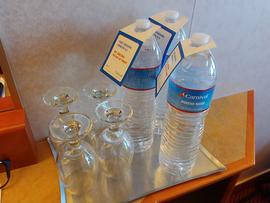 Above Left: Safe plus more storage space; Right: Water and glasses
My computer set up on the desk in our cabin.
Fueling Our Ship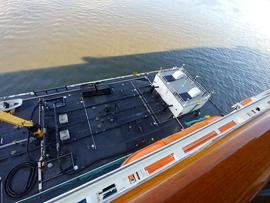 Though the fueling was going on right outside
our balcony there were no smells of fuel.
Departing Long Beach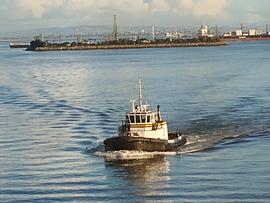 A Small View Of Long Beach, California
Activities For The Day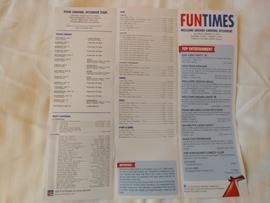 Wines On The Ship
There are two wine lists on many Carnival Cruises. One is the Wine List available in the main restaurants (not at the Lido Buffet). That Wine List is extensive with a great variety of offerings with a large price range, everything from very inexpensive to extremely expensive. The wine ranges from $27 per bottle to hundreds of dollars per bottle. The other Wine List is a very short list of about 20 wines that are offered in every bar. These tend to be less expensive, usually from $7 to $12 per glass and from about $27 to $40 per bottle.
My wife and I tend to like red wines and there are only 7 red wines on the Bar Wine List. Here they are:
| Wine Type | Winery | Location | Glass | Bottle | Rating |
| --- | --- | --- | --- | --- | --- |
| Pinot Noir | Castle Rock | California | $ 9.25 | $33 | Good |
| Pinot Noir | Layer Cake | California | $11.00 | $40 | Good |
| Merlot | Santa Helina | Chile | $ 7.75 | $27 | OK |
| Cabernet Sauvignon | Santa Helina | Chile | $ 7.75 | $27 | OK |
| Cabernet Sauvignon | Layer Cake | California | $10.50 | $38 | Good |
| Red Blend "GIFFT" | Kathie Lee Giford | California | $ 9.00 | $32 | Untried |
| Shiraz | Peter Lehmann | Australia | $10.50 | $38 | OK |
The ratings are those of myself and my wife. My ratings only have 5 categories: Excellent (5), Very Good (4), Good (3), OK (2), Bad (1). Generally I only purchase wine that falls into either the "Excellent (5)" or the "Very Good (4)" categories. Life is too short to waste it on wine that is just "Good (3)" or "OK (2)". Wine does not have to be expensive to get an "Excellent (5)" or "Very Good (4)" rating by us. Nor do wines get an "Excellent (5)" or "Very Good (4)" rating just because they are expensive. Even many of those tend to be only mediocre. From the above you can see that we are not very happy with the Carnival Bar Wine List selections available. The more extensive Restaurant Wine List, however, does have quite a few "Very Good (4)" and "Excellent (5)" wines offered.
We did bring some bottles of wine on board that we consider "Excellent (5)" or "Very Good (4)" for fear that these may be the only wines worth drinking on this cruise. We don't mind paying the higher price of wines by the glass and by the bottle on the ship, but they need to be wines that are worth drinking. My wife and I are by no means "wine experts" but we have tried over a thousand different wines and own our own vineyard, Silver Rails Vineyards. Thus we feel we've tried enough wines to know what we like and what we don't like.
One thing we are disappointed about Carnival is that very few of their ships have wine bars or offer any wine tasting events on their cruises. On our prior Carnival cruise on the new Carnival Horizon ship they did have a "Library Bar" that featured some high end wines that you could purchase and pour yourself. They had a wine dispenser machine where you would insert your Sail & Sign Card® and select a "2 ounce taste", a "6 ounce pour" or a "9 ounce pour". This proved to be very popular and the wine bottles would often run empty pretty quickly. It was totally unattended so sometimes you'd have to wait a few hours before any ship staff came to replenish the empty bottles. It would be really nice if Carnival would offer this on all of their ships and have it checked more frequently to replenish the bottles.
I think we lucked out as far as live music on this cruise. Eden Parker is the piano player / singer in the Grand Piano Bar for this entire cruise. Eden was the piano player / singer on our Transatlantic cruise on the Carnival Horizon in May of 2018. Click here to view photos and a report from that cruise. Not only is Eden a great piano player and singer, but he also keeps the crowd entertained with humor and thus has many fans.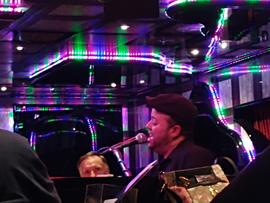 Eden singing at the Piano Bar.
Above Left: You can request songs, usually accompanied by a tip.
Eden will be playing in the Grand Piano Bar every evening from around 9 PM or so until late, often until after midnight. He usually takes a short break around 10:30 PM. After 10:30 PM only those over 18 years old are allowed in the bar. My wife, Barbara, submitted a requested that he play Sweet Caroline along with a good tip. Eden played the song with a lot of people singing along.
Liquid Groove and Solid Brass Band
I mentioned above that I think we lucked out on music on this cruise. Another band they have on this cruise is Liquid Groove and Solid Brass. Below are a couple of photos of them playing. In addition to guitar, keyboard, drums, and singer, they also have saxophone and trombone players. They perform both rock and jazz. Thus we know this cruise has at least two sets of music performers that we like.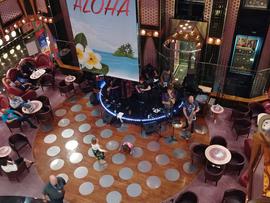 Liquid Groove and Solid Brass Band
Live music was featured today in the Splendor Atrium Lounge from 4:45 PM to 11:15 PM with short 15 minute breaks from time to time. Liquid Groove played from 4:45 to 5:30 PM and then again from 9 PM to 11:15 PM with a 45 minute break from 9:45 PM to 10:30 PM. The times and bands vary in the Splendor Atrium Lounge from day to day but generally there is live music there all day from early afternoon until late evening punctuated by short breaks.
Other music and bands on the ship that we haven't had a chance to listen to much yet include: Variety Violin Music with Cats Trio, Latin Party with Latin Boys, Solo Guitar Sounds with Darren Scott, Variety Music with 2Shay, and DJ T-Willy.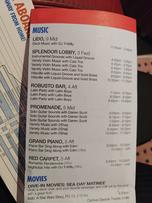 Music Schedule For The Day
We had quite a fiasco late in the evening. After we had gotten totally prepared for bed, my wife discovered that she did not have her cell phone. We had to get dressed and go hunting for it. We knew the only two places it could be was either the Grand Piano Bar or at a table in the Lido Restaurant near Pizza Pirate. I first went to the Grand Piano Bar and found it was not there. I tried calling the phone in case anyone found it and might answer. Someone did answer and said they had found the phone under a napkin on a table in the Lido Restaurnt. They said they would wait until I got there to retrieve it. It only took me about 3 minutes to get from the Piano Bar to the people in the Lido that had found the phone. I told them that I was extremely grateful.
Next, when we got back to our cabin I noticed that my lanyard did not have my Carnival Sail & Sign Card in it. That was the first time I had ever lost my card on any cruise. I would not be able to go to sleep knowing it was lost and that anyone that found it could use it to make purchases. Thus I went down to the service desk to get a new card. They instantly created a new card for me but it had an all new Portfolio Number on it. I was a bit concerned as I knew that all my pre-purchased services were linked to my Portfolio Number. Fortunately I found that my new Portfolio Number worked just fine with logging onto my pre-purchased internet plan. So that was quite a night of chores that we had not expected and did not want! This time I put my lanyard clip through the hole in my Carnival Sail & Sign Card instead of just putting it into a clear card holder as it was before. That would definitely keep the card from getting away from me again.
Overall it was a great first day of the cruise but we could have done without the late evening mis-adventures.
More Photos
Collector's Pin For Returning Gold Members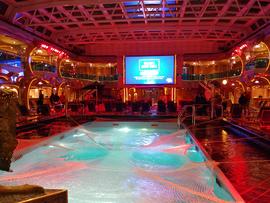 One of the many pools on the Carnival Splendor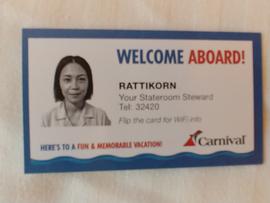 Our stateroom steward, Rattikorn
Rattikorn took good care of us. She offered to bring us anything we needed whenever we needed it. We needed a few more clothes hangers and she brought them promptly. We didn't notice that the box of tissues and other bathroom items were located in the far right bottom bathroom shelf and thought they were missing. Thus we told Rattikorn that we needed those items and she brought more of them promptly even though we later realized we already had plenty. We were surprised that there was no ice bucket or ice in the room. On all other cruises there is usually a bucket full of ice that the cabin attendants refresh periodically. I suspect this might be a new policy of Carnival to not supply ice unless requested. They probably discovered that a lot of people don't use the ice that is automatically delivered to their room each day.
Click on each photo above for a larger image.
If in this report you see any typos, misspellings, factual errors or other types of errors, please let me know. Please include the web address (URL) of the report in which you found the error. Thank you! Send your email to: