7 Day Mexican Riviera Cruise
Cabo San Lucas, Mazatlan & Puerto Vallarta, Mexico
Carnival Panorama
Embarkation At Los Angeles (Long Beach), CA
Day 1 - Saturday, January 18, 2020
<<<MAIN PAGE &nbsp &nbsp NEXT PAGE>>>
If in this report you see any typos, misspellings, factual errors or other types of errors, please let me know. Please include the web address (URL) of the report in which you found the error. Thank you! Send your email to:


There were three of us that shared a balcony cabin on this cruise: Dena David, a friend of ours and owner of the Vino Nostra Wine Bar in Fullerton, California, my wife, Barbara Cepinko, and myself, Stephen Grande. Dena had previously gone on a 6 Day Pacific Wine Cruise on the Island Princess with us a few months ago. Click here to view the photos and reports from that cruise.
We parked our car in the garage at the Carnival cruise port in Long Beach and wheeled our luggage to where the baggage handlers were collecting it from passengers. They took our luggage right away. After tipping the baggage handler we headed for the boarding lines. This was the first cruise my wife and I were taking since achieving Platinum Priority Status. We were escorted right to the table where they took our photos and checked our passports. Then it was through security and right to the ship! Everything went very fast and we were able to go right to our cabin.
Click on each photo below for a larger image.
Boarding The Carnival Panorama In Long Beach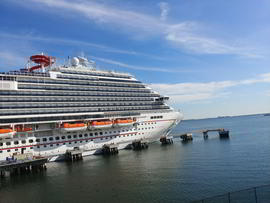 This was our first view of the brand new Carnival Panorama that made its first cruise in December 2019. My wife and I did the Carnival Horizon inaugural TransAtlantic Cruise in May 2018, the Panorama's Vista Class sister ship. That TransAtlantic Cruise was to deliver the Carnival Horizon from its builder in Europe to the east coast of America. To view photos and reports from that cruise, please visit: http://www.cruiserookies.com/2018e06a.html .
We've decided to try to cruise on the inaugural TransAtlantic Cruise on every new cruise ship delivered from Europe to America. Unfortunately, they sent the Carnival Panorama from Europe to the west coast of America without any passengers. We had booked the inaugural TransAtlantic Cruise for the new Carnival Mardi Gras for September 2020, but there were delays in construction and Carnival decided to cancel that cruise along with all cruises on that ship for the first 18 weeks. Instead they decided to send that ship from Europe to America also without any passengers. So, the Carnival Panorama will likely be that last fairly new ship that we'll be cruising on for a while.
Carnival has built only 3 Vista Class Ships for the Carnival Brand: the Carnival Vista, the Carnival Horizon, and the Carnival Panorama. However, Carnival has also built 2 Vista Class Ships for their Costa Cruises brand which operate in the China market and has 2 more Vista Class Ships, one of which is already under construction, planned for the China market. Carnival has no plans to build any more Vista Class Ships for their Carnival brand at this time. Their next new ship will be the Carnival Mardi Gras which is the first of a new class of ships that is even larger than the Vista Class ships. For more information about Carnival's Vista Class Ships, see: https://en.wikipedia.org/wiki/Vista-class_cruise_ship_(Carnival). (There is also another Wikipedia page about Vista Class ships that is very confusing and possibly inaccurate at: https://en.wikipedia.org/wiki/Vista-class_cruise_ship).
FunTimes Daily Guide
Saturday, January 18, 2020
Carnival Panorama Entertainment Schedule
and "Good To Know"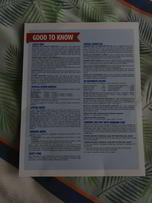 Our Carnival Purchases For In-Room Delivery
We purchased two 12-pack bottles of water and one 12-pack of Diet Pepsi along with two bottles of wine for this cruise. Pre-purchasing water and soda is very inexpensive. Wine by the bottle is the same price as in the restaurants including the automatic gratuity and taxes. Since there were 3 of us boarding this cruise we were allowed to bring on board 3 bottles of wine, one each, at no additional fee. That provided us a start with 5 bottles of wine. We would definitely be buying more bottles of wine while onboard.
Though Carnival only allows one bottle of wine per person, we've had mixed luck in trying to bring additional bottles onboard. We had been sneaking bottles of wine onboard in our luggage until they finally got confiscated on one cruise. On this particular cruise it appears we could have brought more wine in our carry-on bags as they never checked how many bottles we were bringing onboard! I like the wine policy on NCL and Princess better than Carnival. NCL allow you to bring all the bottles of wine onboard that you want, but you have to pay a $15 corkage fee for every wine when you board regardless of whether you will be drinking it in your room or taking it to a restaurant. Princess has the best of both worlds where they allow one bottle of wine per person with no corkage fee and then a $15 corkage fee applied only to additional bottles of wine.
The problem with wine on Carnival is that my wife and I don't like any of the wines in any of the Carnival bars. They have some good wines in the restaurants on Carnival, but they charge 3 times the retail price of the bottle. That means you can end up paying $45 for a $15 bottle of wine, or more after automatic gratuities and taxes. On NCL and Princess I can bring a higher quality $30 bottle of wine, pay the $15 corkage fee, and have a much better wine to drink for that same $45.
Once we run out of our own bottles of wine we will usually buy from the better selection in the Carnival restaurants and then bring that bottle to enjoy in the bars on the ship. Once you buy a bottle of wine on the ship you are allowed to bring that bottle and enjoy it anywhere on the ship. Carnival ships used to have wine bars, but they have gotten away from having any wine bars on their ships, and even gone away from featuring any wine tastings on their Carnival brand ships.
Lunch Menu In The Lido Buffet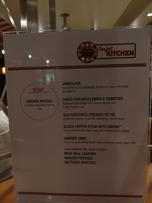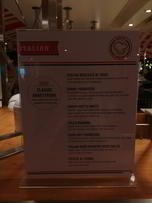 One of the very few disappointments about the Carnival Panorama is the Lido Buffet. The selection is very limited and not very exciting, especially for dinner and late night snacks. The above two menus are pretty much the entire selection of what was available for lunch on the first day. The selections changed each day for lunch and dinner but were still pretty limited and not very tasty. Others have posted to various forums similar comments about the limited selections and lack of anything enticing.
Another problem is that there are two buffet stations on the lido deck and the two stations are tremendously far apart. I've seen reviews of the buffet where the reviewer was not even aware that there were two widely separated stations with different menu selections. I'm sure many people eating at the Lido Buffet did not even realize there was a second station with a different selection of items. From past cruises we've learned to explore every part of the full length of the lido buffet to ensure we know what are all the offerings. Each buffet station had 4 identical serving tables. Carnival really should have placed 2 and 2 serving tables of each set of selections at each station instead of putting 4 identical at one and 4 identical at the other. I know doing 4 and 4 is probably easier on the cooks and serving staff, but it made it inconvenient and a lot of walking for passengers, including misleading many that only the selections at one or the other of the stations existed.
Needless to say, the lack of selection and flavor at the buffet led many to the other food venues on the ship for lunch and dinner. All the other food venues that we tried were wonderful! The main restaurants, the pizza station, the deli, the specialty restaurants, Guy's Burger Joint, Guy's Pig & Anchor Bar-B-Que Smokehouse were all great!
I think Carnival might be purposely encouraging people to eat at these other food venues rather than the buffet. This may be a cost saving measure. Being a "value" or "bargain" cruise line, Carnival is more sensitive to cost savings than many other cruise lines. Newer FDA rules require that cooked food not be left out more than 4 hours. After 4 hours the food has to be thrown away. This makes the buffet a wasteful and costly way to serve food. Whatever does not get eaten has to be thrown away. This is also probably why the buffet is open for shorter hours for lunch and dinner than it used to be in the old days. There is not as much waste in the main restaurants, specialty restaurants, the pizza station, deli and burger joint. All of these places mostly make their food on demand and is thus not subject to the rule of throwing away any cooked food that has been out for 4 hours.
Cheers Drink Package Info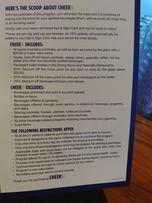 My wife and I are not "light drinkers" but there is no way any of the Cheers Drink Packages make economic sense for us. All health standards list one drink for women and two drinks for men as being the safe drinking limit. We are well beyond that. Off the ship we might split a bottle of wine in a day (about 2-1/2 drinks per day each). On a cruise we will usually split a bottle of wine plus have one or two additional cocktails (3-1/2 to 4-1/2 drinks per day each). I just can't imagine drinking more alcohol than that per day, on or off a cruise. We rarely purchase any soda or bottles of water on a cruise other than what we have delivered to our room on the first day, and that is pretty inexpensive. We also rarely ever purchase any specialty coffees, neither on a cruise nor at home. We just get the free coffee from the buffet or delivered to our cabin by room service in the morning.
At the end of every cruise I always tally up the total amount we have spent on drinks. The total has always come up far less than what it would have cost us for any drinks package. It usually comes up hundreds of dollars less on shorter cruises and over a thousand dollars less on longer cruises. And as I mentioned above, that is with the two of us consuming one bottle of wine and up to 4 cocktails per day, plus participating in whatever wine tastings, spirit tastings and craft beer tastings might be offered. I know some people like to drink all day long while on a cruise, and for those, maybe the drinks package is worth it.
Blue Iguana Tequila Bar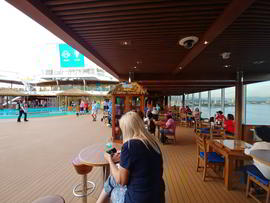 Blue Iguana Cocktail Menu
The Ultimate Sail Away Party
4:30pm - Lido, 10 Mid
Join your Cruise Director, Emma, and Mistah Geeh for the island music to kick off you vacation, Carnival style. It's time to say "Adios, Long Beach... Hello, FUN!"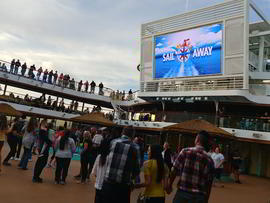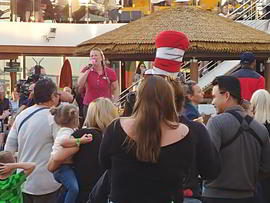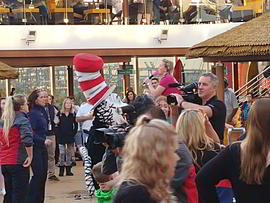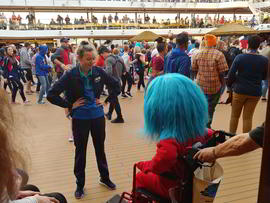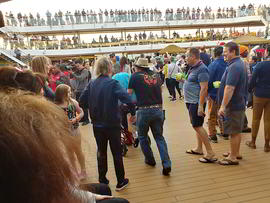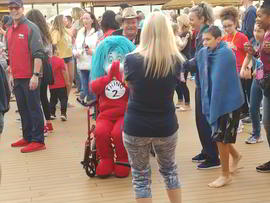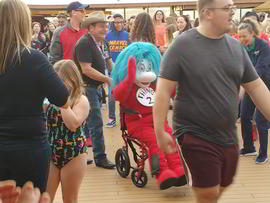 Click the above play button to view the video.
Views From Our Cabin Balcony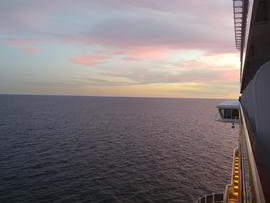 Aft and Forward from the Port Side of the ship.
Power For Our Bedside
Mobile Phones & Notebook Computers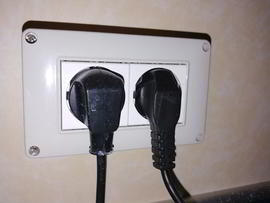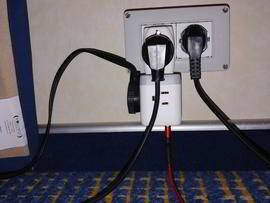 Before And After
With this being a new ship I was very surprised that they did not have any 110 volt AC outlets and USB charging ports near the bed. Some of the other new ships destined for cruising in the United States do have these features. But fortunately, just like in the Carnival Splendor there are two 220 volt European style AC outlets underneath the bed. On our cruises I always bring along a 220 volt T-Tap (available from Amazon.com), a US Style T-Tap with 2 USB charging ports (also available from Amazon.com) and an electrical extension cord. With this I can run USB charging cables to each side of the bed so that both my wife and I can charge our mobile phones overnight while keeping our phones at our bedside.
Since we purchased the Carnival Premium Internet WiFi package we are able to check our text, email, browse the web, and even stream videos on both our mobile phones and our notebook computers while on the cruise. We are even able to make phone calls using either T-Mobile or Vonage Voice Over Internet Protocol (VOIP) for free or at very low cost even while at sea. We both get the Carnival Premium Internet Package which allows each of us to have one device connected at a time. When I am in our cabin I connect my notebook computer to the Carnival WiFi and turn on its Mobile HotSpot. That allows us to connect up to 10 other devices to the internet. When I'm wandering about the ship I use the web browser on my mobile phone to go to "login.com" which allows me to switch the internet connection from my notebook computer to my mobile phone. To re-connect my notebook computer back to the internet I just use its web browser to go to "login.com" and switch back.
Note: I do not use a voltage converter. Thus the power coming out of the US Style T-Tap and extension cord is still at 220 volts. Our notebook computers can take any voltage between 110 and 240 volts so no problem. The USB port output is the standard 5 volts so no problem there either. Make sure anything you plug into a 220 volt outlet is compatible with that voltage. Everything I bring on the cruise can operate on any voltage between 110 and 240 except for our Waterpik. That needs 110 volts and thus can only be plugged into one of the 110 volt outlets at the desk or the shaver outlet in the bathroom. On the Carnival Panorama there is one 220 volt and two 110 volt outlets as well as 2 USB charging ports at the desk.
Main Dining Room
Menu For Today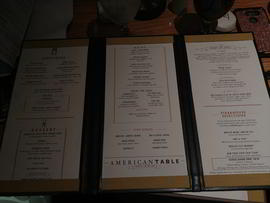 Main Dining Room
Wine List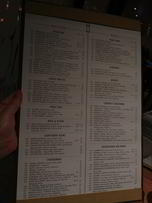 The Wine List in all of the main dining rooms has been almost always the same for all Carnival cruises I have been on over the last 3 years with just minor changes. I've made a list of what wines I like and which I don't like from all my prior cruises. That saves me from re-ordering a wine that I don't like. I have not included my ratings of the wines as we each have our own taste preferences and it is highly unlikely that your taste in wine is the same as mine. For example, since I prefer red over white wine, I rarely ever order and rate white wines at all.
Main Dining Room
Cocktails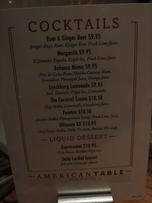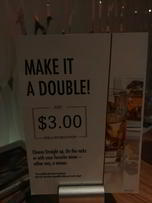 Dinner In The Main Dining Room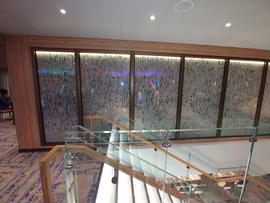 The serving staff did a live dancing and singing performance about every 90 minutes in the main dining rooms. They were often joined by a number of people dining at the time of the performances. Unfortunately where we often sat for dinner there was a dividing wall between us and the main part of the dining room where the waiters performed. You can see that dividing wall in the left photo above. Our dining table was often on the other side of this dividing wall. Thus we had to stand up and walk into the main dining room to see the performance. Sometimes one or two servers would dance in our sectioned off area of the dining room but that wasn't the same as seeing the main area full of performing servers.
Later I discovered that the two separated areas of the main dining room are sometimes closed off and used as conference rooms. Most cruise ships have conference rooms that can be used for events such as onboard conventions, business meetings, weddings, private parties, etc. Conference rooms are usually empty for most of the time on most cruises and are thus a waste of valuable ship space. On the Carnival Panorama, however, these conference rooms become part of the main dining room when not in use for other purposes and are thus not a waste of space. The only drawback is that people dining in these areas can not view the musical performances by the servers without going into the main part of the dining room.
Click the above play button to view the video.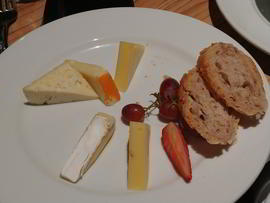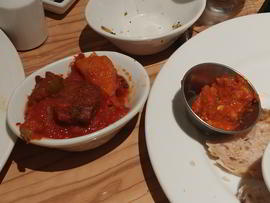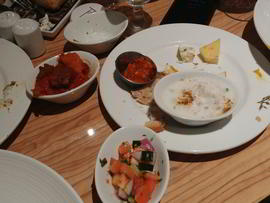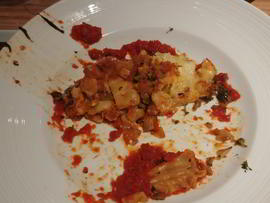 I ordered the vegetarian Indian selection on several evenings. It wasn't that they didn't have items that I liked, or that I'm vegetarian, but just that the Indian food was so good! And, unlike prior Carnival cruises I've been on, the Indian food was different every night and it was all fantastic! The head chef on this cruise was Indian, so maybe that is why the Indian food was so good.
Unfortunately some of the photos of our food will be of half eaten dishes. Many times the food looked so good that we just dived right in and would not remember until we were half way through our meal to take a photo of the dish!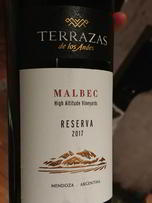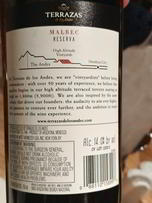 The wine we had with dinner.
Carnival Specials For The Day
Water Shuttle Information
For Cabo San Lucas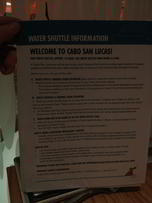 Usually you can make most drinks a double for only $3 more anywhere anytime on Carnival cruises.
"All Jams on Deck" with
The Night Shift & Love Below
Ocean Plaza 5 Aft 8:30pm - 9:15pm
We love "horns", especially when playing jazz, but we also like horns when playing blues or rock. The "Love Below" band is composed of the saxophone, trumpet and trombone players. "The Night Shift" band is composed of the guitar and keyboard players and a singer. Both bands would often play together but would also sometimes play separately.
Guy's Pig & Anchor Bar-B-Que Smoke House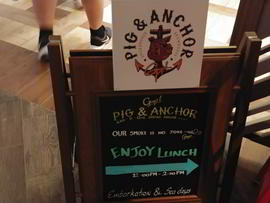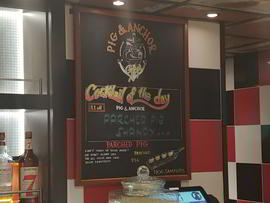 Lunch & Dinner Menus
The BBQ lunch here is free. Dinner is an extra charge but is more extensive than what is served for lunch. This is mostly a beer and whiskey bar but wine and other spirits are available.
Brewing Equipment & Beer Tanks
They brew their own craft beers right on board this ship! They are able to do that because the ship generates its own fresh water from sea water. After distilling the water they add a specific set and amount of minerals to the water to give it characteristics to make it taste good. Since the consistency of minerals in the water is exact, they can brew craft beer with consistent flavor. They would not be able to do this if they used port water as the mineral content and taste of water in each port is different. Using port water would make the beer taste different depending on the source of the water even if the exact same recipe was used to brew the beer. So far it is only the 3 Carnival Vista Class ships that have their own brewery on board. The new Carnival Mardi Gras currently under construction will also have a craft brewery on board.
Live Music Is Featured Most Late Afternoons & Evenings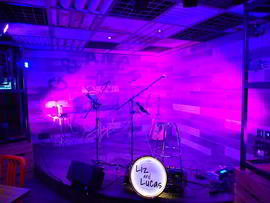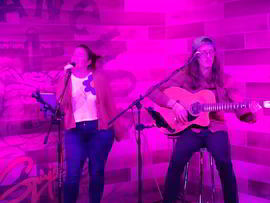 Click the above play button to view the video.
The above Liz And Lucas played most often at Guy's Pig & Anchor but they sometimes swapped out with other bands.
Piggy Backs: Beer And A Shot
and Veggie-Infused Bloody Mary
Beer List and Sample Flight Of All Their Custom Brews
and Beer Growlers To Go!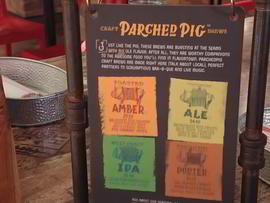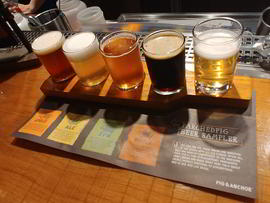 Whiskey List and 4 Whiskey Sampler
Plus Zero-Proof Drinks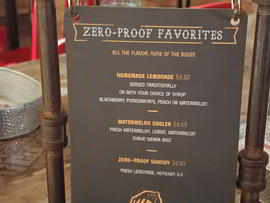 Classics With A Twist and
Pig & Anchor Cocktails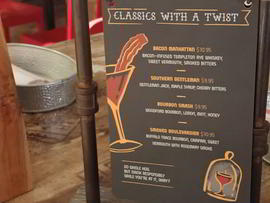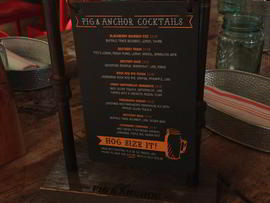 Photo of Me, Steve Grande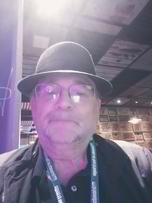 I posted a photo of myself for the Facebook Page for this cruise so people could find me. I'm not really good at taking selfies.
Alchemy Bar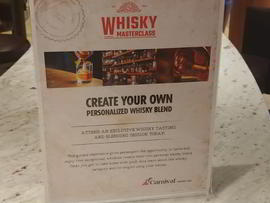 Piano Bar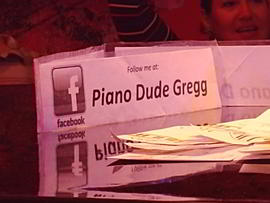 Piano Dude Gregg
Click the above play buttons to view the videos.
The Piano Bar was our favorite music venue, as it has been on most of our cruises, and we spent quite a bit of time on many evenings here. The one thing we liked about this piano bar over the one on the Carnival Splendor is that there is an actual bar in this room. On the Carnival Splendor you had to wait to get the attention of a server to order a drink and there was less of a selection of available spirits. On the Carnival Splendor, if we had a nice server, they would go to another bar to get a drink that I ordered if they didn't have it in the Piano Bar. In the Carnival Panorama Piano Bar they had a wide selection of spirits on display and even had my favorite Scotch: Ardbeg from Islay!
Lido Deck 10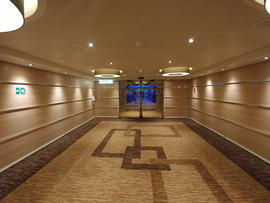 Red Frog Rum Bar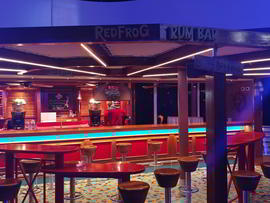 On many other Carnival ships the "Red Frog Rum Bar" is also the main bar for beers on tap and live entertainment. On the Carnival Panorama and Carnival Horizon, and maybe on the Carnival Vista also, the Red Frog Rum Bar is just an outdoor rum bar. The main bar for beers on tap, especially craft brews, and live entertainment has been moved to Guy's Pig & Anchor Bar-B-Que Smokehouse.
Aft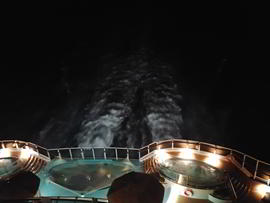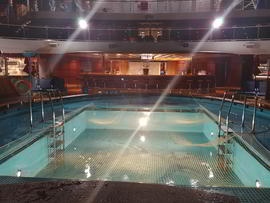 Seafood Shack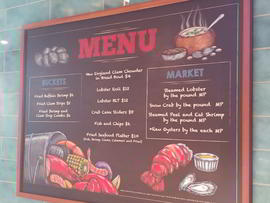 Late Night Snack
At The Lido Buffet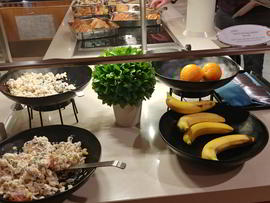 Chicken Noodle Soup, Mexican Macaroni Salad, Pasta, Tomato Mozzarella, Italian Meatball and Grill Ham & Cheese Sandwiches seem like odd Late Night Snacks. Sugar and Chocolate Chip Cookies seem appropriate as Late Night Snacks, but our prior Carnival cruises had far more interesting and tempting offerings for Late Night Snacks. I do miss the 24 Hour restaurants on Princess and NCL cruises. At least you can get really good pizza around the clock on Carnival cruises.
Click on each photo above for a larger image.
This is the end of the photos that I took on the first day of our cruise. To see more photos and reports from this cruise, click on the "NEXT PAGE>>>" link below.
If in this report you see any typos, misspellings, factual errors or other types of errors, please let me know. Please include the web address (URL) of the report in which you found the error. Thank you! Send your email to:


<<<MAIN PAGE &nbsp &nbsp NEXT PAGE>>>