If in this report you see any typos, misspellings, factual errors or other types of errors, please let me know. Please include the web address (URL) of the report in which you found the error. Thank you! Send your email to:


Click on each photo below for a larger image.
The View From Our Hotel Room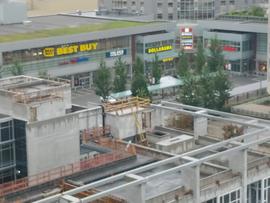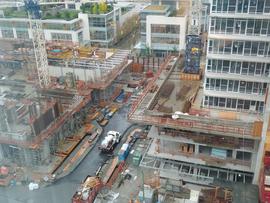 Above is the view from our hotel room at the Hilton Vancouver Metrotown. New buildings were going up everywhere including right across the street from our hotel. We had a clear view of a lot of new building construction right from our hotel room window.
Vancouver TransLink Metro Line
Our hotel was only 0.3 miles from the Metrotown Station on the Translink Metro Line. We would be taking this line to the Waterfront Station at the end of the line in Downtown Vancouver every day of our stay.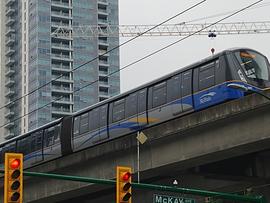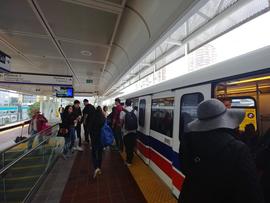 The Hop On Hop Off Bus ticket office and first stop is right across the street from the Translink Waterfront Station. There are multiple companies that offer Hop On Hop Off Bus Tours of Vancouver but we selected the Landsea Tours Hop On Hop Off Bus Tour as they have the newest buses and have live commentary in English. The upper level on the double decker bus is totally covered which keeps passengers out of the rain and the sun, but much of the sides are open which provides great views of the city.
It was a bit after noon so before starting on the Hop On Hop Off Tour we decided to have lunch. We asked for a few suggestions of where was a good place for lunch near the waterfront. More than one person suggested the "Cactus Club Cafe Bar + Wine" so we decided to go there for lunch. As we walked along the waterfront we passed "The Olympic Cauldron" and I took a couple of photos of it.
The Olympic Cauldron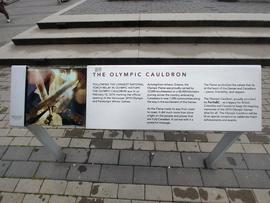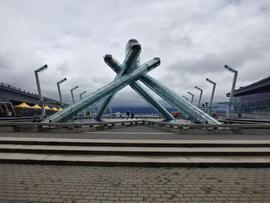 FOLLOWING THE LONGEST NATIONAL TORCH RELAY IN OLYMPIC HISTORY, THE OLYMPIC CAULDRON was lit on February 12, 2010, marking the official opening of the Vancouver 2010 Olympic and Paralympic Winter Games.
Arriving from Athens, Greece, the Olympic Flame was proudly carried by 12,000 torchbearers on a 45,000 kilometre journey across the country, embracing Canadians in over 1,000 communities along the way in the excitement of the Games.
As the Flame made its way from coast to coast, it did much more than shine a light on the people and places that are truly Canadian. It carried with it a powerful message.
The Flame symbolizes the values that lie at the heart of the Games and Canadians -- peace, friendship, and respect.
The Olympic Cauldron, proudly provided by FortisBC -- as a legacy for British Columbia and Canada to keep the inspiring memories of the 2020 Olympic Games alive for all. The Olympic Cauldron will be lit on special occasions to celebrate major achievements and events.
Cactus Club Cafe
Bar + Wine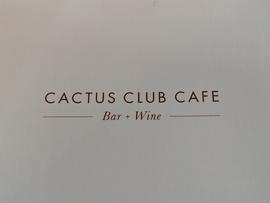 Dena and Barbara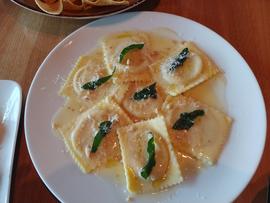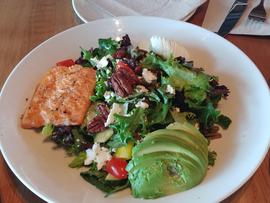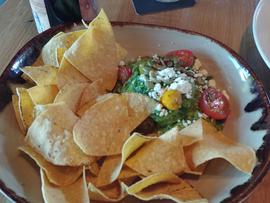 Some of the food we shared for lunch.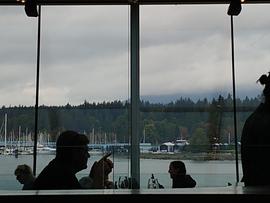 The View Of The Waterfront From Our Seat At The Restaurant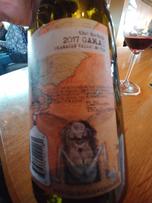 2017 The Hatch Gamay, Okanagan Valley, BC, Canada, A great local wine!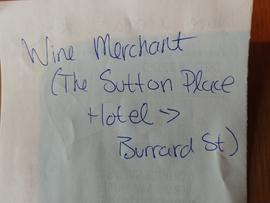 Left: Cactus Club Cafe Wine List. Right: Our server suggested The Wine Merchant as a great wine shop with a wide selection.
Use Promo Code: TOUR25 to get 25% off a Hop On, Hop Off Tour booked before September 30, 2019!
Hop on at any of our 15 stops!
Landsea Tours & Adventures is thrilled to announce our newest product, the Hop On, Hop Off City Tour! This premium version of the traditional Hop On, Hop Off service, celebrates Vancouver's unique neighbourhoods with stops focused on the downtown core and Stanley Park. Designed to showcase the distinct culture of each area, stops highlight such areas as Gastown, Chinatown, Canada Place, The West End, Yaletown, and Davie Street.
The experience begins with a warm greeting from our Journey Ambassadors, who assist with tour and attraction ticket purchasing and questions regarding the route's stops. Onboard, enjoy the live English commentary that makes up Vancouver's unique history and fun facts, provided by our onboard Step-On Guides. Chosen for their personalities, our staff excel in delivering a memorable experience.
Tours take place on modern vehicles, designed with comfort and abundant legroom in mind.
All Landsea Hop On, Hop Off guests can now enjoy 10% off food at select restaurants. See the Discount Section below for more information!
Please Note: False Creek Ferries return sailings to Granville Island is included with your valid tour ticket
If you have any questions, please contact our Guest Services Team at 604.255.7272, toll-free at 1.877.669.2277, or email reservations@vancouvertours.com.
BOOK NOW!
Tour Itinerary
1. Waterfront - (Tour bus passenger zone at Canada Way) - Cruise Ship Terminal with Stunning Harbour Views


2. Coal Harbour - (1133 W Hastings Street; Passenger Zone at Pinnacle Harbourfront Hotel) - Downtown Location near the Water and Picturesque Seawall


3. Robson Street - (1225 Robson Street; Passenger zone at Blue Horizon Hotel) -Famous Robson Street Shopping and Dining District


4. Park Pavilion - (610 Pipeline Road; Passenger zone just past Stanley Park Pavilion) - Vancouver's Jewel, a 1001 Acres of Coastal Temperate Rainforest


5. Prospect Point - (5601 Stanley Park Drive; Tour bus passenger zone) - Panoramic Views of the Lions Gate Bridge, North Shore Mountains, and Burrard Inlet


6. Second Beach (Stanley Park Drive by crosswalk across from Stanley Park Brewing Company) - An Outdoor Wonderland with a Beach, Playground, Lagoon, and Pool


7. West End - (Beach Avenue and Davie Street in English Bay) - Urban Beach Area Lined with Endless Dining Options


8. Sunset Beach Park - (1050 Beach Avenue; In front of the Vancouver Aquatic Centre) - Sandy Beach and Ferry Service for Access to Granville Island


9. Burrard Central - (1015 Burrard Street; Passenger zone at the Century Plaza Hotel) - Colourful Davie Village Celebrating Vancouver's Pride Culture


10. Yaletown - (North side of Davie Street at Pacific Avenue) - Trendy Shops, Bars and Restaurants with Patio Seating


11. Stadium District - (180 W Georgia Street; Passenger zone at the Sandman Hotel on Georgia) - Vancouver's Sports Centre, Home to the Vancouver Canucks, Whitecaps and BC Lions


12. Olympic Village - (Main Street, north of transit stop) - Calming False Creek Featuring an Interactive Science Centre for Kids near Former Olympic Athlete Housing


13. Chinatown - (Passenger zone on Keefer Street at Columbia by monument) - Vibrant Chinatown and Classical Chinese Gardens


14. Gastown - (Richards Street; West side of street at Harbour Centre pullout) - Historic Gastown Neighbourhood with Cobblestone Streets


15. City Centre - (791 W Georgia Street; Vehicle pullout in front of Four Seasons Resort) - Modern and Historic Luxury, with the Vancouver Art Gallery and Pacific Centre Mall


Journey Details
Tickets must be purchased for a select tour date
All tickets are valid for 2-days starting on the day of purchase and until the end of operations on the following day.
Board throughout the day at any of our 15 stop locations around the city
Full tour loop is 2 hours and 15 minutes
Pick-up frequency is approximately every 35 minutes
Tour tickets include complimentary roundtrip sailings to Granville Island with False Creek Ferries
Journey Ambassadors are located at select stops to assist with directions, information, and tour and attraction tickets
Live Bus Mapping - Follow the tour buses on a live map to help plan your day
Monitored load control
Purchase tickets in advance in order to secure a seat onboard
Cash payments are not accepted onboard
Schedule
Summer (May 1 - Oct 14): First pick-up starts at 9:00am; Last drop off by 7:00pm
Winter (Oct 15 - Apr 30): First pick-up starts 9:00am; Last drop off by 4:30pm
Please Note: Schedule and route will be subject to change without notice.
Cancellation Policy: In order to receive a full refund, passengers must notify Landsea Tours before 9:00am the day prior to their scheduled tour date. No refund will be provided for less than 24 hours notice.
Use Promo Code: TOUR25 to get 25% off a Hop On, Hop Off Tour booked before September 30, 2019!
BOOK NOW!
BIG EVENT DAYS
Check back to see the big event days and our adjusted routing and schedule changes due to large events occurring in downtown Vancouver.
Discounts
Show your Landsea Hop On, Hop Off Ticket to any of the following restaurants to receive 10% off your order (excluding alcohol) located near these stops:
Stop 04 - Park Pavilion
Stanley's Bar & Grill: 610 Pipeline Rd, Vancouver, BC V6G 1Z4
Stop 5 - Prospect Point
Prospect Point Bar & Grill: 5601 Stanley Park Dr, Vancouver, BC V6G 3E2
Stop 06 - Second Beach
Stanley Park Brewing Restaurant and Brewpub: 8901 Stanley Park Drive, Vancouver, BC V6G 3E2
Stop 11 - Stadium District
The Dirty Apron Cooking School & Delicatessen: 540 Beatty St, Vancouver, BC V6B 2L3
Parq Vancouver Casino - 39 Smithe St, Vancouver, BC V6B 0R3
Discounts available at Honey Salt, Passione, BC Kitchen, MRKT EAST, Lotus Whiskey/Tea Lounge, Le Doux Ciel, & Centre Bar
Also, enjoy $10 free play for new Encore Rewards Members! *Guests are eligible for 10% off alcohol beverages but the discount cannot be combined with other promotions such as Happy Hour
Granville Island (Bonus Stop)
Sandbar Restaurant: 1535 Johnston St, Vancouver, BC V6H 3R9
Like and Follow us on Facebook, Twitter and Instagram to stay up to date with all Hop-On, Hop-Off content!
Hop On Hop Off Tour Bus Route Map.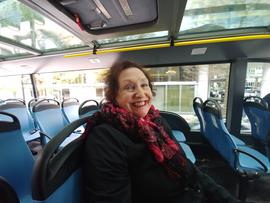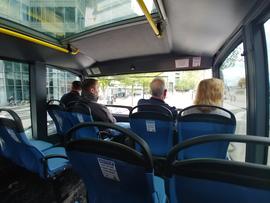 Left: Barbara, my wife. Right: View From Our Seats On The Bus.
Some Of The Waterfront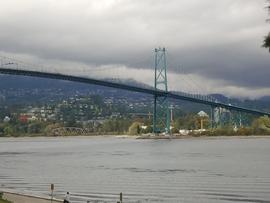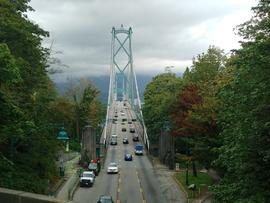 Lions Gate Bridge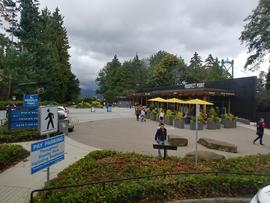 Left: Prospect Point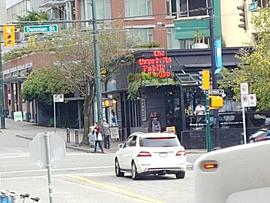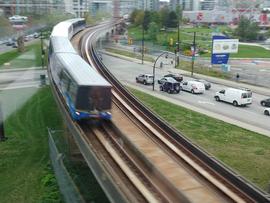 Historic Chinatown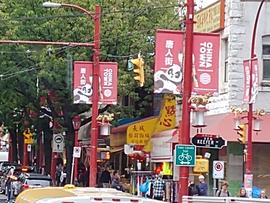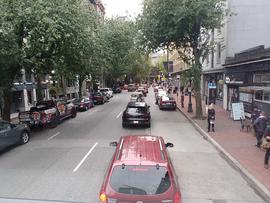 Continuing The Tour Of Vancouver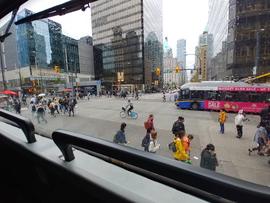 Top Of Vancouver Revolving Restaurant
Vancouver Cruise Ship Terminal
And Vancouver Convention Center West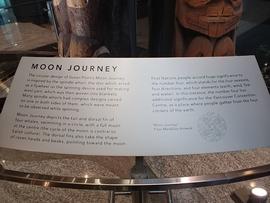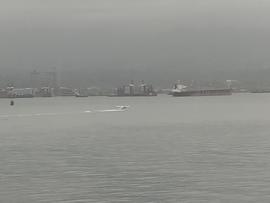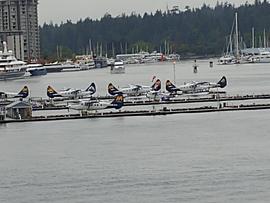 Vancouver SeaPlane Terminal
FlyOver Vancouver
At The Cruise Ship Terminal
And Convention Center West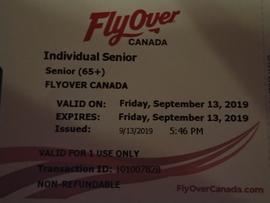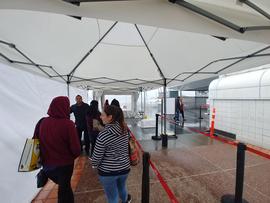 Barbara, my wife, at FlyOver Canada
REVEL
Dining, Cocktails, Live Music Nightly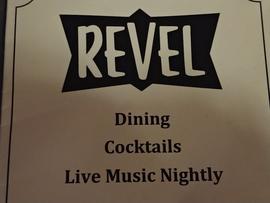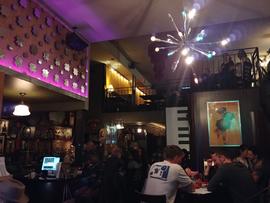 Great Jazz!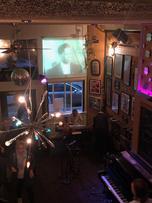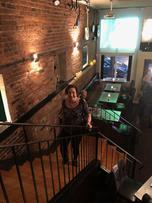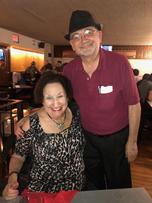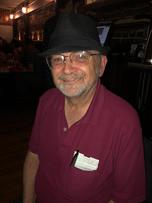 Barbara and me.
Diabolica: Nice Wine Name But Not So Good Wine.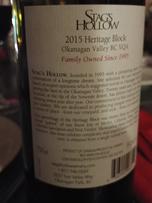 2015 Stag's Hollow Heritage Block, Okanagan Valley, BC VQA, Canada
The Wine Merchant
We purchased a few wines at this shop to take onboard our Island Princess cruise.
Click on each photo above for a larger image.
If in this report you see any typos, misspellings, factual errors or other types of errors, please let me know. Please include the web address (URL) of the report in which you found the error. Thank you! Send your email to: