If in this report you see any typos, misspellings, factual errors or other types of errors, please let me know. Please include the web address (URL) of the report in which you found the error. Thank you! Send your email to:


In this section you will find ideas that you may wish to consider for your own future cruises. From both the suggestions by other experienced cruisers and from my own observations I've learned about some items to bring onboard. These items added to our enjoyment and convenience during the cruise.
Click on each photo below for a larger image.
Power Outlets In Each Stateroom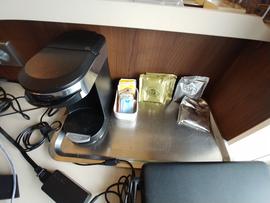 Left: All 3 of our notebook computers and USB plugged into a 3 outlet T-tap.
Right: Fresh coffee, sweetener and creamer
supposed to be provided each day in our room.
I did bring along power strips with short power cords that were not surge protected. Ships only allow power strips that are NOT power protected. Evidently there is a problem using surge protectors on ships. I forgot that the above 3 outlet T-tap is actually surge protected. I replaced it with one of my non-surge protected power strips when I realized this. The reasons why surge protectors on ships are not safe is a bit complicated. But, suffice it to say that it probably will not protect what you have plugged into it and could be a safety hazard on the ship as well as promote faster rusting of the hull of the ship.
As you can see above there were actually three 110 volt outlets so I really didn't have to use a power strip at all. However, Norwegian wanted everything unplugged whenever the stateroom was unoccupied. I found it easier to just unplug one powerstrip rather than having to unplug and re-plug three cords every time we went out and back into the room. Unplugging everything for safety seemed like a bit of overkill as the stateroom used a key card mechanism where all the lights and outlets would turn off when you removed your key card from the slot whenever you left the room. But I can sort of see the problem. Not wanting to forget my key card, I always kept it on a lanyard around my neck. I just put one of my business cards in the key card mechanism to keep the lights and power on in the room when we were in the room. There were a couple of times that I forgot to remove my business card so the power was left on when we left the stateroom.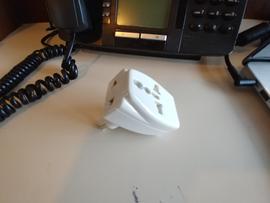 Above is a European 220v T-tap adapter. Every cruise ship that I have ever been on has at least one and sometimes several European 220v outlets as well as one or more American 110v outlets. Most of the equipment on this ship uses these European 220v outlets including the vacuum that the cabin attendant will use to clean the room. If there are lamps with plugs in the room, you will usually find they are plugged into European 220v outlets. On this cruise there was a coffeemaker in our stateroom that had a European 220v plug. I bring two of the above European 220v T-tap adapters on every cruise. Once I plug it into a European 220v outlet I can then plug a 3-prong American device in the front or top and a 2-prong American device in the bottom. But note: ONLY devices that can operate on a voltage range of 110v - 240v should be plugged into this adapter. This is ONLY a plug adapter. It is not a step-down transformer. It does not change the voltage down from 220v to be compatible with 110v devices. Most of my computers, chargers and other devices can operate on any voltage source between 110v - 240v. It should say on your device the voltage input needed. If it only says 110v, 115v or 120v, DO NOT PLUG IT INTO THE ADAPTER. It will burn out the device, the adapter, and probably blow a fuse on the ship!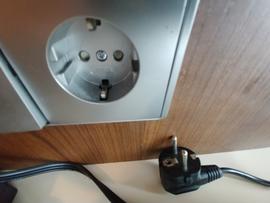 Above on the left you can see the European 220v plug from the coffeemaker in our stateroom and the European 220v outlet for that plug. On the right you can see my European 220v T-tap adapter plugged into that 220v outlet. If I wanted I could plug the coffeemaker into the face of the T-tap and then plug a 3 prong American device into the top of the T-tap and a 2 prong American device into the bottom of the T-tap. I found this useful on the Carnival Splendor cruise where there were two European 220v outlets under the bed for the bedside lamps. Using the T-tap I could keep the lamps plugged in also plug in my notebook computer and a USB mobile phone charger. I have never seen an American 110v type outlet near the beds on a cruise ship but have often seen European 220v outlets near the beds in cruise ship staterooms. These European T-tap Adapters can be purchased on Amazon.com .
Magnetic Hooks
We hung up our key card lanyards on hooks next to the door of our stateroom to remind us to take them with us when we left the room. I purchased a large set of magnetic hooks at Amazon.com of which each could hold about 20 pounds. On cruise ships almost every wall is made of steel. The cruise line paints and decorates walls so that they don't look like steel, but they are made of steel nonetheless and are thus magnetic. I put there magnetic hooks all over the room and even in the bathroom. They make great places for hanging things which is very helpful in the limited space in most staterooms. You can hang hats, jackets, bags, just about anything that weights less than 20 pounds.
USB Charging
There was a bedlamp on the wall on each side of the bed. Each had a switch on the side to turn the lamp on and off. On the side of each lamp was also a USB power outlet. This was very convenient for keeping our mobile phones near us at night while charging them during the night. Just make sure to bring along some USB charging cables.
Click on each photo above for a larger image.
If in this report you see any typos, misspellings, factual errors or other types of errors, please let me know. Please include the web address (URL) of the report in which you found the error. Thank you! Send your email to: